Open table of content

Website of the day
Website of the day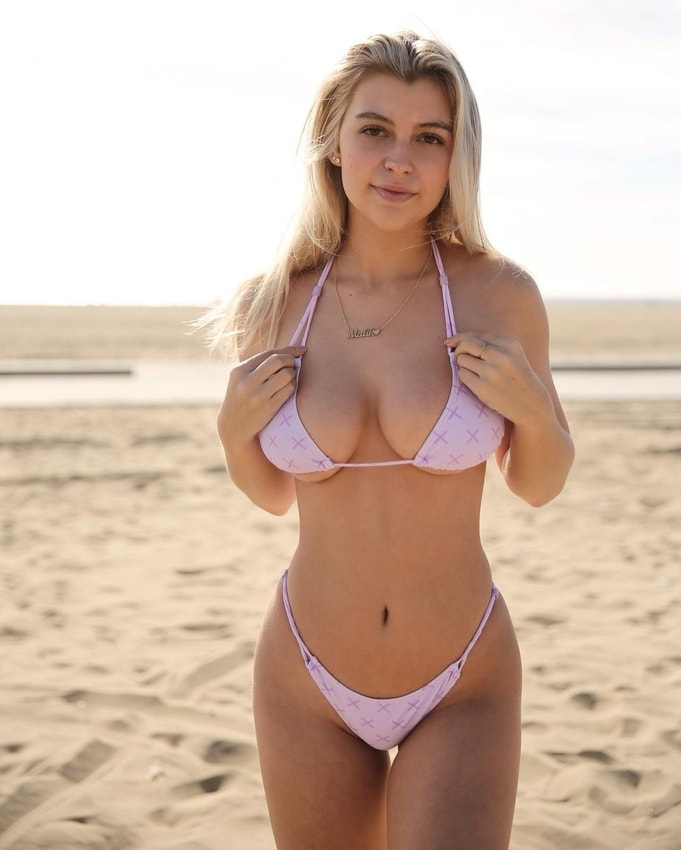 Ashley Madison Review: Your Best Option For A Discreet Affair?
FreeHookupAffair Review: Scam or Reliable Dating Service?
Sometimes, married people seek a discreet affair for various reasons. Online dating provides these people with the opportunity to start a relationship that might refresh their routine. FreeHookUpAffair is one of the platforms that pursue these goals. It was launched in 2015 and has gathered a very vast audience. In this review, we will describe its primary features, channels of communication, pricing, and many more. Let us summarize its pros and cons first.
Why FreeHookupAffair?
2

Interface

5

Audience

6

Prices

8

Safety
The good:
You can contact more than a thousand users online at a time
The service applies reliable security measures
Customer support responds to your queries quickly
The bad:
You have to pay a monthly commission for "free" membership
The quality of profiles is average
The range of available entertainment features is limited
Summary of FreeHookupAffair
FreeHookupAffair is a platform where you can find a person with similar intentions and start an affair quickly. It is safe and secure, with privacy adjustments allowing you to hide your relationship from your spouse. At the same time, this service does not clearly define its policies to users. It claims it is free, but you will have to pay a monthly commission unless you cancel membership. All in all, the service will satisfy your goals if you are ready to pay a monthly fee.
Check all reviews
How to use FreeHookupAffair?
Contrary to many dating services, FreeHookupAffair features quite an informative website. You can get to know the basic rules of discreet dating, how the service works, and read some FreeHookupAffair reviews in the testimonials section.
Here how this service works:
register an account.
find a partner.
meet offline for the
The registration process comprises the following steps:
Proceed to the homepage of the website and fill out the sign-up form. Here, you should include your gender and indicate who you want to have an affair with. Then, set the desired age for the potential partner and press the Find Affair button.

After that, you will be warned that FreeHookupAffair is not a conventional dating website, and you will be observing nude pictures. Press OK to proceed to the next stage.
In the next stage, you will be asked to answer some yes-no questions. Press Continue to enter the survey which consists of four questions. The service will ask you not to disclose the women's identity if you know them. It also warns you that women will not accept "traditional" dating. They seek fun only. You should confirm that you are 24 or older and ready for sex hookups.

You will then get to the next questionnaire. It will ask you about the type of female body you like the most, the age of women you prefer, and other questions related to your sexual preferences.
In the next stage, the service will display what safety measures it uses to prevent fraud. If you agree to these policies, press Continue.

You will have to enter your postal code to indicate your current location and confirm your age.

In the next stages, you have to enter your email and mobile phone (optional). Then, create a password for your account and enter your name.
The service will ask you to enter your payment details to subscribe for a free trial. It is valid for two days. You can optionally receive a welcome bonus in the form of adult website subscriptions. They have trial periods of seven and ten days, respectively. After you enter the card details, press the green button below the card form.

Press Continue to complete your registration.

The sign-up process is a bit complicated and can take up to ten minutes. Let us then continue to the dashboard of FreeHookupAffair.
FreeHookupAffair Dashboard
You will be redirected to FreeFlirtHookup.com. It is another name of FreeHookupAffair. At first, you will not understand what is going on. It does not make a good first impression. The dashboard features a dark theme.
The statistics and search sections are on the right side of the dashboard. In the activity section of your homepage, you can see what members have recently updated their profiles.
My Profile section is available on the left side as well. It contains your account adjustments and profile details. Also, you can edit your profile information here. Similarly to other dating sites, FreeHookupAffair features informative profile descriptions for users. In your profile section, you will be able to include basic information, such as your date of birth, marital status, height, etc. Also, you can add an engaging description of yourself. At the same time, the website does not function smoothly, and you will see several glitches right from the start.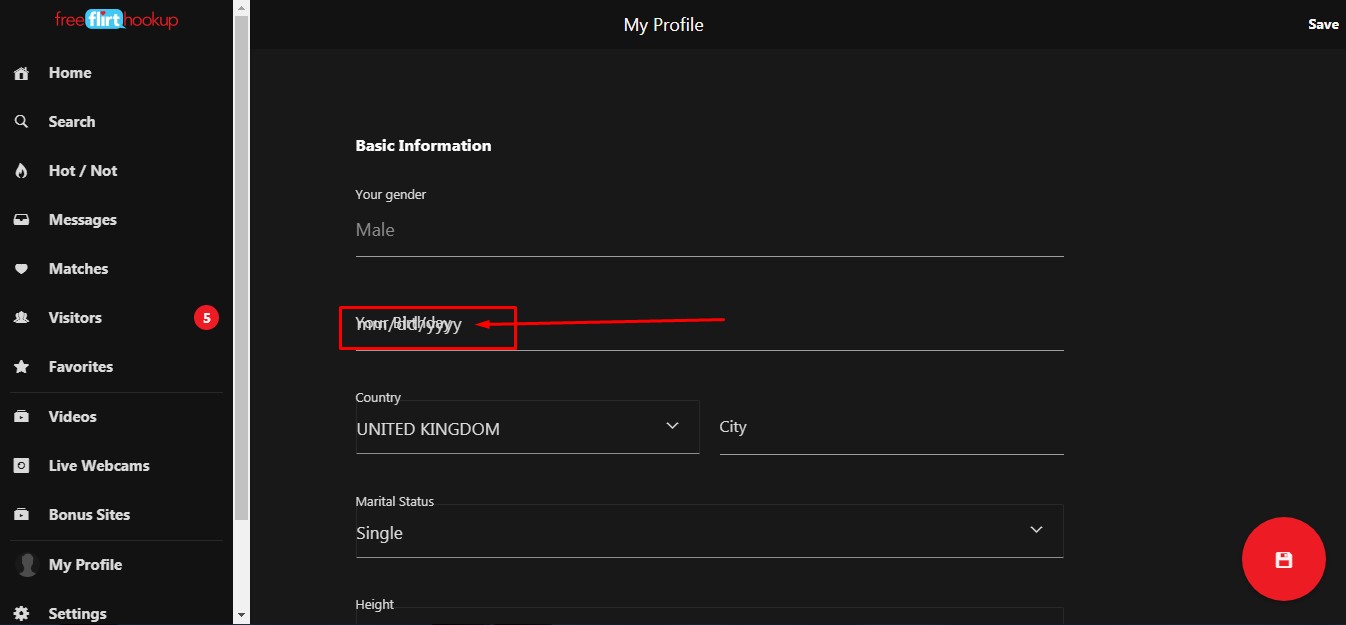 Once you fill in your profile information, press the red button on the bottom right side to save your adjustments.
Search Options
On the FreeHookupAffair website, you can apply a few search criteria. Again, in comparison to other dating and hookup services, it does not provide exciting options. The search criteria include:
Location
Profile photo.
Desired age of potential partners.
As you see, the range of options is minimal and does not allow you to filter users accurately. It would be better if the service added more choices, at least marital status, habits, interests, etc.
Moreover, you will not be able to see many results unless you activate VIP Pass.
Entertainment Features
On the FreeHookupAffair website, you can:
Chat with members. In the chat window, you can send virtual gifts and photos. You will not be able to upload a video or record a voice message. Smiles and stickers are not available as well.
Watch live broadcasts
Watch adult videos
Live Webcams
Many webcam models are broadcasting on this platform. To watch somebody's stream, you need to click on the broadcast window and answer up to three questions. In 99% of cases, you will get access to the broadcast regardless of your answers.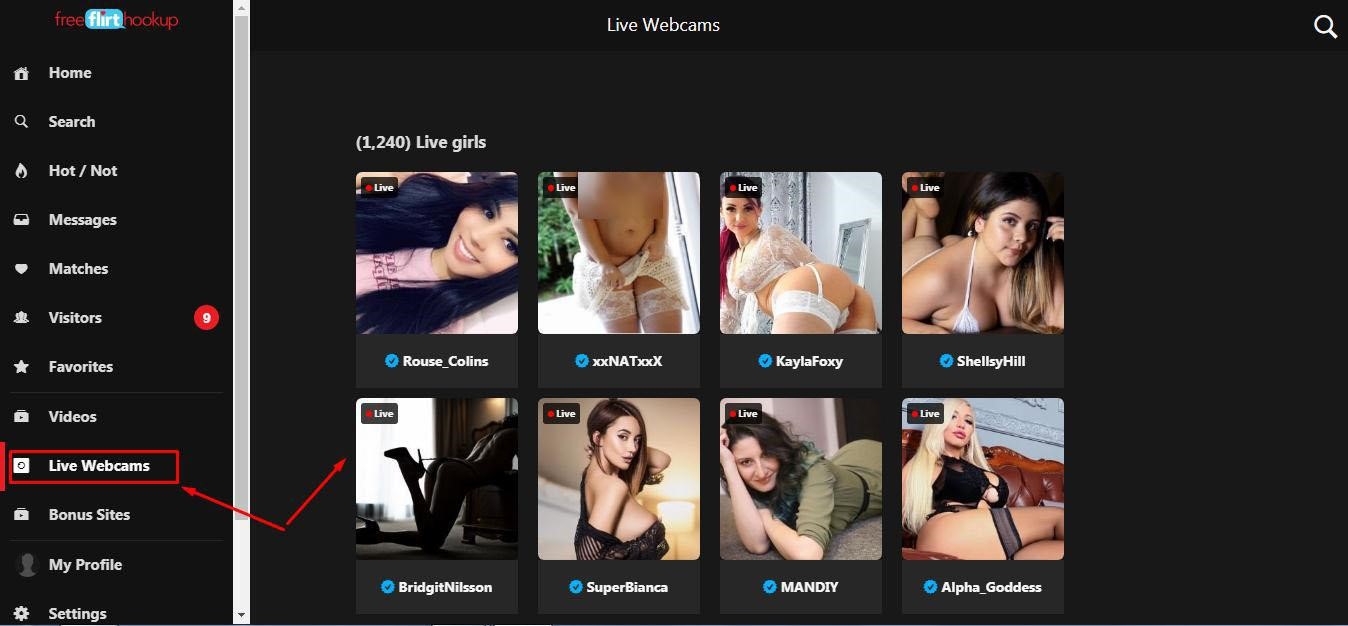 You will quickly get around in case you have ever watched live webcam broadcasts. Usually, webcam models are eager to show their beautiful bodies and have fun with live stream members.
Videos
You can watch adult content in the Videos section as if you were on an adult video website. You can set a favorite video category and enjoy the displayed results.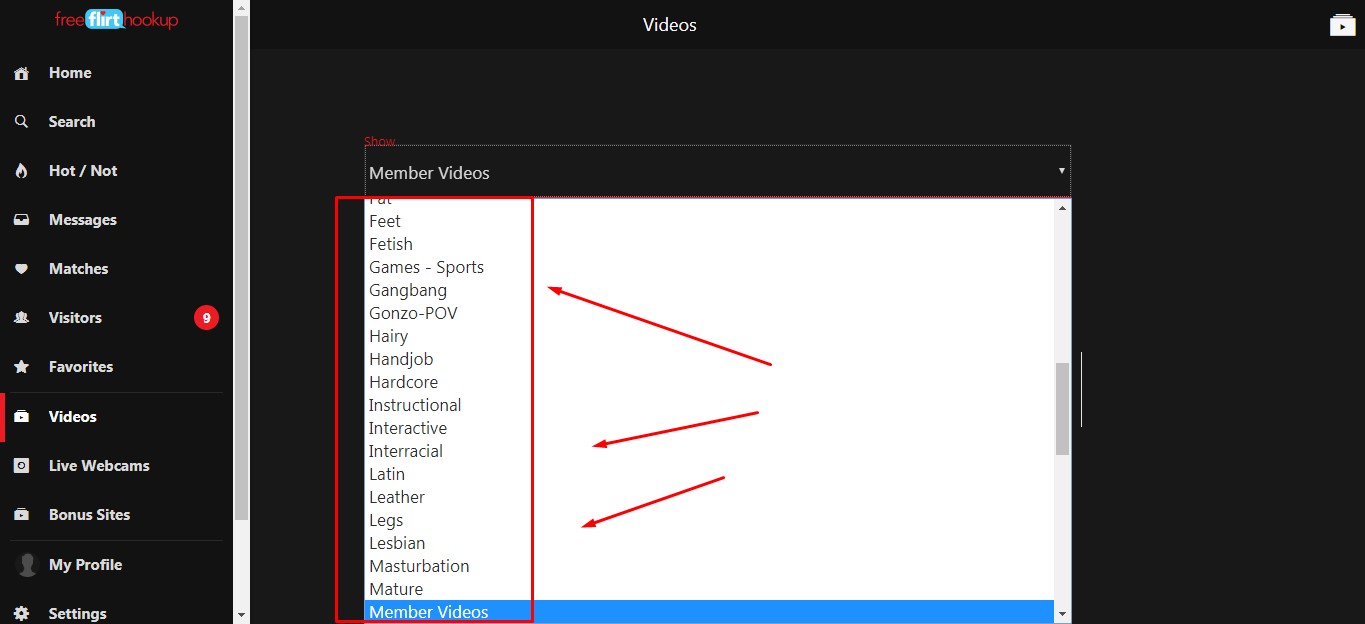 Also, you can switch to the Pornstars section to enjoy the performance of a particular actress. The results are displayed in alphabetical order. To search for a specific pornstar, you can press the search button and type a nickname.
Bonus Sites
You can proceed to adult movie websites from the Bonus Sites section.
Unlike the most popular adult movie websites, those promoted by FreeHookupAffar are payable, and you will not be able to access videos without purchasing a subscription.
Mobile Version
It is possible to reach the service via your mobile device. While FreeHookupAffair does not have a standalone mobile application, it is fully compatible with mobile browsers. All the features, including webcam streams and videos, are available on the go. At the same time, it would be much more convenient to use the service if it featured a mobile app.
Customer Support
FreeHookupAffair provides a few customer service options. There is a help section in your dashboard. If you need any assistance, proceed to Site Help and Support. Then, you can go to the FAQ page and get to know the necessary info there.
The FAQ section is quite informative, but you will not be able to resolve any issues. To solve a specific problem, you will have to contact the support team. It is available via email and phone. The customer staff replies within 10 minutes, usually. At the same time, it can redirect you to another support staff. It will not help you with technical issues though. The customer service team has several divisions. All in all, the team is responsive, but not always helpful.
Who uses FreeHookupAffair?
The traffic on the site is substantial, and you will always see new members. FreeHookupAffair claims that its audience reaches several million people. At the same time, you cannot check this information directly.
What attracts people to this platform? All of them want to have fun and sex secretly from their spouses. Also, you can find single people there. As the service warns you at the very beginning of the registration, there are many single women with children.
On this website, you can find a person with similar sexual preferences who will be eager to have sex with you very quickly. Because of this, you have to be careful and make sure your intercourse is safe.
Quality of Profiles
Overall, the users do not carry too much information about their appearance and quality of photos. In nine times out of ten, you will be browsing homemade pictures of a cheap smartphone quality. And all the users post nude and shameless pictures there. When you click on somebody's profile, you will see that it only has basic information, and many users prefer not to tell a lot about themselves publicly. You will hardly find a person with an informative self-description.
Verified Profiles
FreeHookupAffair is a platform with many verified members. Five in ten people get verification badges on the left to their nicknames.
How much does FreeHookupAffair membership cost?
When registering on this platform, you will be informed that the services are free. FreeHookupAffair requires your card details to ensure you are a real person only. At the same time, while providing your payment details, be aware of the bonus services we mentioned before. Here are the charges for the services:
€39.95 for a month of FreeHookupAffair Services
€89.89 for two additional adult movie services
That is why FreeHookupAffair is not free in reality, and you will be charged anyway. Therefore, to avoid unnecessary payments, you have to unsubscribe from the adult movie services within ten days. Visa and MasterCard are the only available options on this platform.
How to use FreeHookupAffair safely?
When it comes to payments, the service is safe and secure. FreeHookupAffair uses 256-byte SSL encryption to ensure the financial data cannot get to third parties. Also, it does not store your card information in its database. You will be able to see the security badge while completing your registration.
Profile Approval and User Verification
FreeHookupAffair has an automated system that blocks fake accounts. As we mentioned above, users can get a verification badge. To do this, they have to confirm their identity by uploading a scan.
Privacy Settings
You can hide your profile from other users of the platform and set the privacy settings for your photos so that users will require your permission to access your gallery.
FAQ
What is FreeHookupAffair?
FreeHookupAffair is a dating platform for discreet relationships and sex appointments.
How much does FreeHookupAffair Cost?
Its features start from £39.95 per month.
Is FreeHookupAffair a Scam?
This service is not a scam. At the same time, it features a tricky payment policy. You have to be careful with trials.
Is FreeHookupAffair Safe?
The service is safe and secure. All your data is encrypted according to the highest security standards.
Who Owns FreeHookupAffair?
FreeHookupAffair (FreeFlirtHookup) refers to itself as a company, no data about its owner is indicated.
What Security Features does FreeHookupAffair have?
FreeHookupAffair security features include:
Profile verification
Privacy settings
256-byte SSL encryption
Does FreeHookupAffair have a Mobile App?
This service does not feature an application. However, you can access the website via your mobile browser.
How do I Delete my FreeHookupAffair Account?
To delete your account, take these steps:
Enter your account and proceed to settings.
Get to the Disable Account section.

Without contacting customer support, you can only deactivate your account for a while. To do this, enter your current password and press the red button. The service notifies you that you cannot cancel your account once and for all without contacting the support team. To delete your account forever, you should write or call the customer service team.