Open table of content

Website of the day
Website of the day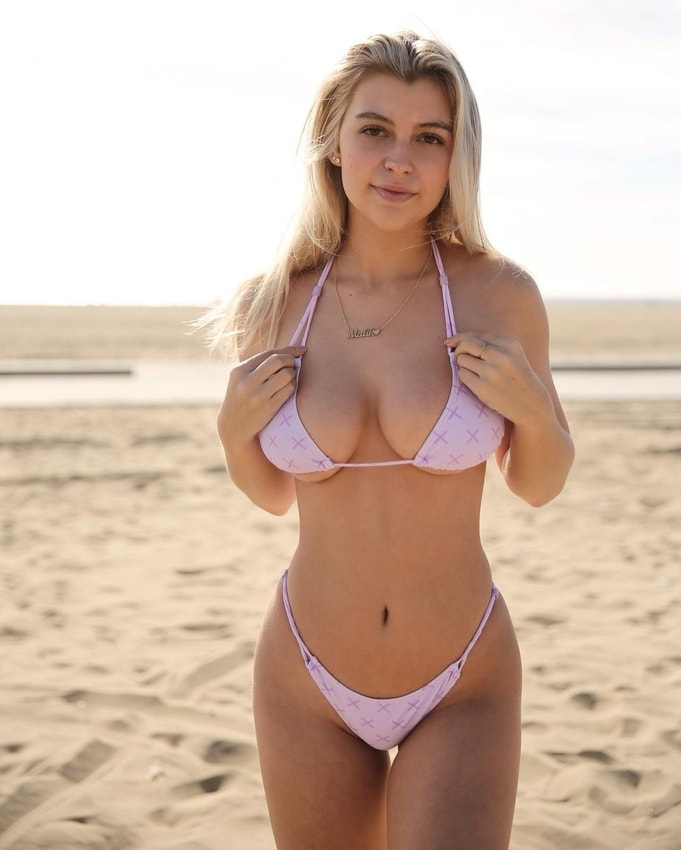 Ashley Madison Review: Your Best Option For A Discreet Affair?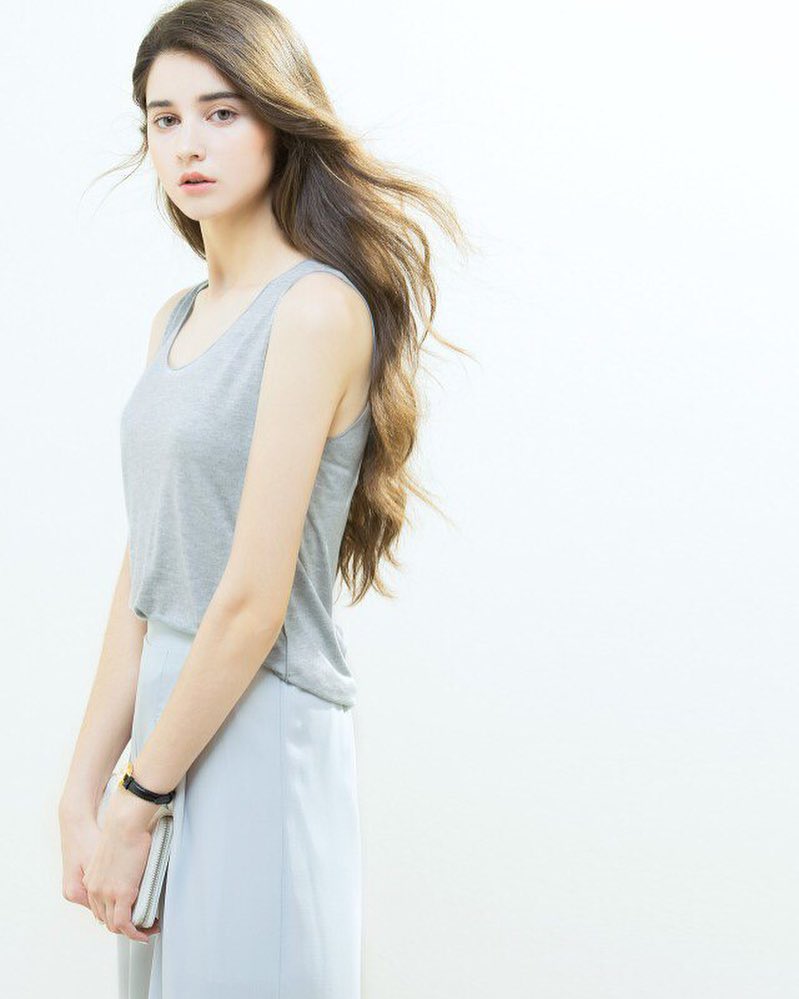 Gleeden Review 2023: Here's What You Need to Know
Gleeden service is not a flawless platform. Therefore, it gets harder to weigh up all the advantages and drawbacks. But this review comes to help and aspires to provide a fair overview of the site's pros and cons. The service provides intuitively comprehensive navigation. Due to this, it takes seconds to get accustomed to the design and the function panels. The gleeden company also provides the app under the name "Help for Gleeden" available on IOS and Android. It helps the customers of gleeden by providing jokes and ideas to stand out from the crowd when chatting on Gleeden. There are also disadvantages to note. Gleeden service does not provide any customer service whatsoever. This means that if you encounter difficulties, you can only turn to the email support, which is time-consuming. Another disadvantage is that many profiles appear to be fake. Basically, most of them do not provide any truly useful info. There are important details that many customers simply prefer not to answer. So, profile descriptions are not the best source of info.
Why Gleeden?
9

Interface

4

Audience

4

Prices

8

Safety
The good:
Comprehensive navigation
Convenient app
Anonymity and privacy
The bad:
No live customer support
Poor profile descriptions
Too many false profiles and accounts without photos
A Quick Gleeden Summary
Ultimately, Gleeden service is an average dating platform that cannot be claimed to be good or bad. It ranks somewhere in the middle as the platform offers its unique advantages, such as anonymity and no obligations and its flies in the ointment, such as the absence of the live chat and many fake profiles. Gleeden, throughout the years of its existence, has become notorious in public and, therefore, is often met with condemnation. So you'd better think twice before choosing it, as if you get caught using it, there is a risk of being dreadfully misunderstood by the public and relatives. If at some point you've realized you want to get disposed of your Gleeden account, you can go to "My Account" and hit "Delete My Account" at the bottom.
Check all reviews
How does Gleeden work?
First, you need to access the official homepage of Gleeden. Once you're there, you'll immediately see the registration form that requires nothing more than your name, surname, the country and city you are from, your gender and age.
After that, you'll receive the confirmation email that'll activate your account.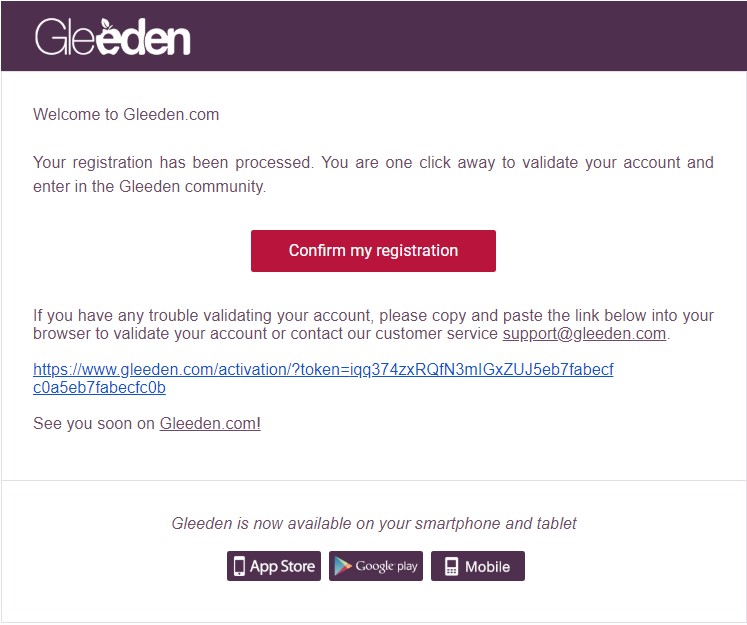 Done? Cool! Let's move on. Then, you're immediately redirected to your profile tab where you can add some details about yourself. Many of them are not obligatory, so you can stay completely anonymous. The parameters go as far as physical info, basic facts that include your orientation, marital status, income, etc. You can also specify your intimate preferences.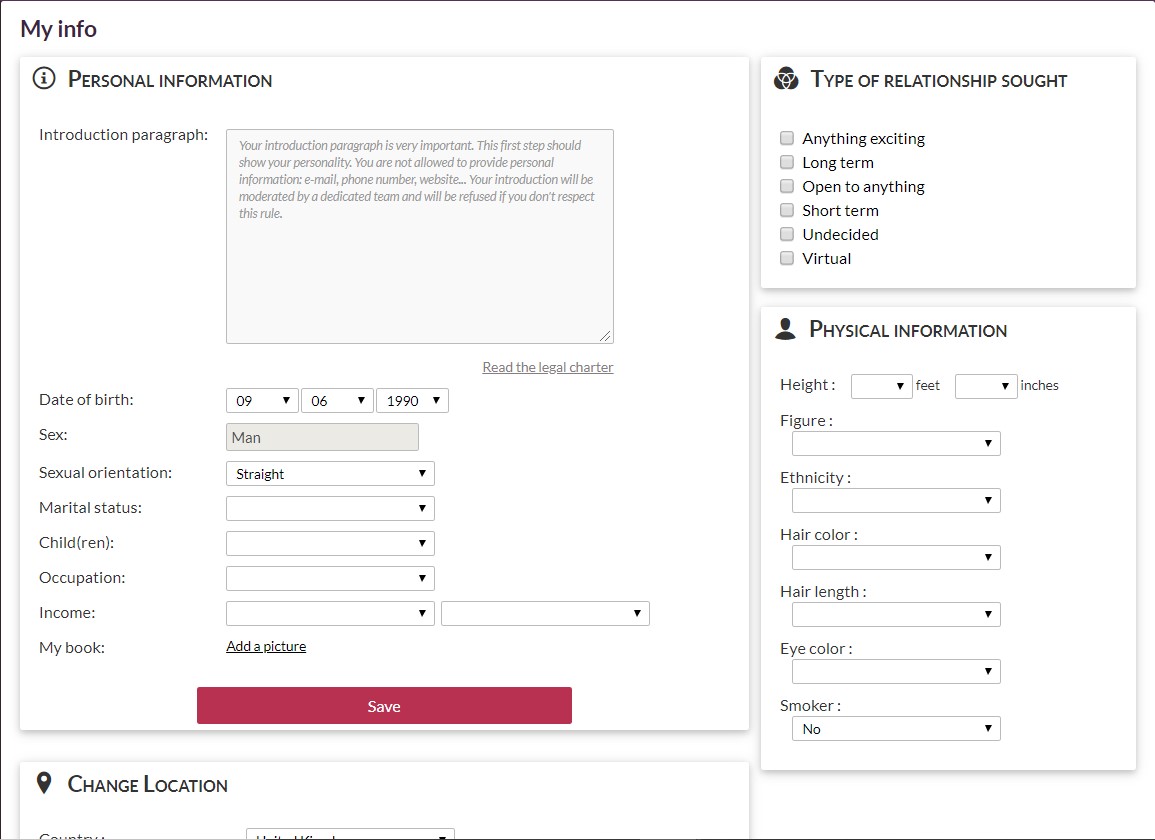 Once you're done with this, you can proceed and find a partner. To do that, hit the "Search" button and specify the details you want your partner to conform with. You can specify the same details as in your personal description. When it's done, you'll get a great number of matches that you can chat with. The profile pictures aren't too big, so you can see plenty of them on the screen.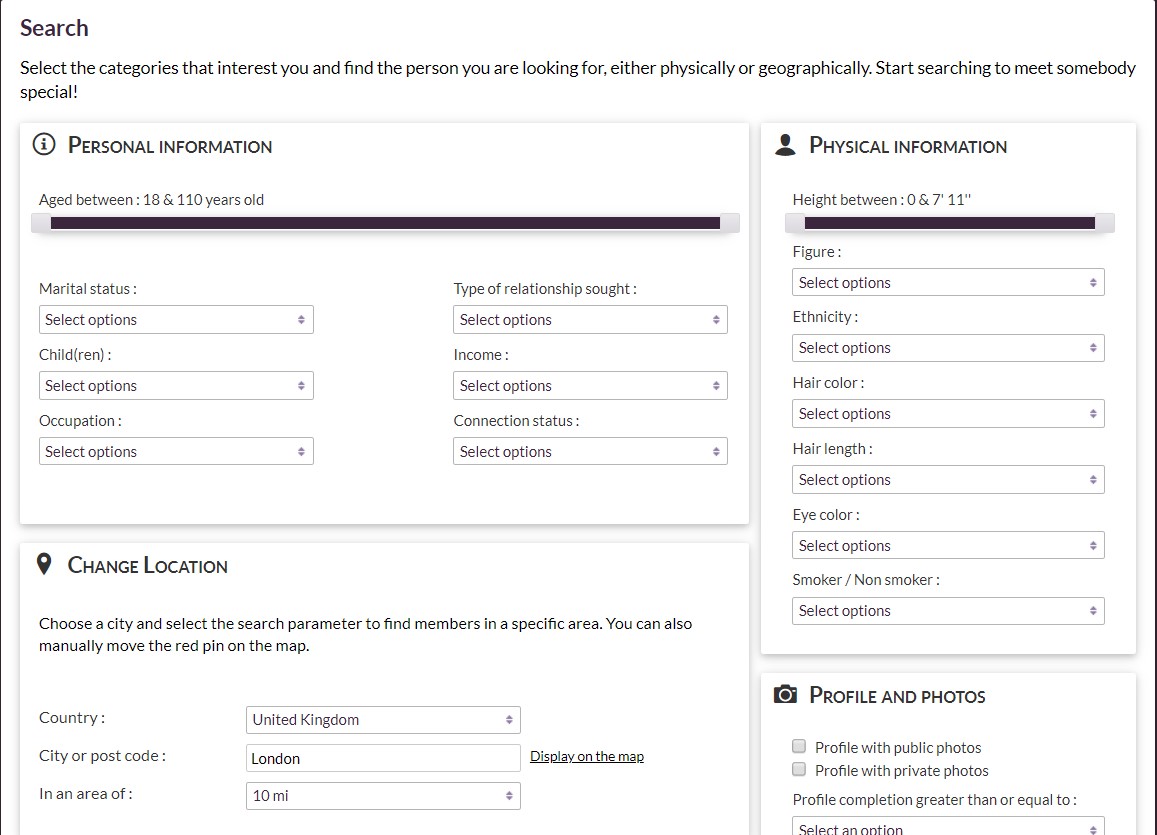 Once you've entered your profile, the right part of the screen will display your chats. Messages are sorted out into Online Favourites, Active Chats as well as messages yet unread. This helps as your chats won't be in a mess. As Gleeden bills itself as a highly discreet dating platform, there is a separate bookmark called "Private messages".
To spice up your communication, you can buy special gifts and send them to the person you like, so that they will be well-disposed towards you. Generally, if you want to go beyond the standard set of options, then sooner or later you'll need to purchase credits. It can be done in the closest bookmark to the right. Lastly, there are two labels called "Notepad" and "Feedback" .
Interested? Now it's time to find out what the audience of Gleeden is.
Gleeden's Audience
Gleeden is a French dating platform created by two brothers who desired to give the opportunity to married people to release stress by online dating. Therefore, the predominant number of customers are residents of France. Initially, it was thought that women would be the target audience. Perhaps that is why the creators entitled women with the right to use the platform to the fullest for free. Despite the orientation towards the feminine audience, soon many men from Europe and France began to actively engage in relationships on Gleeden. Today, men outnumber women by the ratio 2:1. Some even create fake profiles to get the feature of seeing profiles for free. As time goes, the number of such profiles increases, which is why the quality of profiles on Gleeden remains mediocre.
As to the age of partners, Gleeden demonstrates diversity, attracting people from 20 to 60 years. Most customers, however, are experienced spouses and therefore range from 35 to 50 years of age.
Gleeden offers safe affair not only to residents of European countries but also to people from other English-speaking countries. A few years ago, Gleeden took up a lot of advertising campaigns in the US. This way, it gained popularity in North America and the UK in the subsequent years.
Gleeden Prices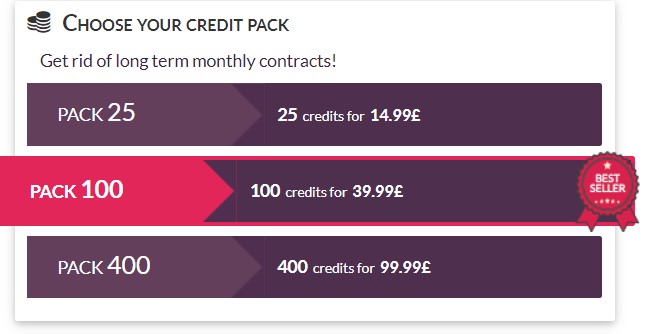 Unlike other dating platforms, Gleeden service does not offer monthly subscriptions or any at all. Instead, the system of credits is valid. As it was mentioned before, there is a distinct line between men and women drawn by Gleeden. If you're a man, then you'll have to pay for actions on the site. These actions include different methods of communication with the partner you like.
First, you can break the ice by sending a private message. This way, you can let your partner know you're interested in them straight away.
The first message costs 5 credits. The ability to read the first message in reply costs 3 credits. Thereon, you won't be obliged to pay anything as all messages become free.
The same principle applies to the live chat communication — you pay once to start a conversation and then the second time to receive a reply.
After that, 4 credits are debited to start a chat and 3 credits to receive a reply.
You can also ask for private photos. This will cost you 1 credit and then 2 credits over if your partner replies with mutuality.
There are three tariffs for credits:
25 credits — $14.99
100 credits — $39.99
400 credits — $99.99
Safety Features available at Gleeden
All Gleeden reviews agree on the fact that the site can be regarded as a secure service as it requests minimum information and no documents at all. Thus, you can only specify your age, location, partner preference, and be good to go. There are many options that you can omit when filling in the profile description form. Moreover, you can hide your profile and make it open only for particular customers. You can also switch the status of your account from online to offline. If you've witnessed any dishonest actions on the platform or have become the victim of one, you can make use of the alarm button. This way you ensure that the moderation team will enforce the proper measures and cope with corrupt actions.
FAQ
What is Gleeden?
Gleeden is a French dating platform that prides itself on absolute anonymity and promises to stand out from the rest of sites.
How much does Gleeden cost?
There are three credit packages. They are as follows:
25 credits — $14.99
100 credits — $39.99
400 credits — $99.99
Credits do not have any expiration period and customers can apply them at their own discretion.
Is Gleeden a scam?
No, the service has existed for over 10 years. Despite criticism, it has never stopped its existence. It leads open and transparent policies.
Is Gleeden safe?
Yes, especially taking into account the fact that it requires no documents and therefore provides the communication with no obligations.
Who owns Gleeden?
Gleeden is owned by the Blackfivine group and was launched by the effort of two brothers who desired to come up with a new completely anonymous dating platform.
What security features does Gleeden have?
Gleeden ensures security by using Safe Harbour software. This prevents fraudulent attacks and makes the service less vulnerable. Gleeden also guarantees the most advanced systems for storing personal data.
Does Gleeden have a mobile app?
Yes, it does. The Gleeden service provides the app called "Help for Gleeden". It provides you with useful ideas and recommendations that can be of great help when chatting with your partner on Gleeden. The app is available on IOS and Android and costs $0.99
How do I delete my Gleeden account?
To do this, you need to go to "Settings", choose "My Account", and then scroll down and click on "Delete My Account". The account will be deleted automatically and instantly.