Open table of content

Website of the day
Website of the day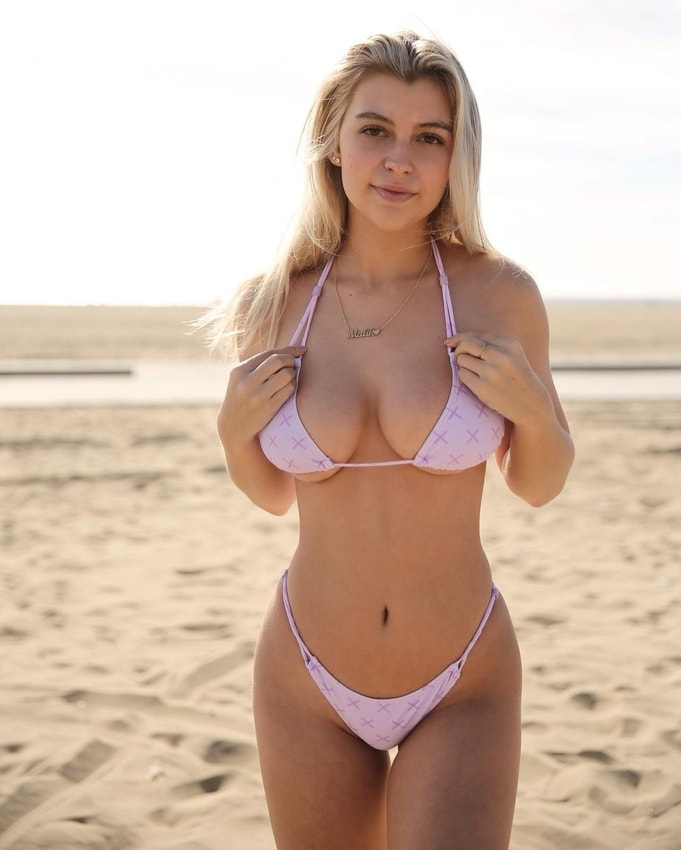 Ashley Madison Review: Your Best Option For A Discreet Affair?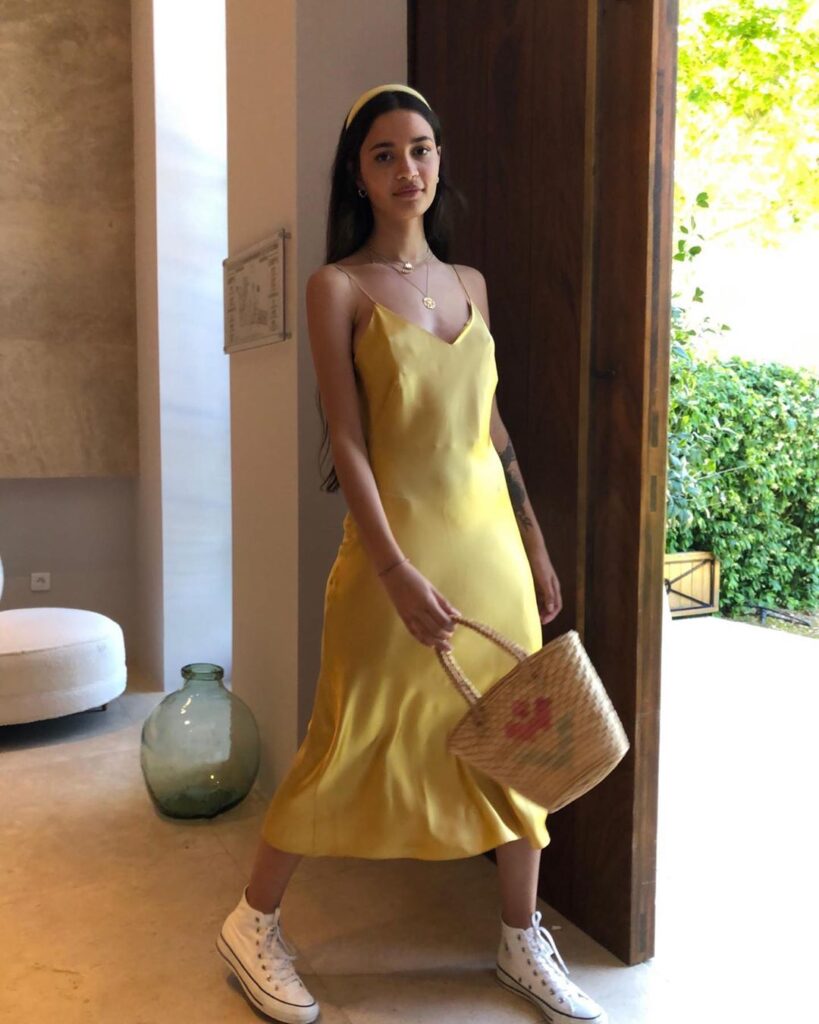 Heated Affairs Review: a High-Quality Discreet Dating Site?
Heated Affairs by Various Inc. is an incredibly popular platform among single and married people alike. This site is one of the largest in the dating industry, having gathered more than 100 million people worldwide. It focuses on liberal affairs and sexual relationships. Here we are going to describe the features of this service and the ways you can have fun on this platform.
Why Heated Affairs?
7

Interface

8

Audience

6

Prices

3

Safety
Good:
Numerous features from live broadcasting, webcam shows, and topical groups to personal blogs
One of the largest communities in the dating industry
Responsive customer support
Mobile compatibility
Bad:
Limited communication for standard members
Limited banking options
Fake profiles
Quick Heated Affairs Overview
Heated Affairs service offers you far more options than other dating platforms. Adult content is the most attractive part of this service, and you will not find any other site with so many features. At the same time, you should always remember about online safety. Heated Affairs implements security measures, but it is impossible to get rid of fakes. If you aim at a platform where you can enjoy every part of virtual dating at once, Heated Affairs can satisfy your expectations.
Check all reviews
How does Heated Affairs work?
This platform does not allow you to preview the profiles. To fully benefit from the service, you should set up a profile. For this, take these steps:
Go to HeatedAffairs.com, indicate your gender, and select who you are looking for. After that, press the Join button. The service allows for creating a shared account for couples and friends.

The next step repeats the previous one, and you just get to another menu. It contains alluring Heated Affairs members' videos. You can tap the pointers to switch to other videos.

After that, specify your location and age. With each step, the videos become hotter and hotter. You will not get bored.
In the third stage, you have to include an email address, come up with a nickname and password for your account.
In the fourth stage, you should indicate your sexual preferences and include some personal information.
In the fifth stage, you need to write brief descriptions of yourself. The title is required, but the second description field is optional, and you can skip it. If you are not sure what to write, use the writing tips. Click on the corresponding link to get the writing help. The service will advise you to focus on your tastes in the bedroom while filling out the profile introduction. After that, press Done. At this point, you agree to the terms of use.

Go to your email inbox and click on the confirmation link. It will activate your account.
Then, you will have to agree to the privacy rules. Any information you post on the website, including images and videos, is available to the users of the service. You can also ask the service to delete any piece of information. If you accept it, press the Agree button to start using the service.

Entering the Dashboard
When getting to the website, you will notice that it is all about sex. Completing your profile will add to your visibility on the platform. You will get more attention from the Heated Affairs members if you include an appealing photo and fill out the questionnaires.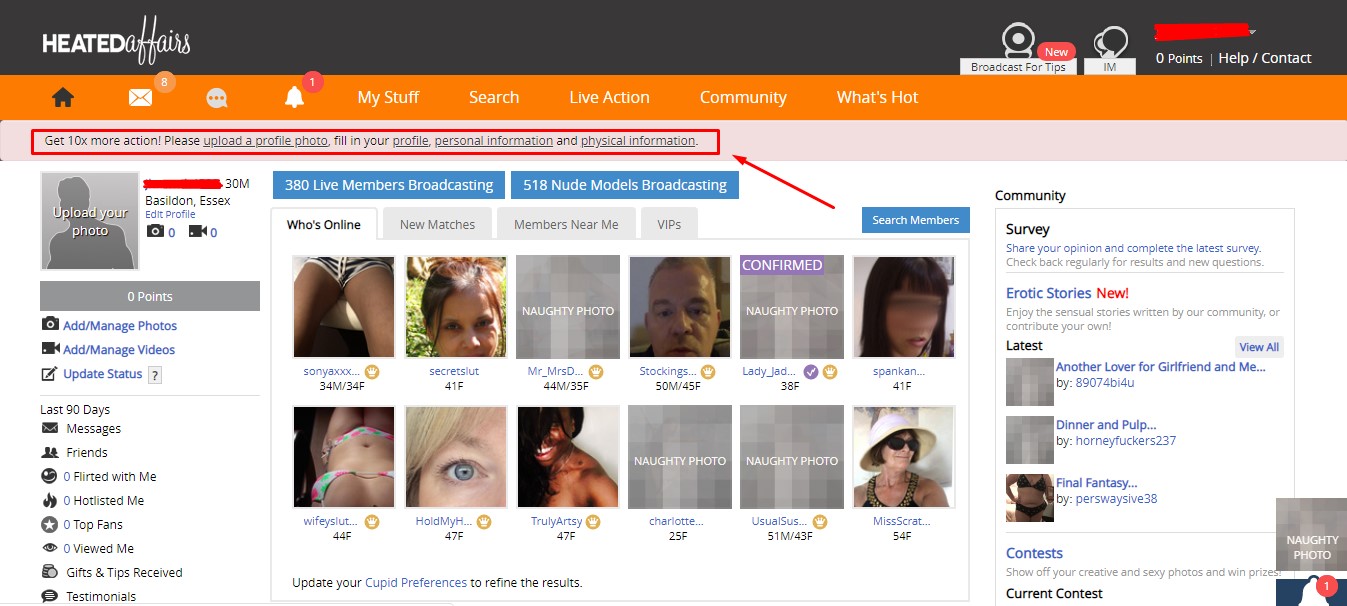 Your control panel is full of imagery and textual info. If you scroll down, you will see the broadcasting users.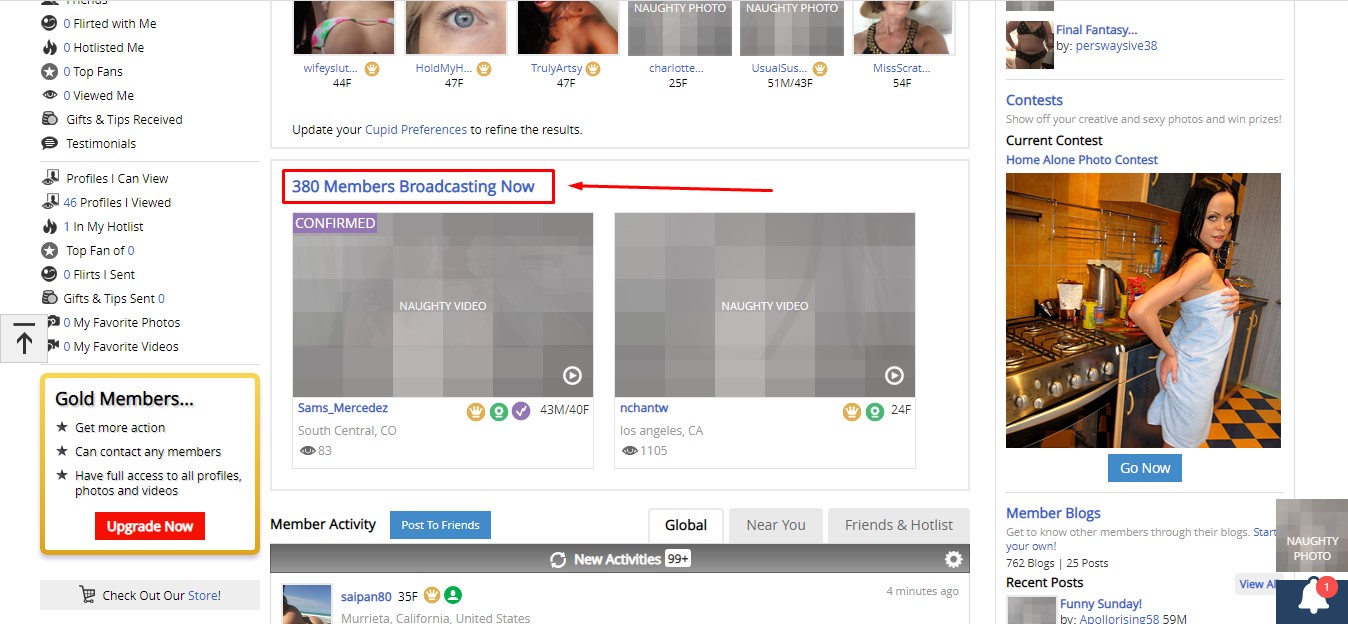 Getting around in a chaotic interface with menus and advertisements popping out all the time is challenging.
Editing your Profile
You can proceed to the profile editing sections from your homepage. Click on the links on the upper side of the page. Personal information includes your habits, marital status, education, languages you speak, occupation, sexual preferences, etc. The Physical Information section contains a standard survey on your height, weight, eye color, physique, as well as peculiarities of your genitals.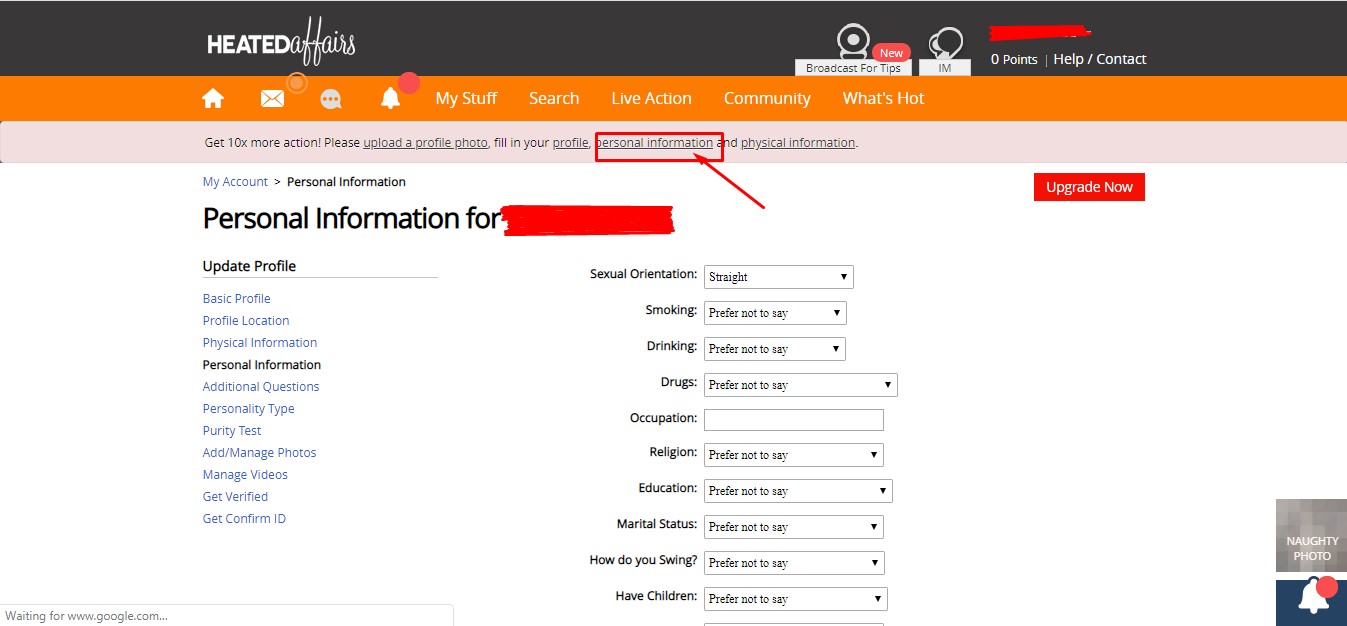 When it comes to photos, Heated Affairs does not include any specific requirements for visual content. That is why it is up to you what images to upload. The service suggests you take a photo with your nickname displayed on either part of your body or a sheet of paper, etc. The crucial point is to attract attention and confirm (to some extent) your identity.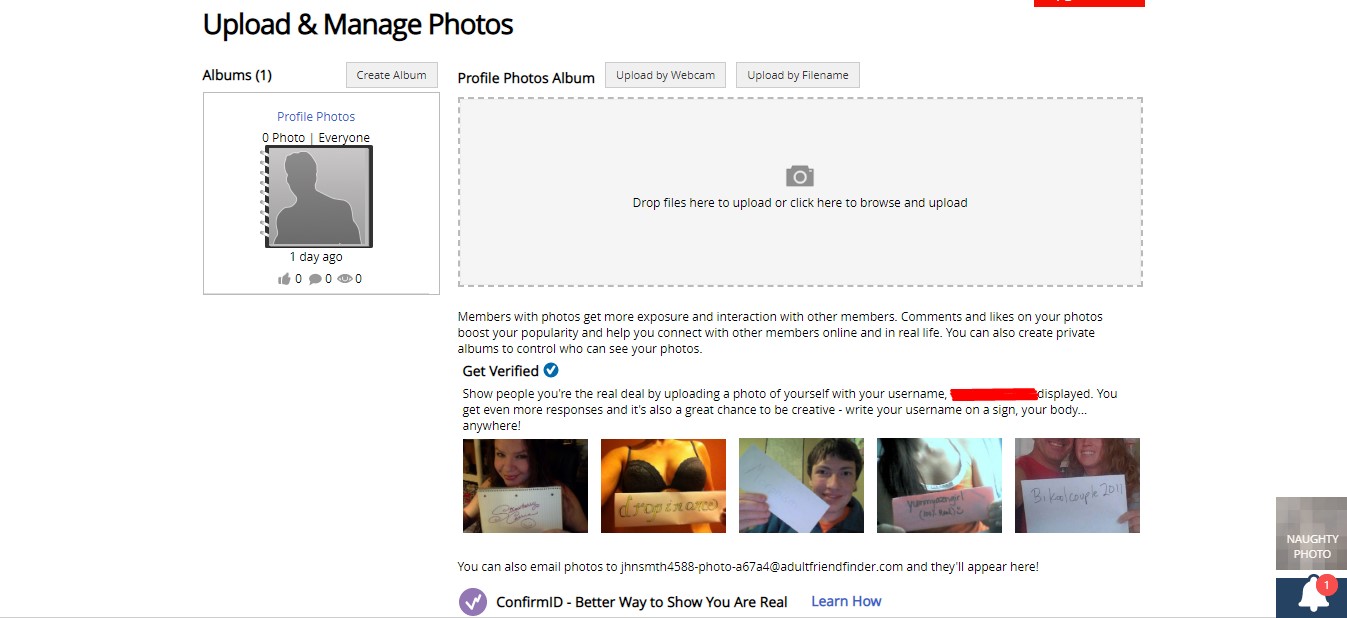 Website Search Criteria
Unlike other dating services, Heated Affairs provides many more search options. You can filter members who:
Are online
Feature videos
Are broadcasting now
Feature photos
Purchased gold membership
Have a VIP status
Confirmed their profiles
Advanced search criteria include the items from the physical and personal information sections. Since not all users fill out every position, these adjustments do not work as accurately as you want. However, considering the vast number of registered Heated Affairs users, Advanced Search still works incomparably better in contract to other services.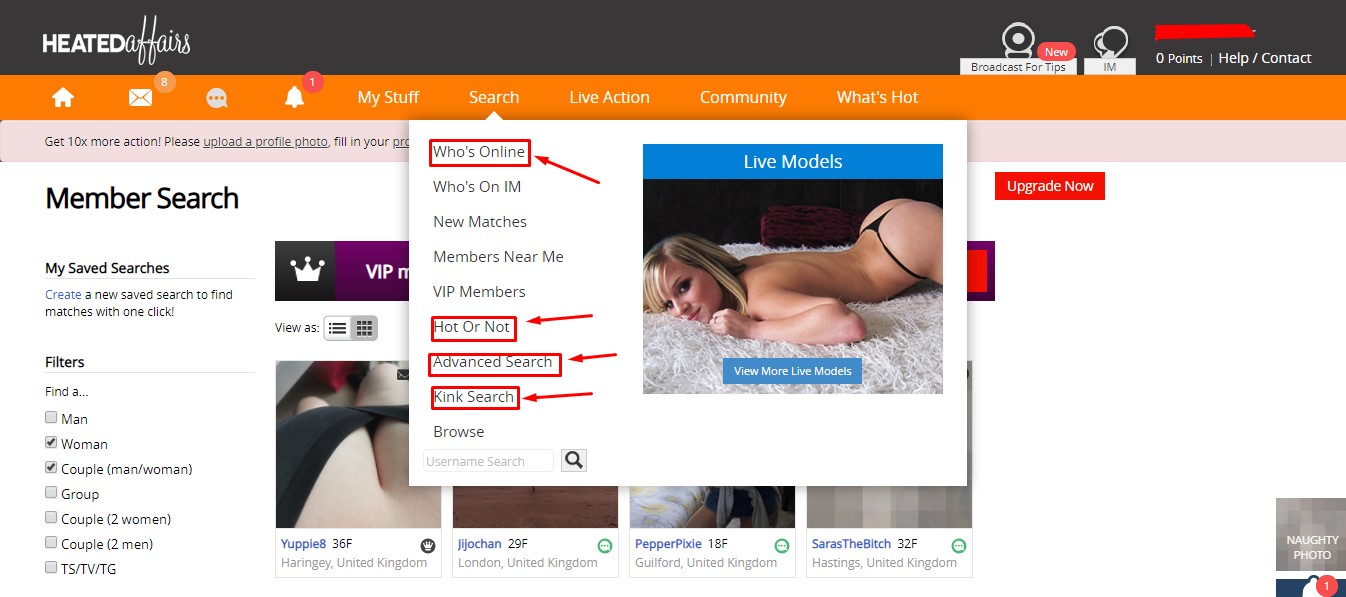 Hot or Not
The Hot or Not feature allows you to create a list of members you consider sexy. The profile pictures will be displayed on this page, and you have to rate them. The members rated as hot will appear in your list.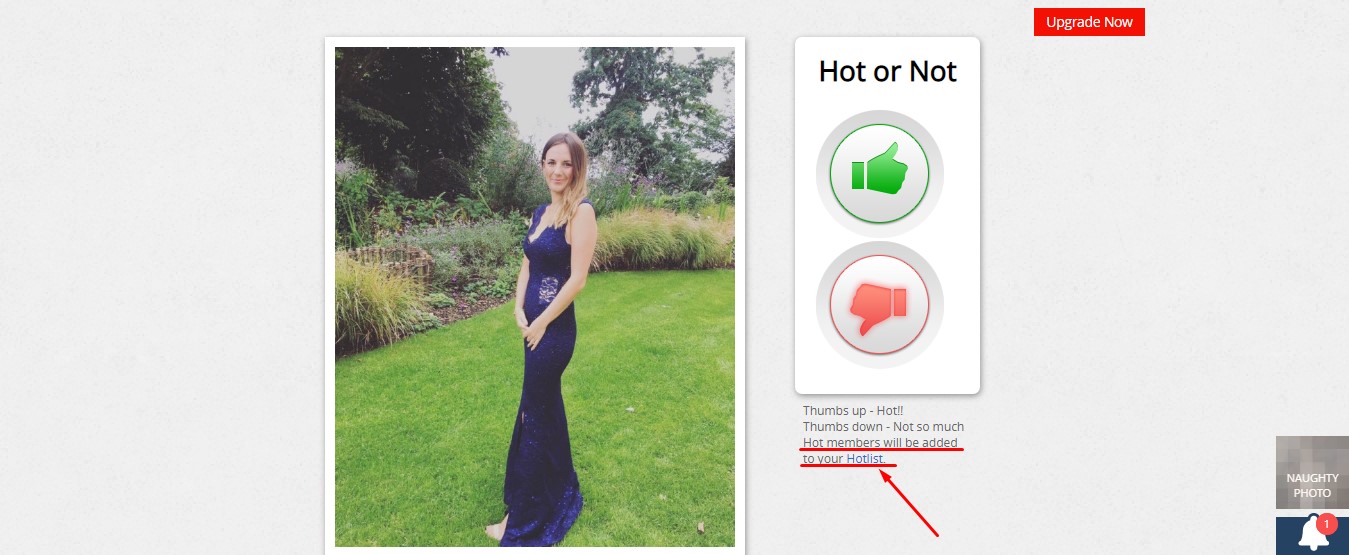 You can add notes about a particular person or remove them from the list.

Kink Search
The Kink Search option is for those who prefer something spicy or even bizarre. This section is similar to fetish categories of adult websites. It allows you to get into an affair with a person that will bring your mind-blowing fantasies into life. Also, you can edit your preferences to let other experimenters find you.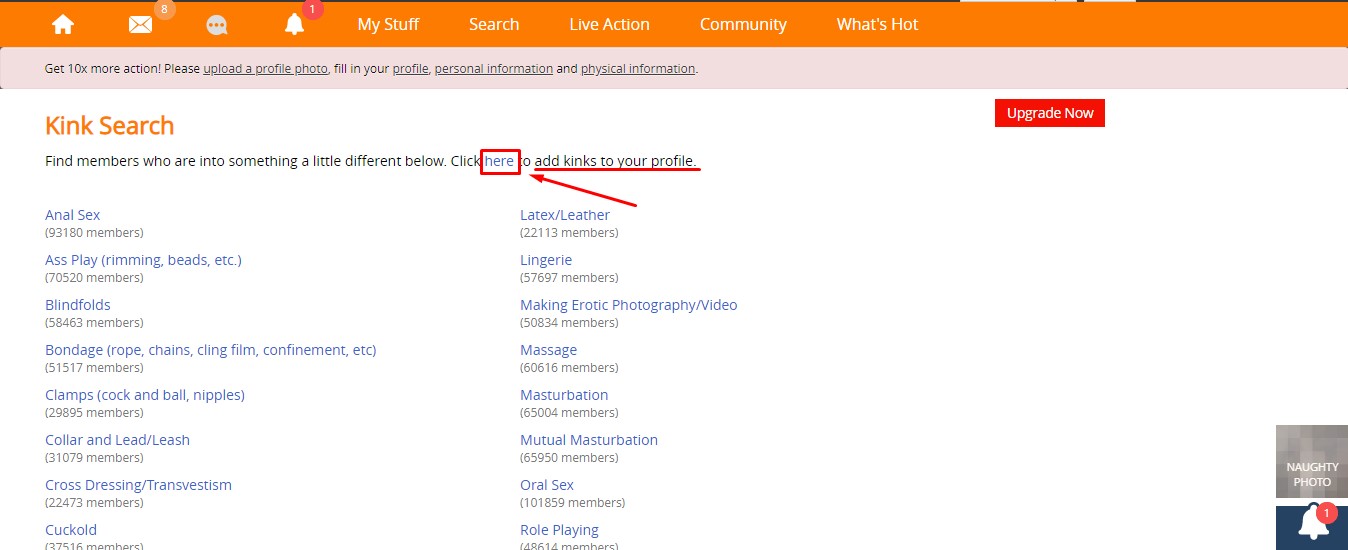 What's Hot
What's Hot allows you to browse the most rated photos and private videos of Heated Affairs users. Similarly to other search sections, this one lets you filter users by multiple criteria. Also, you can browse the most rated members and get access to the collection of 150,000 adult movies. This feature can enhance your experience drastically since you get a combination of a dating platform and an adult movie website.
Live-Action Features
Heated Affairs allows you to enjoy hot members streaming on their webcams. You can also enable your web camera and start broadcasting your show. It is an excellent chance to meet a person since it adds to the atmosphere of liberation. Also, you can interact with the webcam models via an in-built live chat. This feature is available for both standard and premium members.
It also allows you to enter a private chat with a model and ask them to do something special for you. All viewers can reward performers with tips.
Mobile Application
It is possible to use Heated Affairs on the go. The application is available for everyone. You can download it from the website. Do not try to find this app on Google Play or Apple Store since these platforms ban adult applications that explicitly show sexual content.
Customer Service
If you have any issues with the service, you can contact the support team via email and live chat at any time. There is an informative FAQ section that covers all the aspects of using the service. The support team replies within several minutes. It is helpful, allowing you to get information or solve specific issues urgently.
Heated Affairs Member Structure
The audience is incredibly diverse. But all the people get here for the same purpose. They want to have fun, get into short-term affairs. They readily share nude photos and broadcast hot shows. On this platform, you can meet:
Swingers
Fetishists
Webcam models
Couples
Singles
Married people
People searching for discreet affairs
Community
There are over 180,000 topical groups where people share their hobbies and interests. You can browse groups by topic, keywords, and location. There will always be something to discuss with like-minded people. There is even a Sex Academy feature that provides advice for your skills in bed. Moreover, in the community section of the website, you can browse erotic stories, Heated Affairs reviews, suggestions, and members' blogs.
Profile Quality
Since there are no rules for content, people can publish photos and videos that will not always be pleasant to see. At the same time, people clearly define what kind of relationship they seek. It allows you to find a like-minded person fast.
Heated Affairs Pricing
To start communication with the platform users, you need to upgrade your account. The Gold membership allows you to:
Get access to user profiles
Chat with users on the platform
View members' videos and photos
Watch live broadcasts
The membership prices are low in comparison to many other dating platforms. You can buy a Gold subscription at:
£24.15 for a monthly subscription
£48.25 for three months of use
Also, you can enable the opportunity for standard customers to reach you. This feature is available at £16.08 per month or £28.90 for three months. Once you activate it, both gold and standard users will be able to contact you.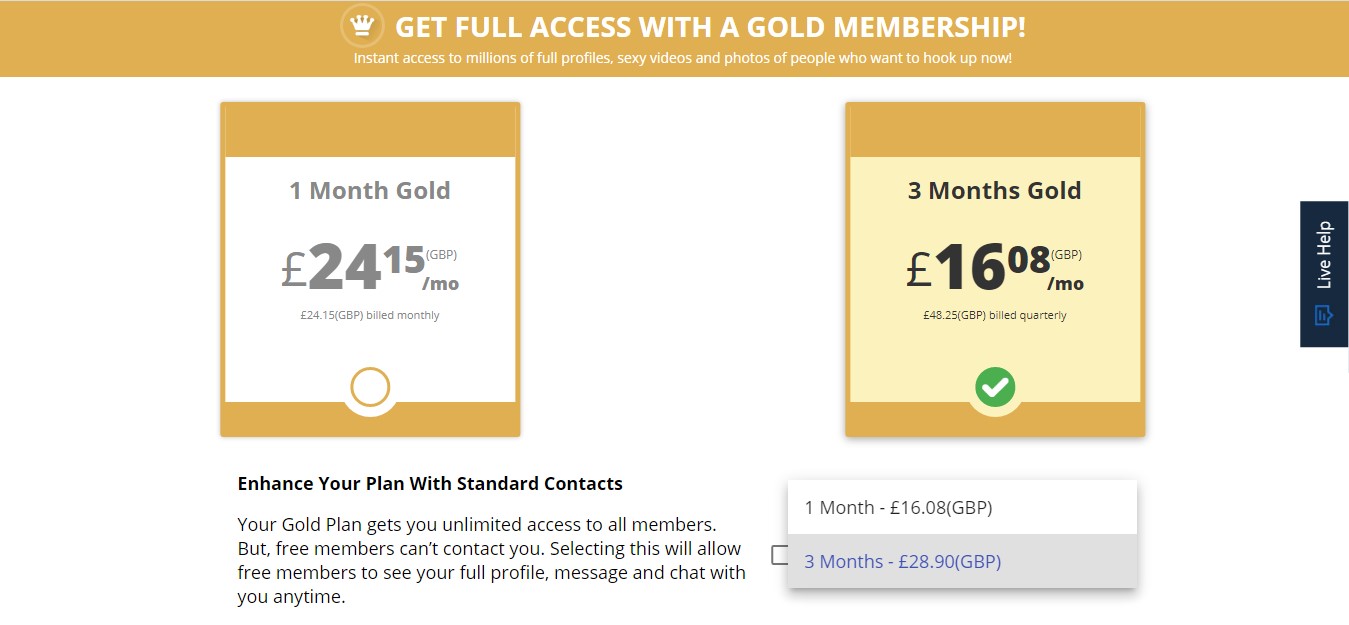 Available Banking Options
Heated Affairs offers payments via debit and credit cards. It supports the most popular card issuers. Unfortunately, PayPal users cannot make transactions on this platform.

Heated Affairs Safety Features
On the Heated Affairs website, users can go through an identity verification procedure. Verified members get the corresponding badge on their profiles. Why do you even need this? Since your identity gets approved, it becomes easier for you to contact other members. You will become a trusted customer and thus get more attention since people will be sure you are real.
To approve your identity, you should provide:
Your full legal name
Physical address
Postal code
A copy of the official identity verification document
A photo of your face
It is recommended to communicate with verified members on this platform since many unapproved profiles can be fake.
Encrypted Data
Since users can optionally provide sensitive information, Heated Affairs implements data encryption technology for the identity and financial information of users. It ensures that your passport scan and card information will remain private.
Privacy Settings
You can adjust multiple profile visibility settings to ensure the highest level of privacy. Heated Affairs allows you to hide your profile from search engines, and limit access for other users.
No Background Screening
The service does not check the legal background of its users. That is why there is a possibility of meeting criminals on this platform. You should take it into account and follow safety recommendations:
Make sure your profile does not contain any official information about you. You should not include employment information or real name.
Do not mention any personal information while chatting with members on the platform.
If you decide to meet an individual from this website in person, make sure you notify your closest people about the place and time of your appointment.
FAQ
What is Heated Affairs?
Heated Affairs is a dating service with an emphasis on adult content.
How much does Heated Affairs Cost?
The payments for premium membership starts at £24.15 per month. If you purchase a three-month subscription in a single billing, you will save £24.2.
Is Heated Affairs a Scam?
This service does not show signs of a scam. It is equal for both men and women.
Is Heated Affairs Safe?
You can use it without worrying about the privacy of your information. At the same time, you should beware of fraudsters on this platform. The dating industry is especially attractive to scammers.
Who owns Heated Affairs?
Heated Affairs is operated by Various Inc., a US-based social media company.
What Security Features does Heated Affairs have?
The following features ensure privacy and security of your information:
Encrypted data
Privacy settings
Profile Verification
Does Heated Affairs have a Mobile App?
The service features a mobile application for Android and iOS devices.
How do I Delete my Heated Affairs Account?
Take these steps to delete your account:
Go to the My Account section of your profile.
Go to Manage Account and click on the cancellation link.
Fill in your password to finish the account cancellation.