Open table of content

Website of the day
Website of the day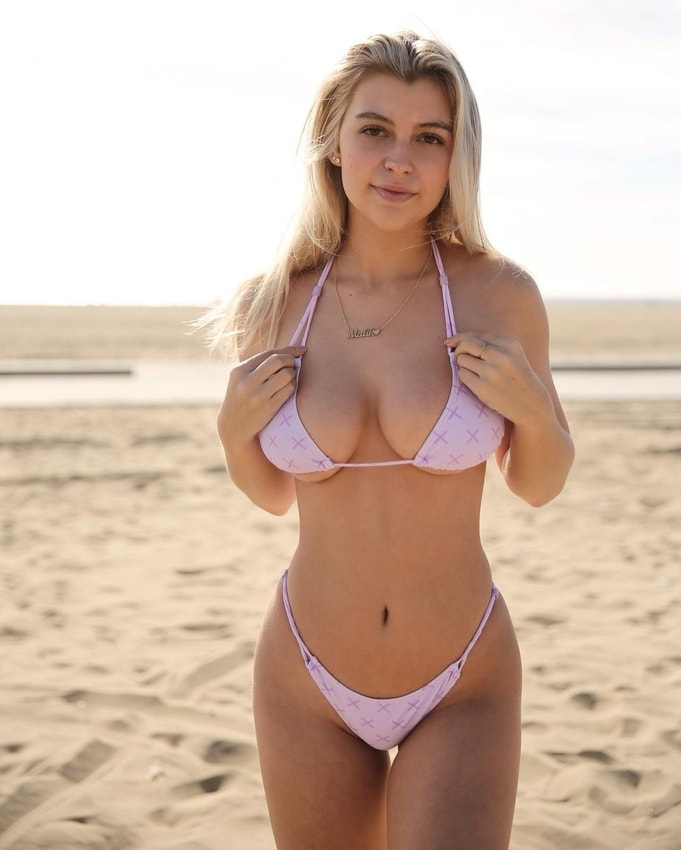 Ashley Madison Review: Your Best Option For A Discreet Affair?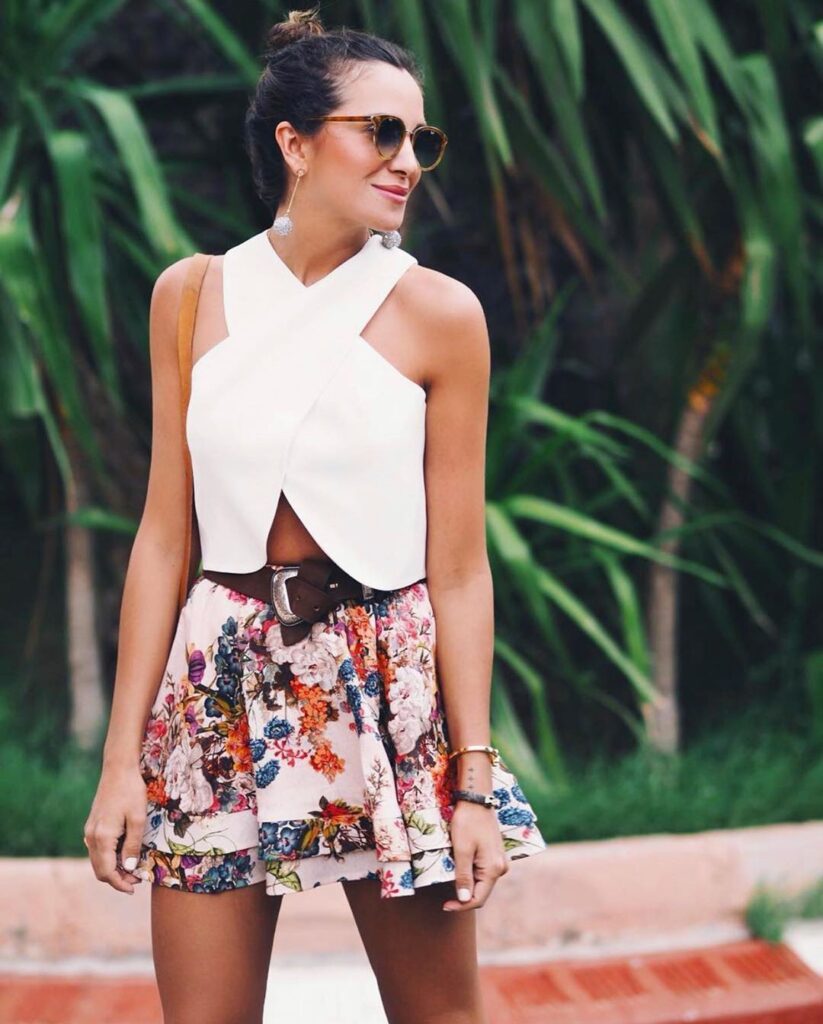 HornyAffairs Review: Is it Credible or Just Another Scam?
HornyAffairs is a hookup platform by High Knight Limited with a significant emphasis on sex appointments. It suits married and single people who want to bring more passion and lust to their relationship or hide their affair from their spouse. The service is quite popular with more than a million active members. But is it good enough? Does it ensure safe communication? In our HornyAffairs review, we will find this out.
Why HornyAffairs?
7

Interface

2

Audience

6

Prices

7

Safety
Good:
You can purchase subscription anonymously
Secure transactions
Helpful customer support
Bad:
Fake profiles
Limited communication
A bit outdated design
A Brief HornyAffairs Summary
You will face lots of scammers and fake accounts on the HornyAffairs platform. The service warns you about it, and it does nothing to fix or prevent such a sad experience. The rest is acceptable. HornyAffairs charges an affordable commission, which is two times lower in contrast to other services. With this service, you can find an affair and have an unforgettable time in bed with a passionate partner easily. With security and privacy measures, your online experience will be entirely anonymous.
Check all reviews
HornyAffairs usage: How it works?
The good thing about this platform is that it allows unregistered users to preview member accounts. At the same time, to take a closer look at somebody's profile and browse their photos, you should register your account.
The registration requires the following steps:
Visit HornyAffairs.com and fill out the registration form. You have to include an email address, come up with the password, indicate your birthdate, and confirm that you agree to the terms of use. In this stage, it will be better to get familiar with terms and conditions. Also, the service states that you will receive occasional emails. In reality, it means your inbox will be full of spammy letters from HornyAffairs. Therefore, create a new email for this platform.
The next step is to specify who you will be looking for and come up with the username. No real name is required. After that, complete captcha and press Continue.
Afterward, you will have to write a description of your personality. The minimum length is five words. Also, the service will suggest you upload a beautiful photo. It will bring you a lot more attention. It is optional, and you can come up with the picture at your convenience. It is the final stage of your sign-up process.
All in all, the registration process is quite easy and convenient. It can take up to a minute. Let us find out what the HornyAffairs control panel looks like.
HornyAffairs Control Panel
The control panel of this service is quite simplistic. You can track your activity, proceed to other services and HornyAffairs search in the upper bar.
Your matching statistics are placed under your profile picture on the upper left side of the dashboard. Also, you can post a message in the public chat to get attention from other users quickly. In this section, all recent changes to user profiles are displayed. You can click on any of them and start a chat right away.

If you scroll down the dashboard's homepage, you will see recommendations and links to Horny Affairs partners.
Your control panel contains advertisements that may become irritating over time. You will not be able to get rid of them even after purchasing a premium membership.
If you prefer not to observe adult content on the website, you can disable it in the settings section. Expand your profile menu and proceed to the Account Settings. In this section, you will also be able to update your email address, change your password, and unsubscribe from email notifications.
Completing your Profile
To receive maximum attention from other users, you need to complete your profile. When it contains a bunch of sexy photos, you will instantly attract more people. To benefit from Horny Affairs to the fullest, proceed to the Upload Photo section.
Unlike other dating services, HornyAffair does not apply restrictions for visual content. Therefore, you can add a nude picture, which will show your intentions the best way possible.
Your Profile Settings section contains a survey on your sexual tastes, hobbies, physical features, and other info like marital status, etc. Completing these items will also add to your ranking on this platform.
Searching for a Partner
The member search is as simplified as possible. You can only set such criteria as age, location, thumbnail, and availability. The good thing is that you can browse people a couple of miles away from you. The bad thing is that there are no adjustments for accurate searches.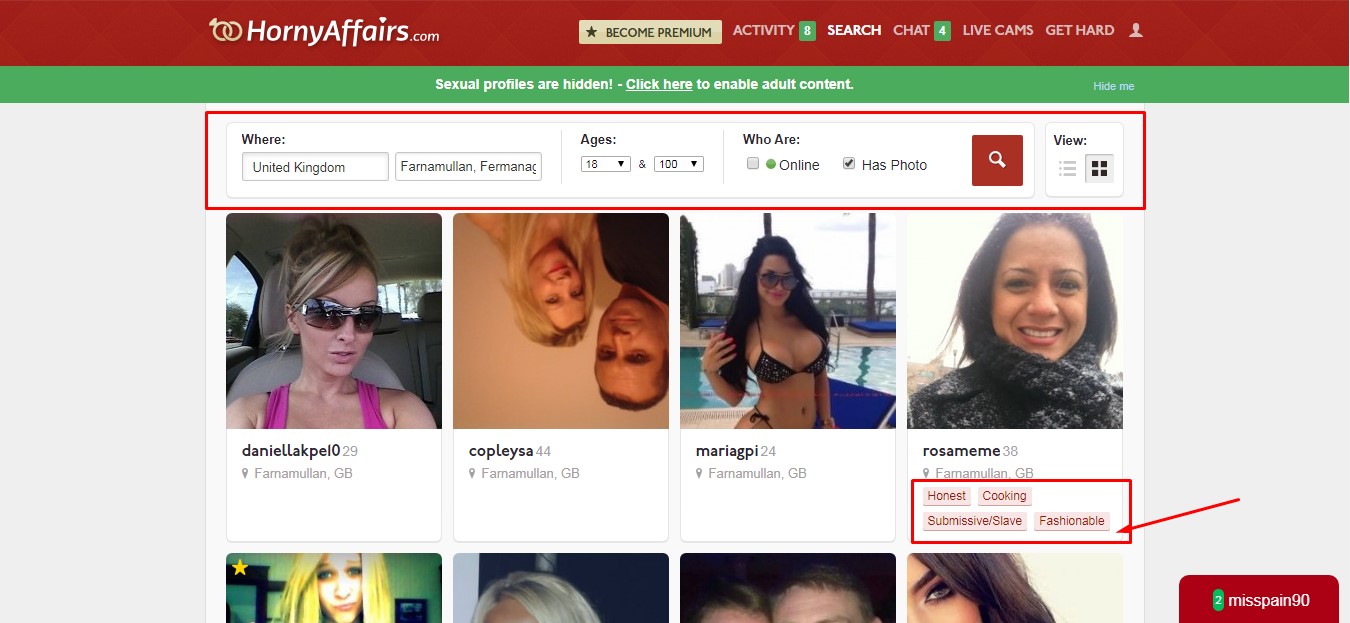 You can see the keywords attached to the profiles. With this feature, it is way more comfortable to filter members since 80% of them feature keywords that briefly describe their personalities and preferences.
Communication Features
On the HornyAffairs platform, you can exchange messages with other members. The chat window is pretty simple, without the opportunity for sharing photos and videos. No voice messages or themed stickers are available as well. The HornyAffairs chat cannot compete with social networks when it comes to communication features. Conversations would be much more interesting if you could enrich them with hot photos and seductive videos.
Entertainment Features
You will not find many entertainment features by HornyAffairs. At the same time, it recommends a webcam broadcast service and a browser-based sex game. You can proceed to these services by following the links in the upper bar of your control panel:
Live Cams. HornyAffairs will redirect you to Cams.com, a site featuring hot webcam models.
Get Hard. You will be directed to Cumshot.com, an adult online browser-based game.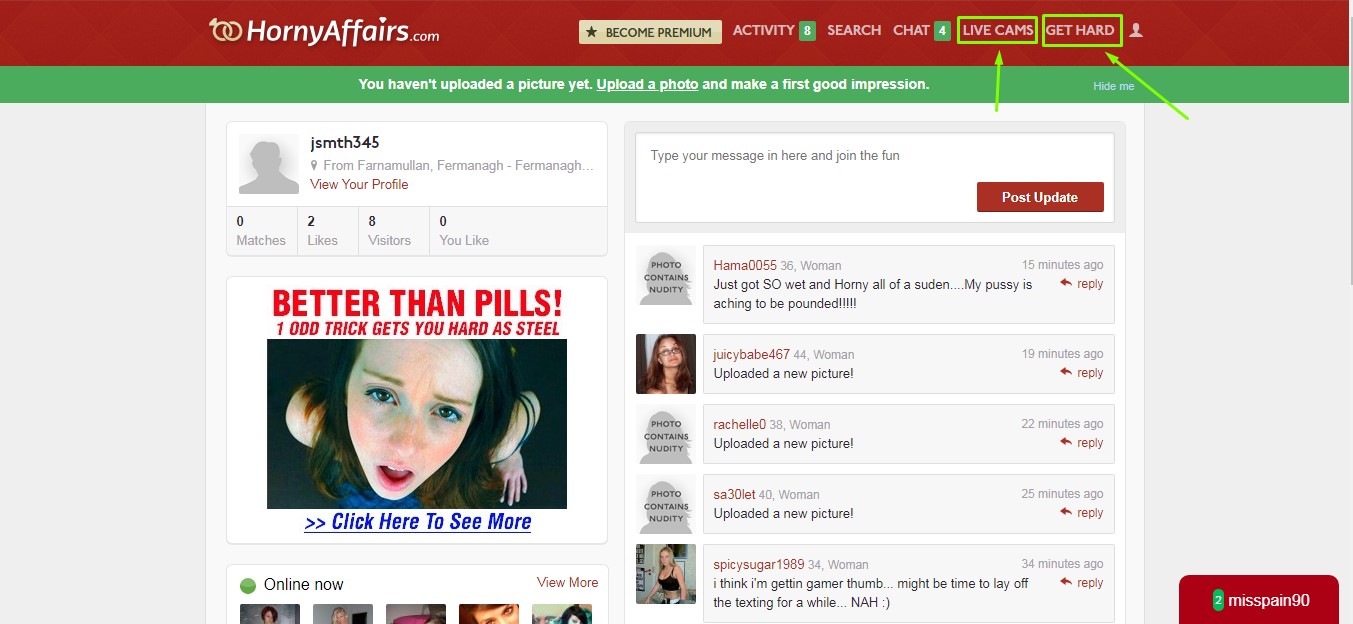 Hornyaffairs does not provide you with instant access to these services. They are independent and not a part of HornyAffairs. If you want to watch webcam models or play a game, register on these websites.
Is Horny Affairs Available on the go?
If your back hurts after hours of sitting in front of your PC, you can switch to your mobile device and chat with HornyAffairs members in the most comfortable place. The mobile version of the website is compatible with all tablets and smartphones.
You can send and receive messages outdoors as well. The only thing you need is a stable internet connection. Simply open your mobile browser, type Horny Affairs, and enter your account. Allow the service to save cookies for staying logged in for a week. Unfortunately, the service does not feature a mobile application. It would be much more convenient to use a dedicated app though.
Customer Service
If you have any questions, you can contact the HornyAffairs support team. Unfortunately, no live chat is available. You have to address the support staff via email.
For this, press the Submit a Ticket button and type your message. Then press Send. Expect the support staff to respond to you within a day. Overall, the team can send you a reply much faster. There is no consistency in this regard.
If you experience some troubles with the way service works, refer to FAQ. You will get an explanation of the main aspects of the HornyAffairs services as well as some information about payments and membership specifics.
HornyAffairs Membership Structure
People on this platform are amiable, adventurous, and eager to have sex with no strings attached. You can stop hiding your darkest fantasies since you can fulfill all of them in reality with someone from this platform.
Also, there are lots of married HornyAffairs members who seek a discreet affair. HornyAffairs hosts users from all corners of the world. All countries are featured in the member search options.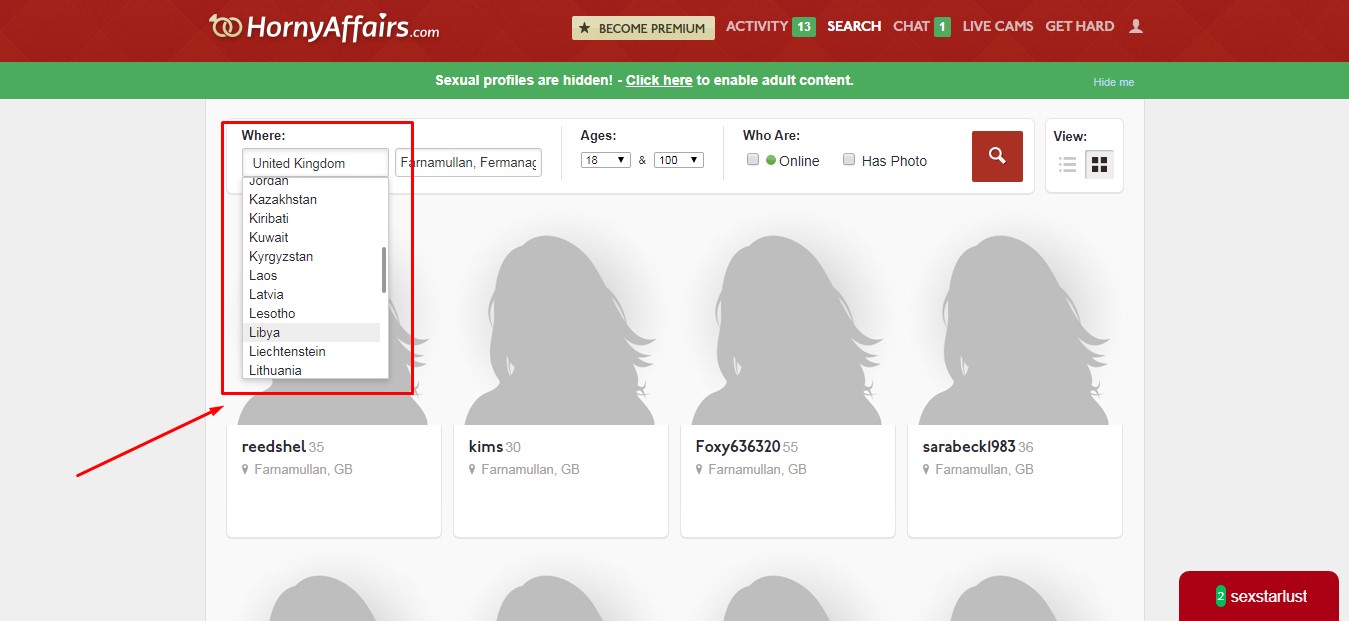 Quality of Profiles
While browsing the profiles, you will notice that users share lots of nude pictures. Not all of them are of exceptional quality. Generally, you will rarely see studio-quality photos. HornyAffairs members feel no shame about their bodies, and that is good if you register here for quick sex.
Also, not every user completes their profile diligently. While one person may write a 1,000-word story of their life, another one will include a couple of lines.
HornyAffairs Pricing System
Similar to many other hookup services, interaction on the HornyAffairs platform requires purchasing a premium subscription.
With a premium membership, you can:
Send and receive messages.
Get access to all profiles.
Send unlimited likes.
Get assistance from the support team faster. It prioritizes premium members.
Watch adult videos. No such feature is available on the HornyAffairs website, however.
Membership is quite affordable. Here are the prices:
One month of services at £95
Three months of services at £98 ( £59.95 in one billing)
Six months of services at £66 ( £99.95 in one billing)
As you see, a six-month plan will save you the most money. At the same time, you will entirely consume the services after you make a purchase. It means no refunds are available in case you cancel your membership before the subscription plan expires.
Available Payment Methods
PayPal and other electronic wallets are not available. Instead, you can purchase a membership with plenty of other convenient options, such as:
Debit and credit cards
Paysafecards
Gift cards supported by 89 brands, including Walmart, Adidas, CB2, and others.
Cryptocurrencies such as Bitcoin, Dash, Ethereum, etc.
All these payment options except for debit and credit cards allow you to purchase the subscription anonymously. You will not provide any financial info associated with your identity. Paygarden, an anonymous payment system, supports transactions with Paysafecards and gift cards for HornyAffairs. These features allow you to maximize both privacy and safety while making purchases on this platform.
Safety Guidelines available at HornyAffairs
HornyAffairs uses advanced technologies to keep user data private and secure. At the same time, it reserves the right to disclose your financial and personal information to a third party when it is necessary. That is why it is crucial to register on this platform with a new email address.
Content Examination
HornyAffairs reserves the right to examine your chat history, photos, and information in your profile. The service does it for security and fraud-prevention purposes.
Fake Profiles
While HornyAffairs may monitor user activity and content, it does not do much against fraudsters. The service does not provide any kind of user verification to ensure these people are real.
You may face lots of fakes while browsing the website. The service explicitly states that it is true.
It does not give you any guarantee of real human communication on this website. Indeed, you will notice that some messages from some users sound awkward and inappropriate. You will also find lots of HornyAffairs reviews mentioning fake users.
Therefore, you should follow general online safety rules. Do not share your personal information in your profile or while chatting with other members. Block or report users who ask you for money or show suspicious behavior.
FAQ
What is HornyAffairs?
Horny Affairs is a hookup platform that centers around discreet dating and sex appointments.
How much does HornyAffairs Cost?
The prices start at £29.95 per month. If you purchase a six-month membership in one billing, you will save up to 40% of the total cost.
Is HornyAffairs a Scam?
This service does not show signs of fraudulent behavior. At the same time, it explicitly states that you can meet fake profiles on its platform.
Is HornyAffairs Safe?
When it comes to payments, this platform is entirely safe due to anonymous payment options. When it comes to personal data, it is kept private and secure as well.
Who owns HornyAffairs?
High Knight Limited, an IT company registered in Cyprus, owns HornyAffairs.
What Security Features does HornyAffairs have?
The service provides the following security measures:
Anonymous payments
Data protection according to digital security standards
User content examination
Does HornyAffairs have a Mobile App?
No mobile application is currently available. You can access the services via your mobile browser. The mobile version of the website is compatible with all devices.
How do I Delete my HornyAffairs Account?
To delete your HornyAffairs account, take these steps:
Scroll down to the bottom of your profile and find the Help section.
Find account cancellation in the FAQ section.

Include the reason for account cancellation.
Press Delete My Account.
FAQ
What is the HornyWife Website Used For?
Horny Wife claims to be the best dating site for married women looking for sexual adventure. The focus audience is married women who are tired of the boring family life and are hunting for single or married guys to have fun and hot sex.
Is HornyWife a Real Dating Site?
Most profiles on Horny Wife belong to members who are not satisfied with the sexual part of their marriages and strive to make them brighter. However, some profiles have unreal or stolen photos and look fake. Horny Wife normally puts them to the "dead" accounts.
How to Delete the HornyWife Account?
A lot of people, after a hot adventure, prefer to keep the story a secret. However, their profiles can still stay active even after stopping payments. You can simply deactivate your HornyWife account with one click and stay invisible. Another way is to delete an account, but you will have to create a new one to become a member of HornyWife again.
How to Pay to HornyWife for Becoming a Gold Member?
You can buy the Gold membership on HornyWife for 1, 3, or 12 months, but be attentive. The plan is repeatable. You must cancel the subscription to stop payments. HornyWife accepts ACH payments, credit cards, Paygarden, bank checks, or money orders.