Open table of content

Website of the day
Website of the day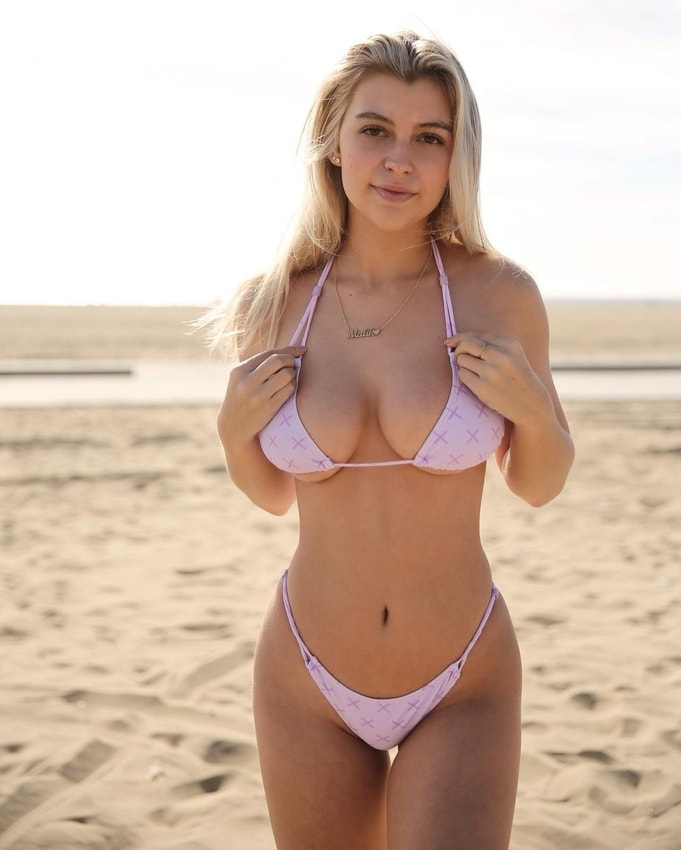 Ashley Madison Review: Your Best Option For A Discreet Affair?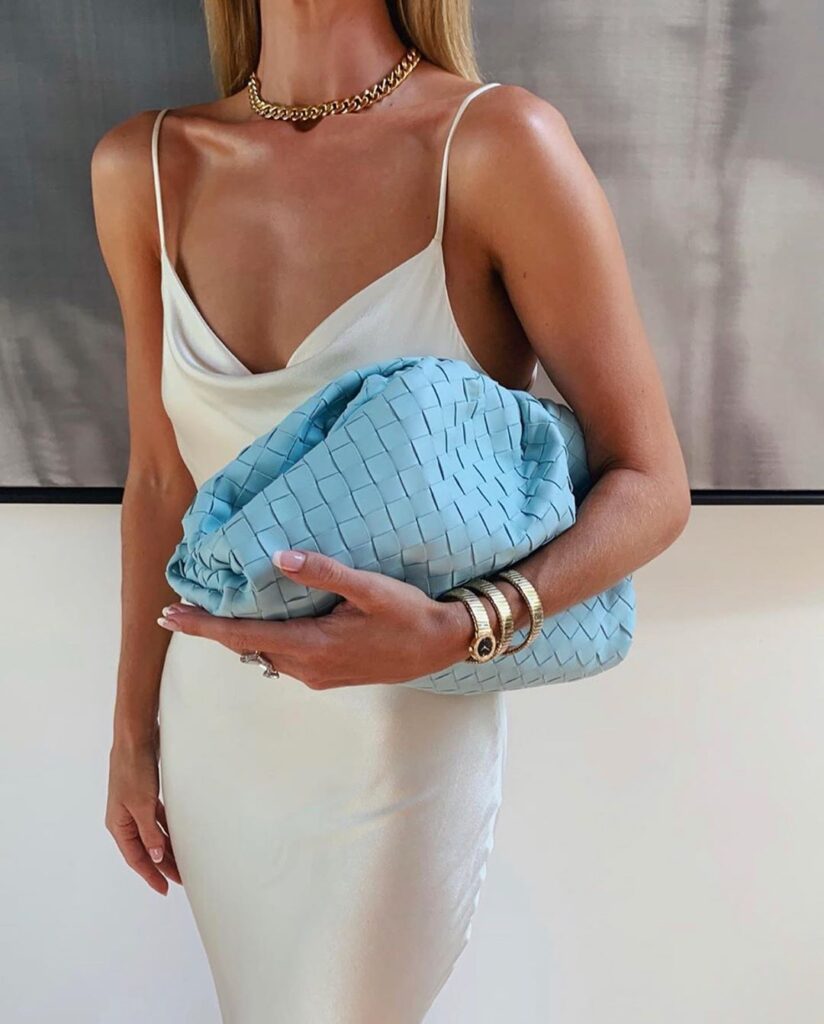 Married Secrets Review: Safe and Discreet Dating or Scam?
Married Secrets is a dating platform dedicated to married people who want to feel the thrilling excitement of dating once again. It is quite an old service that was established in 2003. What can you do on this platform? This service provides you with space for communication and relationship with like-minded people who are tired of their marriage and wish to have a discreet affair. Check what this service can offer you in our review. We will describe its entertainment features, pricing, audience, and many more. Read further to get to know how the service works. Before you get into our Married Secrets review, get familiar with the advantages and disadvantages of this service we have summarized for you.
Why Married Secrets?
4

Interface

7

Audience

5

Prices

7

Safety
Good:
Safe payments
Equal gender proportion close to 50/50
Free sign-up
Bad:
Overly simplistic design
Limited communication and entertainment features
Limited payment options
Unresponsive customer support
About Married Secrets
Married Secrets is an average hookup service. There is nothing you can do on this website except for chatting with other members. If you aim to use it to meet a person and then go offline as soon as possible, Married Secrets will do its job. Due to the safe and anonymous communication on the Married Secrets platform, nobody will reveal your identity. It is a safe place to start an affair. Also, the service does not require much investment due to relatively cheap subscription costs. All in all, you can try it if you appreciate anonymity and usability, without fancy features that distract your attention from getting into a passionate affair.
Check all reviews
How to start using Married Secrets?
When you get to the platform, you understand that its design has not been updated since its creation. On the homepage, you can find a simple registration menu. If you scroll down, you can find navigation to other sections of the website.
There are several Married Secrets reviews on the About Us page. However, you cannot check whether they are true or not since the service does not indicate the source review platform of these testimonials.
To use Married Secrets to the full or at least browse the profiles, you have to set up an account.
Here are the registration steps:
Fill in the sign-up form on the homepage. Here you should specify your gender, the gender of your future partner, and your zip code. It is required for the service to offer you profiles that are close to your location. Note that Married Secrets allows couples to set up a shared account. After that, press the Search button. Right from the start, the service points on free registration and anonymous affairs.
In the second stage, you have to enter your valid email address, come up with your username and password for the Married Secrets account. After you fill out these fields, put a tick in the box next to the terms and conditions link. It will be useful if you get familiar with the terms of use before registration.
In the next stage, you should indicate your gender and the gender of people you are looking for once again. Then, enter your date of birth, write a short headline, and specify your marital status and location. After that, complete the captcha and press the sign up button once again.
Afterward, you should go to your inbox and click on the confirmation link to finish your sign-up.
Getting to the Control Panel
The dashboard of MarriedSecrets is simplistic yet relatively functional. Your profile settings are on the right side, while statistics are on the left. In the upper bar, you can use website search to set the recommendations. The service will set a default profile picture for you upon registration. You can change it any time.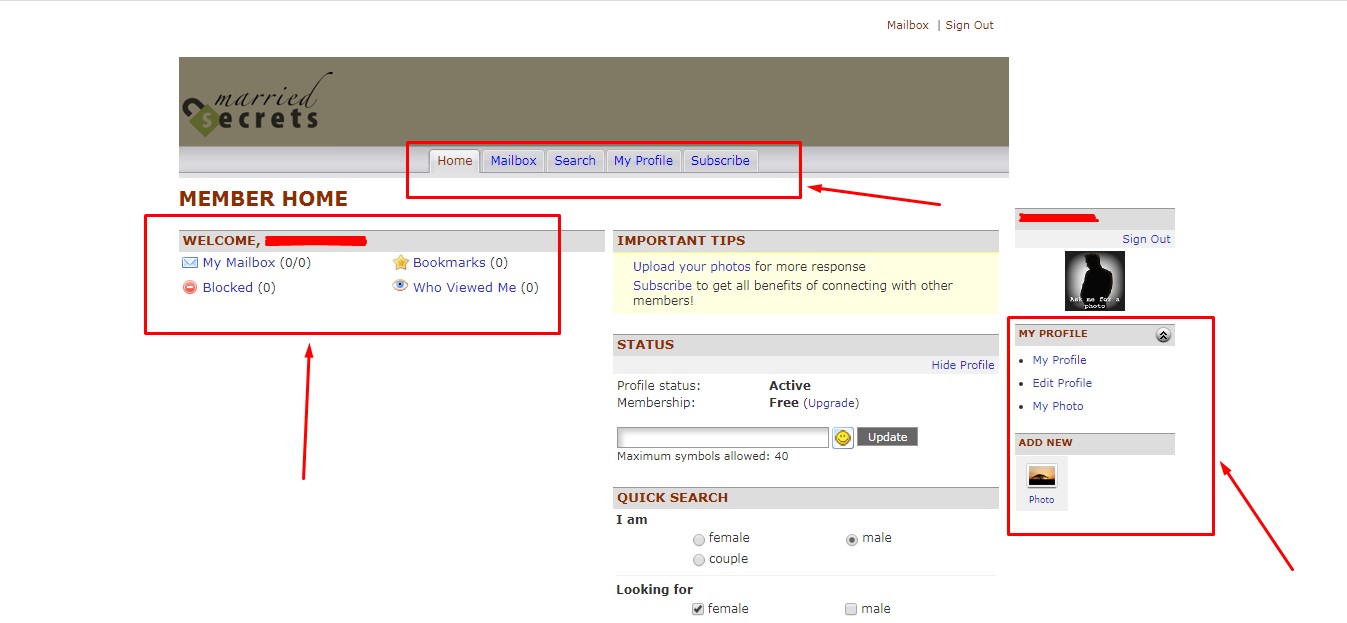 In My Profile, you can see what your profile looks like for other members of the platform. Married Secrets allows you to drag your profile items to set them in the order you like.
Editing your Profile
To get maximum attention from members on this platform, you should upload photos, complete surveys, and fill out a profile description. For this, go to the Edit Profile section.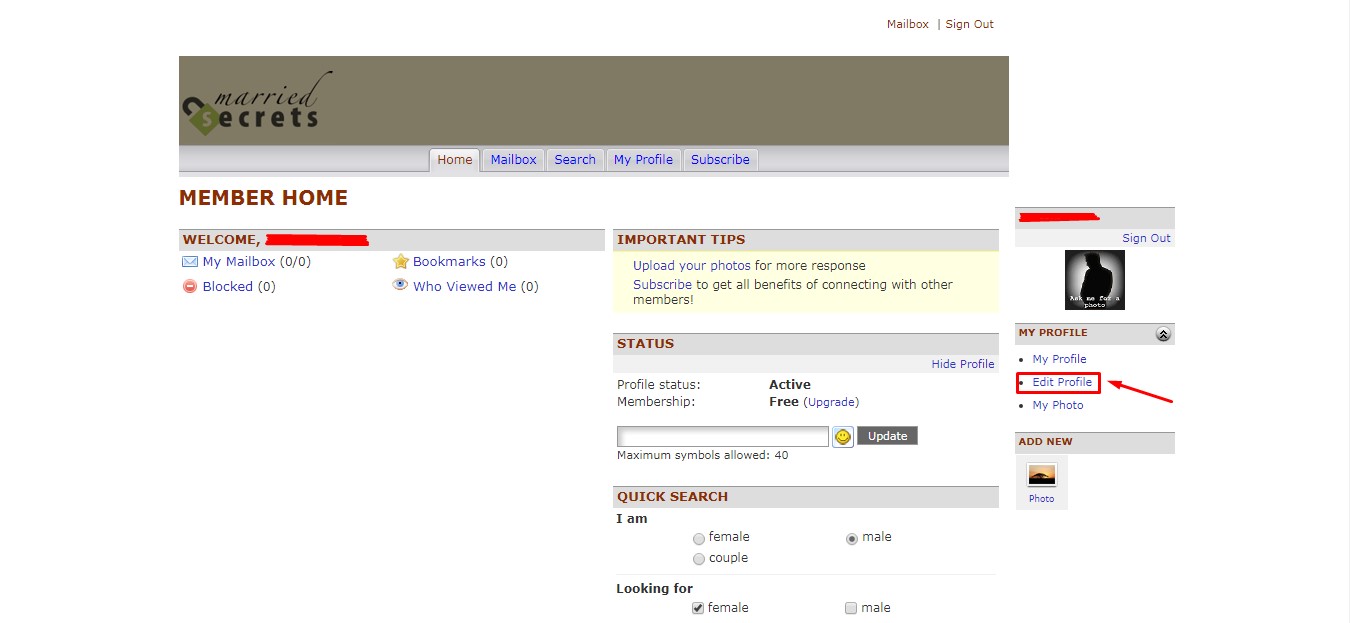 In this section, you will be able to specify your sexual preferences and write something about yourself.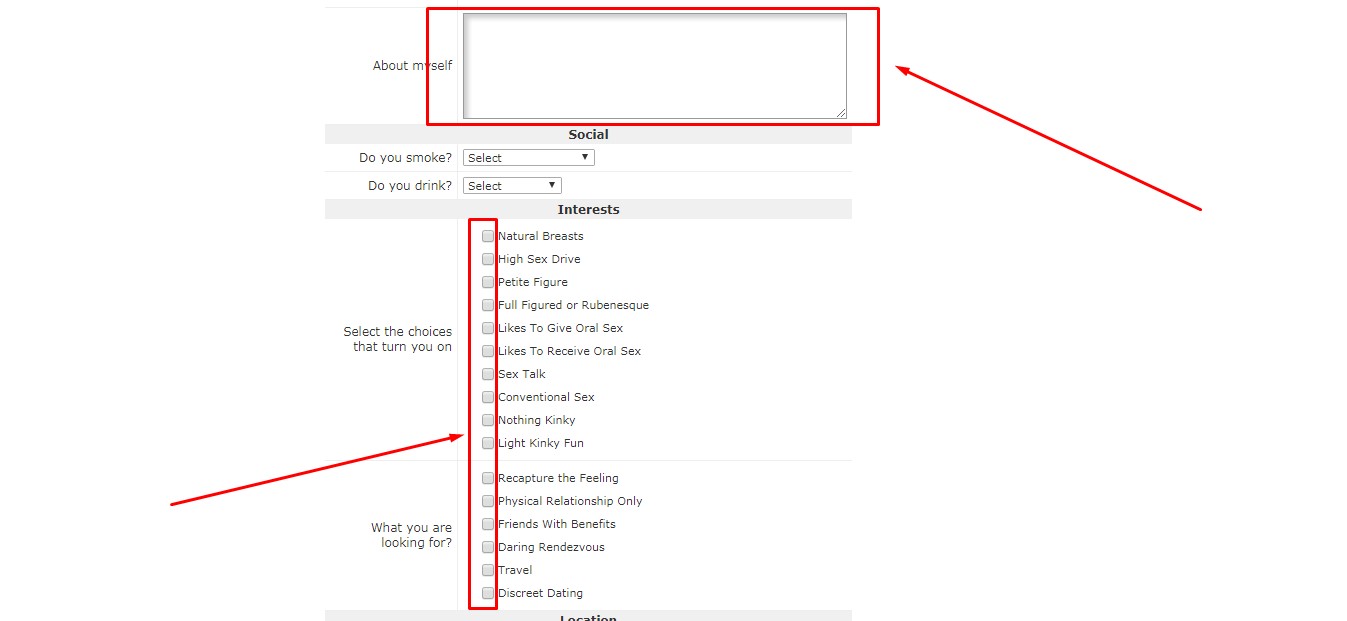 There is also a survey on your physical features, including your weight, body type, race, etc. You can write about your hobbies, literature tastes, and leisure activities in the More Details menu. Although these sections are optional, you will attract a like-minded person faster if you complete them. Once you finish editing your profile, you will get approval and become an active Married Secrets user.
Photo Requirements
Unlike other hookup services, Married Secrets does not allow its users to post nude images. So, be careful and read the photo requirements attentively. The maximum file size should not exceed 10 MB. Your best picture has to show your face clearly. Do not post photos that depict other people alongside you.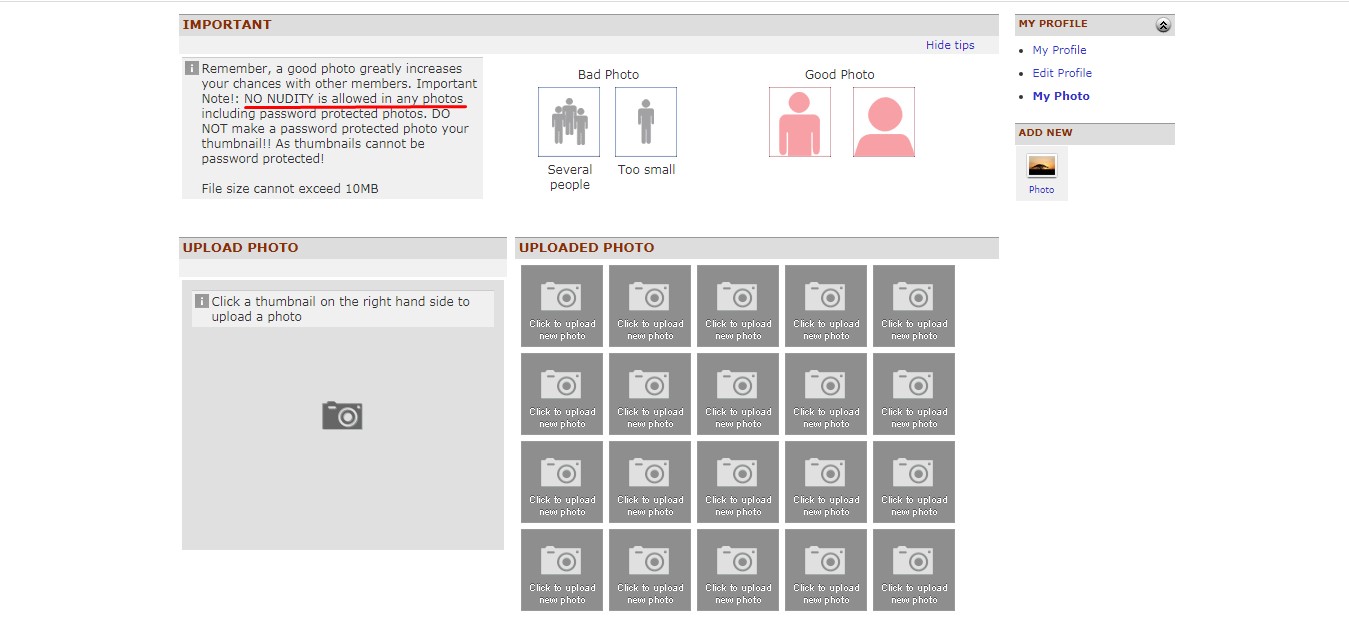 Searching for a Partner
Married Secrets features an extended range of member search criteria. You can filter users by:
Age
Ethnicity
Body type
Eye and hair color
Height
Country
Proximity
Photos
Status (online or offline)
If you want the service to recommend only people in your city or just a stone throw away, include a zip code of a particular city.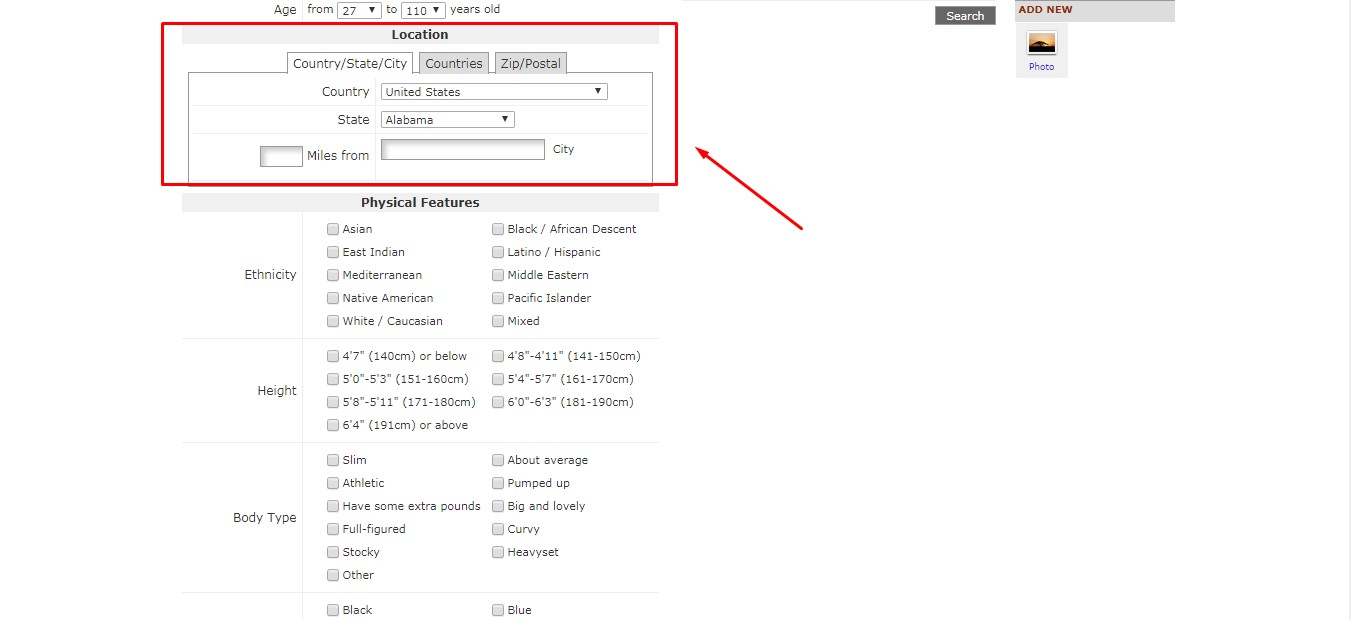 If you search for a couple for sensual nights, it will always be better to find a person in your city. You can also type a username or a keyword in the right sidebar to find a specific profile.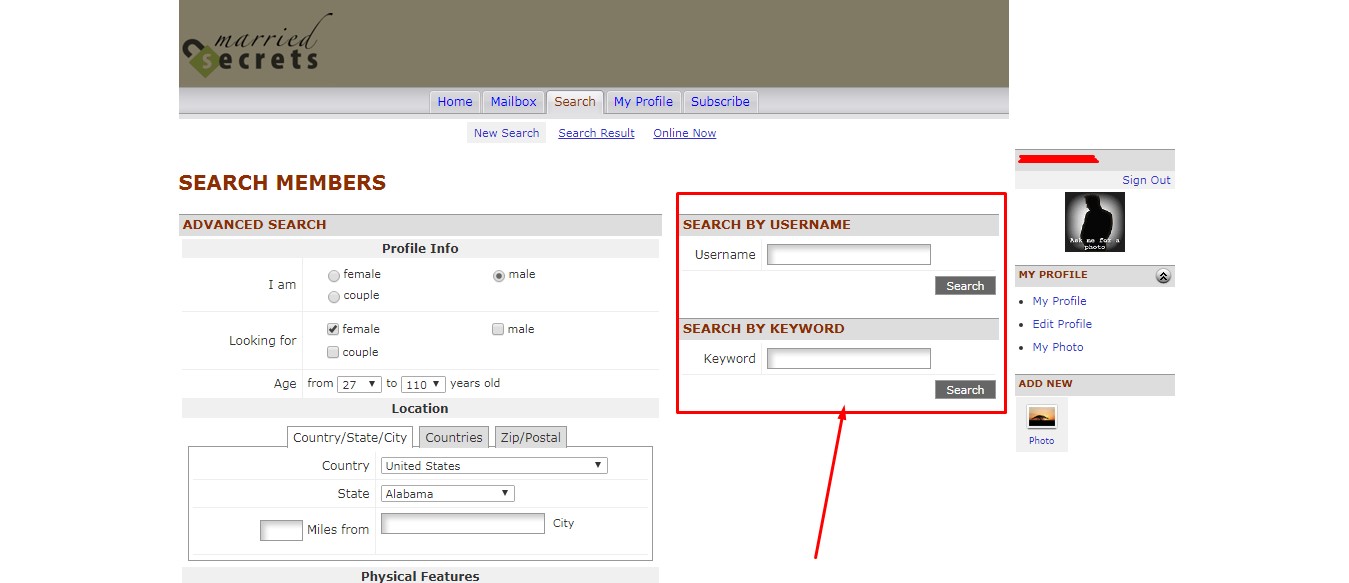 Entertainment and Communication Features
If you expected webcam shows, chat rooms, and video chatting, this platform would not be your best choice. Communication features are limited to chatting only. You can initiate a chat and send messages to your sweetheart, and that's it, there is nothing exceptional. When it comes to entertainment, Married Secrets does not feature any kind of public activity. These peculiarities make the service still and silent.
At the same time, Married Secrets promises to introduce webcam broadcasts for members. You can find info about this feature on the FAQ page. For now, Married Secrets Life is under development.
Here are Married Secrets additional options too:
Bookmark a profile. While browsing website members, you will set your heart to a specific person for sure. You can save these profiles to view them later.
Block a user. If you prefer not to communicate with someone, you can block them with a single click.
Write a note about a person. It allows you to add some notes about each profile. It is useful in case you have hundreds of bookmarked members. Without bookmarks, differentiating one user from another is challenging because lots of members have default Married Secrets thumbnails.
Share profiles with your friends. Click on the corresponding button and enter an email address of your friend.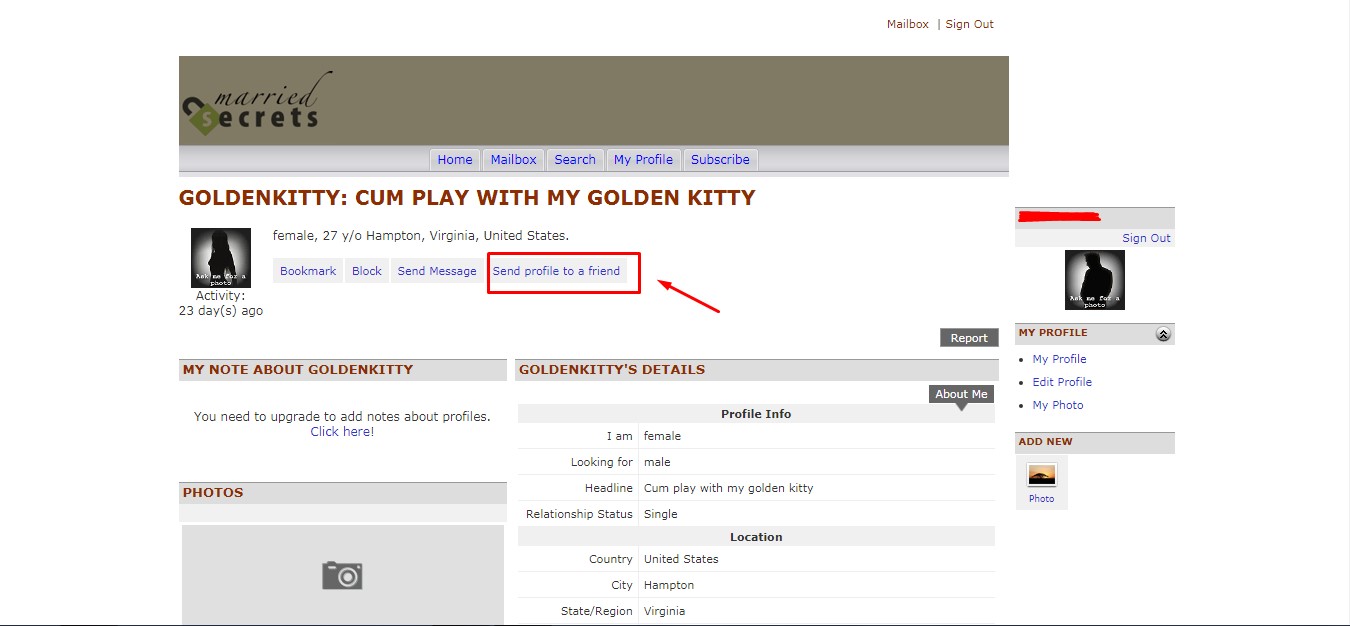 Mobile Compatibility
Using this service on the go or while casually relaxing on your sofa is way more convenient. For this, Married Secrets has adapted its website for mobile users. The mobile version is available for existing members only. To register an account, you should visit the Married Secrets website using your Desktop browser. What about an application? Currently, the service does not feature a downloadable app.
Customer Support Service
FAQ and Support team departments represent customer care of Married Secrets. To contact the support team, you have to proceed to the Contact US page at the bottom of your dashboard.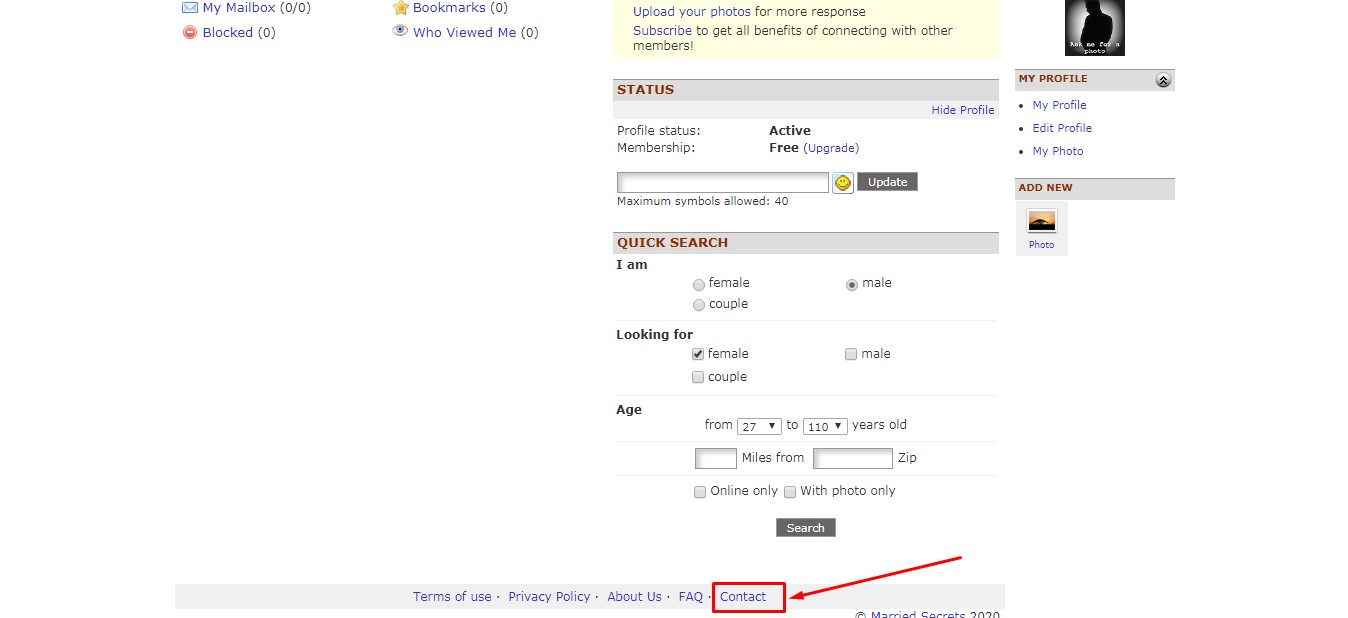 Then, select the customer department that suits your issues the most, include a subject line, and write your message. Afterward, complete a captcha and press Send. The support team will contact you via email within several hours on average, which is too long for urgent issues.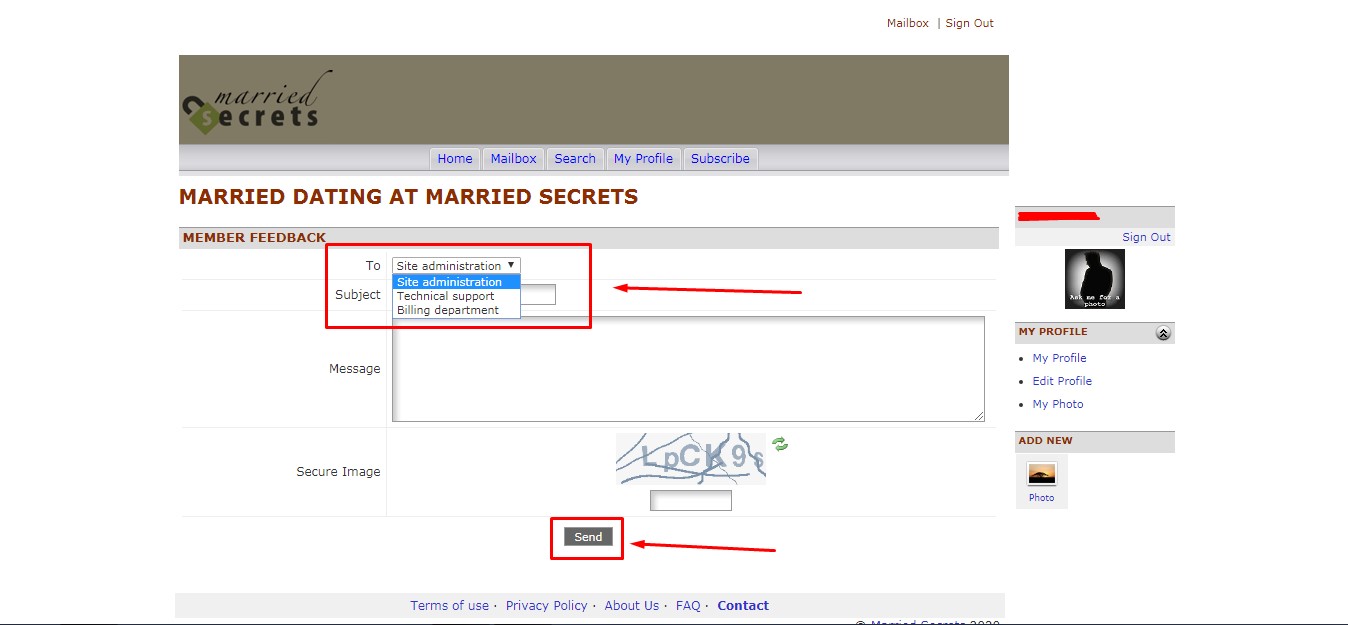 Who is Married Secrets' Audience?
As for December 2023, there are around 5,100 profiles with:
2,500 women
2,000 men
6,00 couples
As you can see, women outnumber men, and only a fraction of profiles are shared. The age ranges from 27 to 110.
We found out that Married Secrets members included profile descriptions and explained their intentions openly. Clicking on their profile will be enough to understand what to expect from a person. Only a tiny number of people share their photos with other members. Usually, they include average-quality pictures, similarly to users of any other dating website.
What do People Seek on this Platform?
According to Married Secrets statistics, around 30% of its audience consists of married people. They seek refreshment for many reasons, but usually because their spouse cannot bring them the emotions and feelings they want, especially when it comes to sex.
They search for someone who would please them in bed. Married Secrets can become an ideal solution for you if you seek a quick sex appointment with no strings attached.
Pricing and Payments at Married Secrets
By default, all users have free accounts with minimal features. You will not be able to interact with other members on this platform with a standard membership. Upgrading your subscription allows you to send and receive messages. The prices for premium membership are quite affordable:
One month at $49.95 (Subsequent subscription renewal at $19.95)
Three months at $79.95
Six months at $119.95
If you pay for six months of services at once, the monthly payment will be $19.99. At the same time, Married Secrets does not provide refunds for users who cancel their account before the subscription ends. That is why if you purchase the six-month subscription in April and delete your account at the end of May, the unused $79.97 will be lost.
Payment Options
Married Secrets supports cards and checks/money offers. With checks, you will be able to purchase a three- and six-month subscription.
All payments are processed by CCBill, an international payment system for secure online transactions. That is why you should not worry about your financial information while using the Married Secrets services.
Is Married Secrets a safe platform?
Since Married Secrets emphasizes discreet relationships, no platform users can reveal your real identity unless you include any personal information in your profile.
At the same time, the service collects a lot of sensitive information as part of its privacy policy:
Personal information, such as full name, email address, phone number and zip code
Financial information, such as your card details
Your activity on the website, including chat history
Profile Approval
Married Secrets administration reviews all changes to your profile. The confirmation of changes takes time. Upon registration, your profile will also be examined.
If you seem suspicious to the administration or violate the service policies, your account will be suspended.
User Verification
Married Secrets does not provide user verification as part of its safety policy. Although the administration examines user accounts, there is no guarantee that you will always chat with real people.
FAQ
What is Married Secrets?
Married Secrets is a dating platform for single and married people who seek passionate affairs with no strings attached.
How much does Married Secrets Cost?
Premium membership starts at $49.95 per month. If you purchase three or six months of service at once, the total monthly fee will be reduced significantly, up to $19.95.
Is Married Secrets a Scam?
Married Secrets does not show any signs of fraudulent behavior. The registration is free, and you are not required to provide any kind of personal information.
Is Married Secrets Safe?
Yes, the service is safe. Your payment information, as well as any personal information you provide to the services voluntarily, is kept secure.
Who owns Married Secrets?
The owner of Married Secrets is not publicly available.
What Security Features does Married Secrets have?
Married Secrets applies the following security measures:
Transactions via an international payment system
Administration examines content and profiles manually
Does Married Secrets have a Mobile App?
Currently, no mobile application is available. However, Married Secrets members can use a fully-functional mobile version of the website.
How do I Delete my Married Secrets Account?
Take these steps to delete your account:
Go to to the Edit Profile section
Scroll down to the bottom of the page and click on the account cancellation link.
Leave your feedback and press Unregister to delete your account.