Open table of content

Website of the day
Website of the day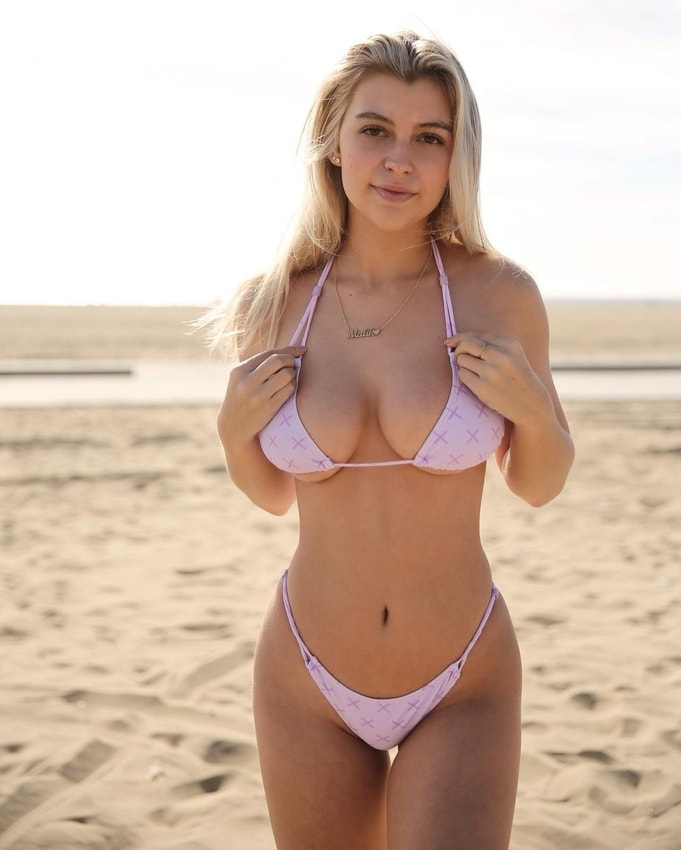 Ashley Madison Review: Your Best Option For A Discreet Affair?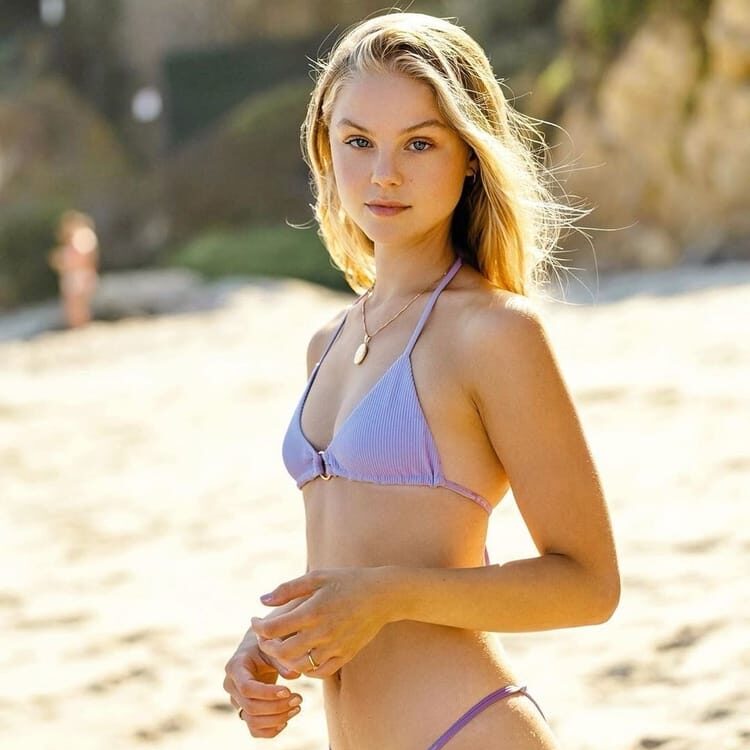 Meet2Cheat Review: Scam or a Perfect Tool for Saving You from the Boring Marriage?
Meet2cheat can hardly be considered a regular dating website helping singles to find their love. Its name speaks for itself, as the main goal of the affair dating sites like this is assisting married people in meeting someone for a small or big affair. Despite its catching title, Meet2cheat doesn't position itself as a platform for cheating. Moreover, the website is proud to provide people with the opportunity to shake up their sex life without being at risk of hurting the feelings of their partners. The mission is quite noble; however, its realization leaves much to be desired. Meet2cheat platform can be considered neither too qualitative nor safe enough to be recommended for registration and usage. Those few Meet2cheat reviews available online are purely negative, which doesn't contribute to the reputation of the website at all.
Why Meet2Cheat?
7

Interface

6

Audience

5

Prices

3

Safety
Good:
Free registration
Narrow targeting
International search of the potential partners
Bad:
Outdated website design
Non-informativeness of the web page
No proper safety and security measures
No mobile application
Meet2Cheat Overview
Being one of the numerous dating websites promoting extramarital affairs, Meet2cheat, however, cannot be considered one of the most qualitative platforms. The website design is poor and tacky without any key information provided. Despite its free registration, the basic membership allows you only to access the website without even a possibility to take a look at the web page audience. Purchase of the Premium subscription doesn't seem to contribute much to your desire to have some extramarital affair or find a friend out of your relationship, as most of Meet2Cheat profiles seem to be fake. The page doesn't care about the safety of its members and leaves them to count on their own luck. The payment methods available are represented only by the credit cards which affects Meet2cheat reputation. 
Check all reviews
How Meet2Cheat Works: a Full Guide
Registration
The biggest attraction of the dating platform is its free sign-up. The bad news is that the registration needs to be completed even if you would like only to get acquainted with the website services. The initial data you have to provide is your gender and the gender of a person you are looking for. After that, you will be offered a small interactive quiz in order for the matching system to get more info about who you are and who you are in search of. Indicate your country and location, share your birth date and relationship status, and describe your appearance (height, weight, eye color, hair length, and figure). Finally, you will have to specify your email address and create a password to successfully complete the registration on Meet2cheat.
Personal Account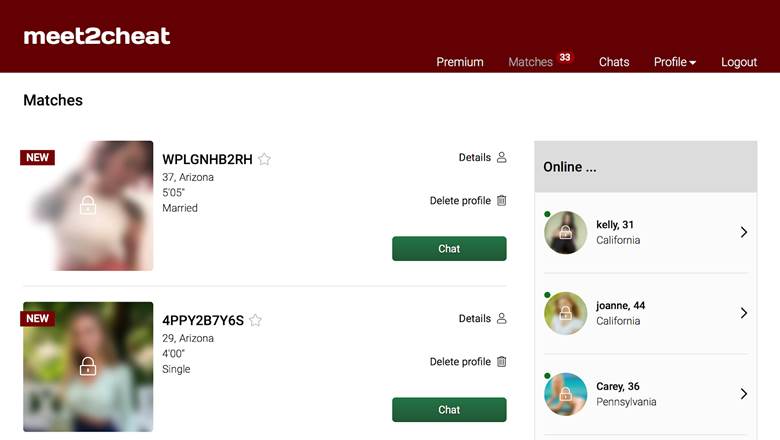 In case you did everything right, you will be immediately granted access to your personal account on Meet2cheat and allowed to take advantage of the website services. If you want to edit your profile, you would need to click on the Profile menu section in the header of the platform. In order to provide more information about yourself, you will have to choose the About Me link and add the missing data regarding your sexual preferences, body decoration, habits, etc.
To get even more matches, you will be offered to upload your recent photo. You may add one primary image and 6 extra ones.
A Personal account contains a Search Criteria section that will help you be more specific in your preferences and indicate the age frames of a person you are looking for, as well as their relationship status, contact type, preferred area of search, and a body type.
In the Settings section, you may change your email and password, create a nickname, indicate a current time zone, as well as find information about your membership and status.
Design and Usability of Meet2cheat: how everything looks
Simple website design is more of an advantage than a drawback. However, in case with Meet2cheat, it is too simple and tacky. One may get the impression that the web page has been developed in haste to start accepting members as soon as possible.
The platform features the main menu placed on the header, Terms, Privacy, and Contact Us sections that can be found at the bottom of the page, and a sign-up form right on the Homepage of Meet2cheat.
In many cases, the poor design of the pages can be compensated with the informativeness and qualitative content of the website. This is definitely not the case of Meet2cheat. It lacks both.
Who is the target audience of Meet2cheat?
If you take into account the website positioning on the online dating market, Meet2cheat features both single and married people from all over the world who don't mind having an affair with the occasional partners whom they encounter for the first time. However, after accessing the web page, you never lose that feeling of interacting with fake profiles and photos.
It is impossible to see the member's photo until you upgrade your membership to Premium, so you cannot test the waters and find out who are those people ready to become your potential friends or lovers. This affects much the level of trust in the website and questions its legitimacy.
On the other hand, it can be justified by the privacy issues that imply the utmost secrecy of the members by masking their faces.
Pricing policy and types of membership on Meet2cheat
As stated on the website, Meet2cheat Premium subscription gives you a lot more opportunities than a basic membership:
You will be able to see the avatars of the members without the annoying blurring effect;

All the messages that you would receive will be available for reading;

You get an opportunity to chat unlimitedly with the other Meet2cheat members.
Meet2cheat features three packages of Premium subscription that imply the "more you take – the less you pay" principle, namely:
3 Month Premium for 14.90 USD per month;

6 Month Premium for 9.90 USD per month;

12 Month Premium for 4.90 USD per month.
Among the available methods of payment, there is only a credit card which is definitely not very comfortable and safe. As a rule, reliable dating services ensure at least several options for transferring payment such as bank transfer, PayPal, and sometimes some local providers. Meet2cheat, most probably, considers other methods to be an unnecessary waste.
Meet2cheat safety principles and security measures
This is a soft spot for Meet2cheat dating platform. Except for the vague Privacy section and one email for customer support, the website members do not have any guarantees it operates in accordance with the legislation, has all the corresponding licenses and permits, and can ensure the safety and security of the personal and payment data of its users.
Meet2cheat doesn't mention any software that would ensure safe data transfer, the mechanism of detecting and preventing the platform from the fake profiles isn't described, there are no rules on how to act in case you have been cheated by other members.
Taking into account the absence of safety measures, as well as a lack of proper information on how to protect yourself from the possible fraud, it can be stated that Meet2cheat doesn't care about the security of its members at all.
FAQ
What is Meet2cheat?
Meet2cheat is an online platform for discreet encounters helping people in marriage or relationships spice up their routine by finding a partner for extramarital relations or a one-night stand. The website boasts of 20 years of experience in premium, anonymous, and secure online dating.
How much does Meet2cheat cost?
The registration on Meet2cheat is completely free. However, you cannot do much being a basic member of the platform. The cost of a Premium subscription depends on the period you are purchasing it for. The 3-month membership will cost you 14.90 USD per month. For the annual subscription, you will have to pay 4.90 USD per month.
Is Meet2cheat a Scam?
According to a couple of Meet2cheat reviews available online, the website is a scam. Taking into account the absence of the necessary safety and security measures any reputable website described on Married-Dating.org features, the mentioned reviews might be true.
Is Meet2cheat Safe?
Meet2cheat is not safe because of four reasons:
It doesn't provide the necessary safety and security measures to protect its members;

It doesn't inform its users about the safety principles they should follow while communicating with the other website members;

It features only one payment method;

It doesn't have a decent customer support service.
Who owns Meet2cheat?
Meet2cheat is owned by imaxx21.
What security features does Meet2cheat have?
On its website, Meet2cheat doesn't provide any information about the safety and security features it has.
Does Meet2cheat have a mobile app?
Meet2cheat doesn't have a mobile app and can be accessed on your mobile device via any browser.
How do I delete my Meet2cheat account?
In order to delete your account on Meet2cheat, you need to click on the Profile section, choose the Settings option, and then click on Delete my profile link. Your account will be deleted.