Open table of content

Website of the day
Website of the day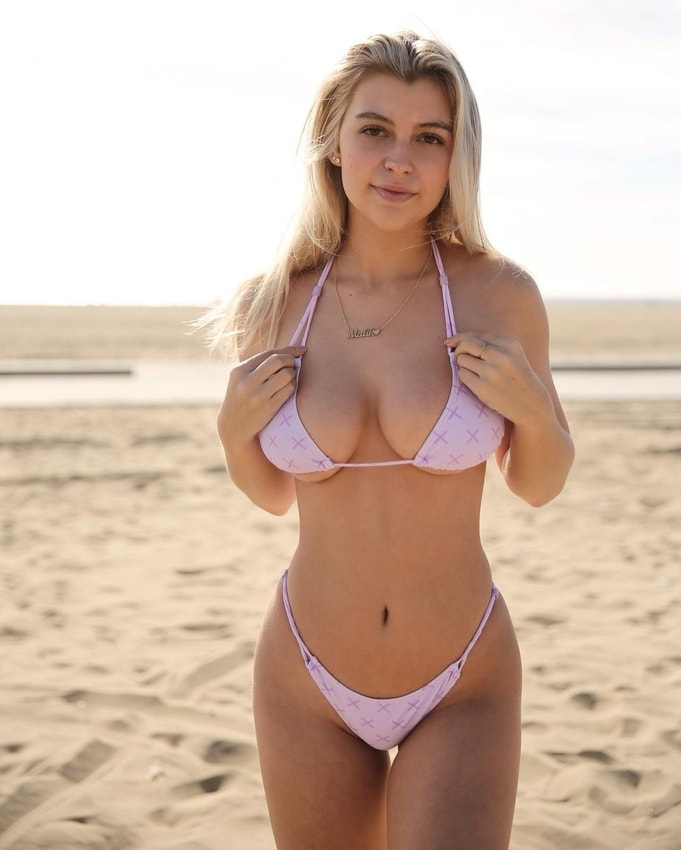 Ashley Madison Review: Your Best Option For A Discreet Affair?
MilfAffairs Review: Should You Try This Dating App?
Online dating has become very popular in the last decade and a lot of couples got together after meeting over the web. Some of them even managed to build a long-term relationship and start a family. But what should you do if you don't want to have anything serious at the moment? Regardless of the reason, it is your right to have fun with no strings attached. With your needs in mind, we created this MilfAffairs review. MilfsAffair.com is a website where you can enjoy adult content and meet people for sex. It is not intended for any lasting commitment so you should not expect to find humble people. Both men and women are registered here and eager to meet new partners every day.
Why MilfAffairs?
7

Interface

4

Audience

6

Prices

3

Safety
Good:
nice design and usability
average prices
fast registration
Bad:
low quality of profiles
no money-back guarantee
doubtful privacy rules
MilfAffairs Overview
As you can see, the platform does not do a lot to provide all its users with ultimate satisfaction with the service. Also, it does not return your money in case you did not like anything here. Unfortunately, we cannot consider this website reliable, even though it has some positive sides. Thus, we invite you to read more reviews on Married-Dating.org to find the best option for online dating.
Check all reviews
How MilfsAffair.Com works
Once you load the MilfsAffair.com homepage, you'll see a sign up form on the right containing all the necessary information to set up an account. Firstly, you need to choose your sex and the sex of people you are looking for. Then, you need to enter your country and zip code. A full birth date is also needed for registration. After creating a username, password and entering your email, click on the red button at the bottom to proceed.
After finishing this form, you will be invited to fill out a few more fields to introduce yourself to other MilfsAffair.com users:
These fields are obligatory, so take your time to write a few lines about yourself and the type of person you want to meet on the website. Then, click on the violet button, and that's it.
After that, you will be redirected to the billing page to upgrade your profile immediately. We do not think that it is a good way to attract users to extra features of the website: a lot of people are scared off by such aggressive marketing tricks and feel like the dating site just wants to make money on them. Hence, think twice before joining such a dating platform on a prepaid basis.
Meanwhile, we like MilfsAffair.com due to the fast registration process. To complete it, you have to spend less than 3 minutes! Isn't it what everyone is looking for when searching for an online dating spot?
Will Design And Usability of MilfsAffair.Com Impress You?
When you first visit the MilfsAffair.com website for the first time, you will definitely like how it looks. The homepage is quite minimalistic, featuring an attractive girl on the left, and a registration form on the right.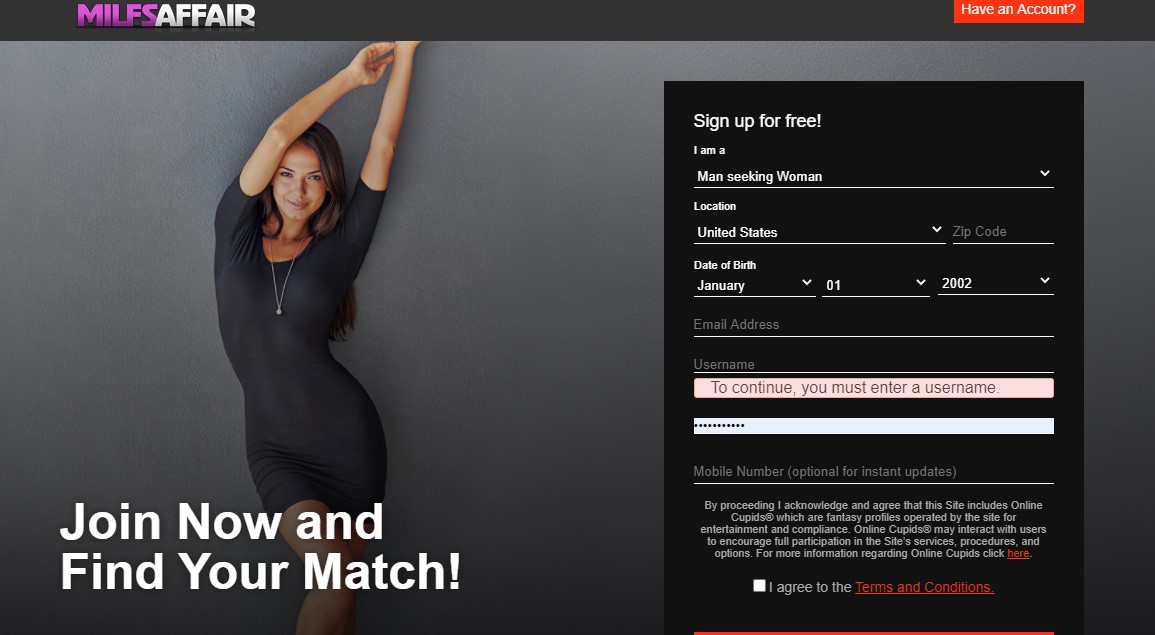 At the top right corner, you can see the login button for the current members of the website. The Contact section, Terms of Use, and other policies are available at the bottom of the screen. The only drawback we can see immediately is the absence of the About page. Omitting this part of the website may cost a lot of potential users who would not want to register without reading the basic information about the platform.
As for the user interface, we can say it is convenient and easy to understand. The dashboard can be found at the top of the page. From there, you can see the users who are online at the moment, your friends, messages, and so on. Navigating your account is possible from the top right corner of the screen. To do that, click on the button with your nickname.
Overall, we like how the personal cabinet is designed on MilfsAffair.com. All tabs and buttons work well here, the advertisements are not annoying, and no constant pop-ups asking you to upgrade your subscription are there as well. At this point, we can say that MilfsAffair.com is a good option for online dating today.
Is There Any Chance To Find A Real Woman Among MilfsAffair.Com Audience?
As we already mentioned, people who are looking for a serious relationship do not use this website. It is intended exclusively for discreet sex dates and online fun. Hence, MilfsAffair.com audience is diverse in terms of background, marital status, and income, but it is united by the interest in intimate dating and erotic communication. Not only single people are registered here, but also divorced, married, and those in relationships who just want to have fun outside their bond with the partner.
Now let's take a closer look at the users' profiles. We can find them by clicking on the 'Find Members' button and choosing the results from either the newest, hottest, or galleries sections. This is how the profile of a basic random user looks:
As you can see, a little information is available about this girl. We only see her birth date, country, and a pic. Below the profile, we have four buttons to reach out to this user, but neither of them is available for free users.
All we can do yet is just review the messages that we already got from other users. All of them have a similar sense of urging us to join the private chat or a live cam with these girls. However, when we visited the profiles of these ladies, they also contained little information and just one picture as on the profile above. Therefore, we can conclude these profiles are some sort of fakes administered by the MilfsAffair.com to make new users update their profiles to premium.
How Reasonable Are The MilfsAffair.Com Prices?
The price list is the first thing you see every time you log into your account. There are four options for you to try:
three-day trial for $0.65 per day;

monthly VIP subscription for $29.95;

three-month subscription for $16.65 per month;

six-month subscription for $11.65 per month.
The prices are lower for longer periods of membership. However, we cannot say it is reasonable to choose long-term packages due to the quality of profiles on MilfsAffair.com. Still, let's see what the website claims to offer for this money:
reviewing all profiles and photos;

initiating instant messaging with any user;

creating private chats;

watching unlimited adult content;

getting on top of the search results;

playing adult games;

having a premium support team serving your requests.
The prices for such an amount of features are average in comparison to the competitors; that is why we advise you to get to know more about the website guarantees, and then decide whether to try it or not. Other MilfAffairs reviews also consider the prices on the website as reasonable.
Should You Worry About MilfsAffair.Com Safety Guidelines?
One thing that all the best married dating sites have in common is guarantees. They include a money-back guarantee, privacy security guarantee, and customer satisfaction as the main warranty of the website. Here are our findings regarding them on MilfsAffair.com:
the website does not offer refunds for membership fees, tokens, and virtual gifts as stated in the 8.d point of the terms of use;

the website can share your personal information with its subsidiaries, third parties who provide any services to the website, and its affiliates. They can also use it for marketing purposes. By joining MilfAffair.com, you agree to these rules;

the website offers only a three-month guarantee to ensure customer satisfaction. It means that if you did not find a partner within the period of three months of active profile usage, you will be granted three more membership months.
FAQ
What is MilfsAffair.Com?
MilfsAffair.com is a platform for finding partners for sex and secret affair.
How much does MilfsAffair.Com cost?
The prices on MilfsAffair.com vary from $11.65 to $29.95 per month depending on the duration of the membership.
Is MilfsAffair.Com a Scam?
Due to the low profile quality and absence of a money-return guarantee, we can say MilfsAffair.com is a scam website. 
Is MilfsAffair.Com Safe?
No, MilfsAffair.com can use your information for sharing with a number of third parties for their commercial purposes.
Who owns MilfsAffair.Com?
MilfsAffair.com does not disclose the name of its owner on the website. 
What security features does MilfsAffair.Com have?
MilfsAffair.com has standard SSL certificates to encrypt the information transferred through the website. 
Does MilfsAffair.Com have a mobile app?
No, there is no MilfsAffair.com mobile app available on the Play Market or App Store. 
How do I delete my MilfsAffair.Com account?
Click on the FAQs section on your account, find the delete my account question in the list, and click on the link in the answer. Keep in mind that this link applies to free membership only – it will not remove your prepaid membership on the site.