Open table of content

Website of the day
Website of the day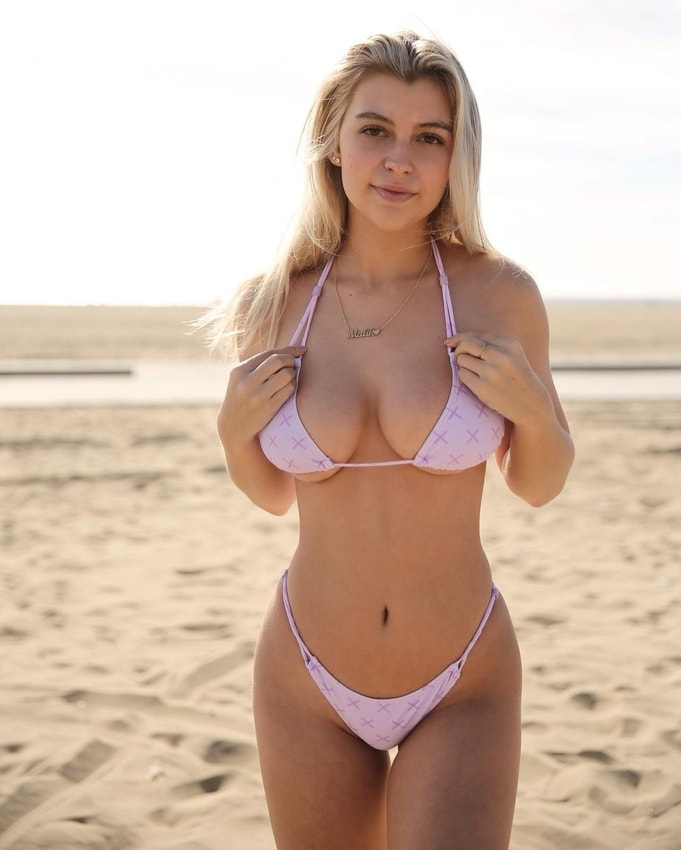 Ashley Madison Review: Your Best Option For A Discreet Affair?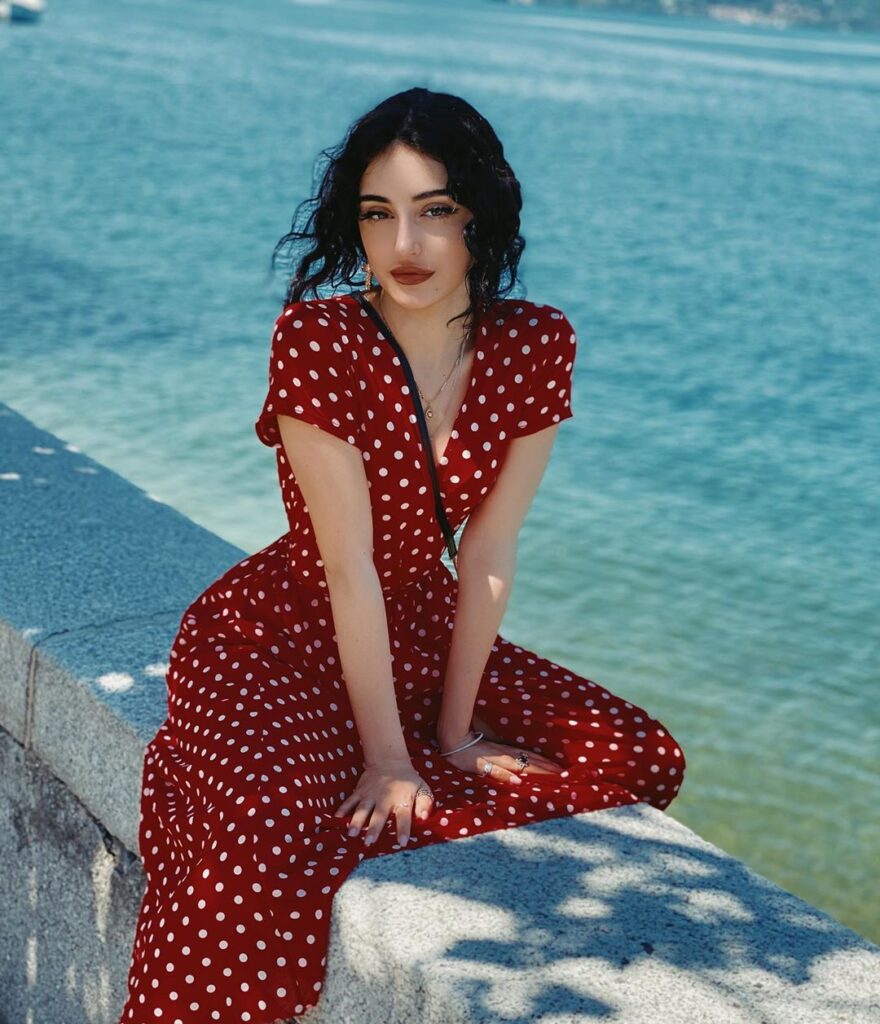 NoStringsAttached.com Review 2023: Every Detail Covered
NoStringsAttached.com by Various Inc. is a discreet dating platform designed for people who want to start an extramarital relationship. This service was established in 2001. It is quite an old company with a long operating history and a vast audience of over 3 million members. In our NoStringsAffacthed.com review, we will describe the service's communication features, pricing, and many more.
Why NoStringsAttached.com?
4

Interface

7

Audience

5

Prices

7

Safety
Good:
Lots of active members
Affordable membership
Reliable safety measures
Bad:
Poorly designed website
Inconvenient interface
Limited communication for free members
NoStringsAttached Summary
NoStringsAttached.com is a satisfactory hookup platform with moderate prices and captivating entertainment features. Webcam shows, membership discounts, and hot member videos can compensate for the complicated, sketchy interface. This platform will allow you to keep your affair secret thanks to a reliable data protection policy. On the other side, you should be aware of fake profiles and carefully choose a sex partner. If you value entertainment and privacy, you can purchase a year of services without hesitation to benefit from discreet relationships.
Check all reviews
Usage and functionality of NoStringsAttached
To start using this service, you have to set up an account. It keeps the profiles hidden from unauthorized users. To start a discreet relationship on this platform, take these steps:
Visit NoStringsAttached.com and fill out a simple registration menu. You have to include a short nickname (up to 16 characters long), select your gender, and add the gender of your future sex partner. Then, indicate your email address and press the Begin Free Membership button. In this stage, you will need to agree to the terms of use and service policies. Therefore, read the terms and conditions before you register.
Your registration is complete. Check your inbox to get the password and log in to your account. Click on the activation link in the NoStringsAttached message to activate your account.
Confirm that your data will be processed and stored by this service. You can ask the administration to delete any information at any time. Then, press the Agree button to proceed to your account.
Complete a questionnaire on your physical features, country of residence, and relationship preferences. If writing a personal description is challenging, you can click on the Writing Ideas link to get help or add a generated description. Once you're done with this form, press the Start Meeting People button.
Getting to the Dashboard
Your control panel will look a bit sketchy with unclear navigation and nearly visible essential sections, such as My Account. You can proceed to primary services, member search, and your profile adjustments in the upper bar.
Your statistics, views, and matches are displayed in the upper left corner of the control panel. You can view the recommended profiles in the center of the dashboard. Scroll down to watch member videos and webcam shows.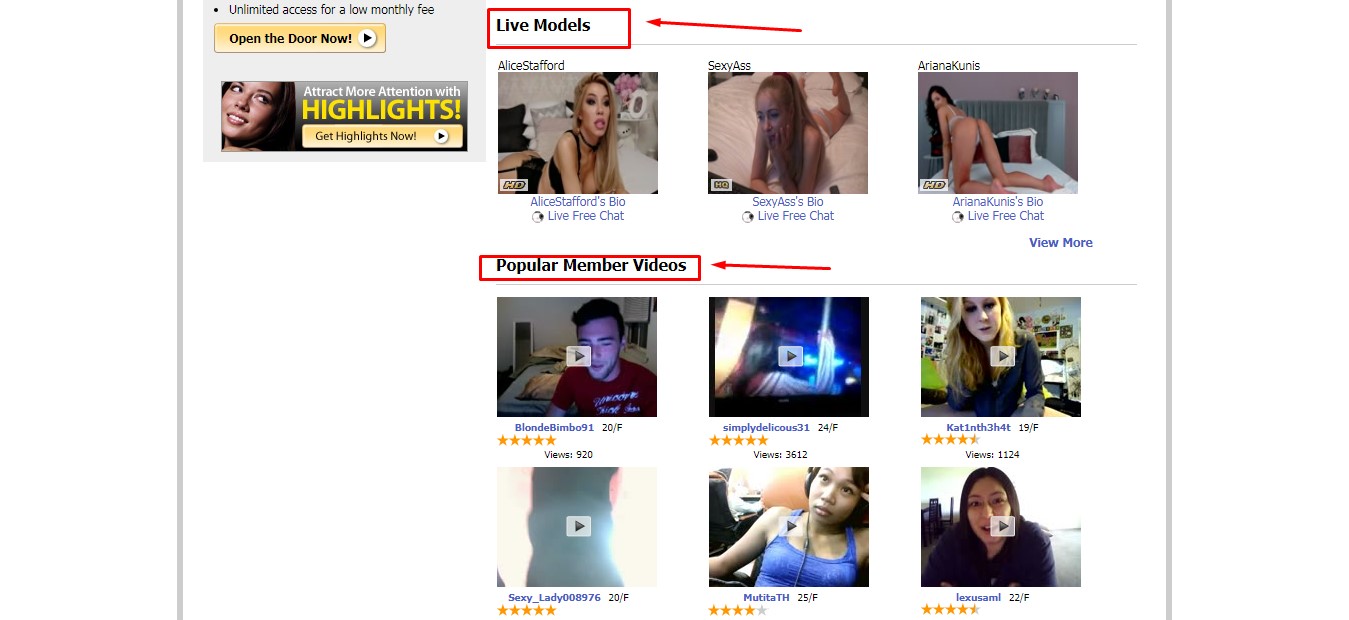 All in all, it is not that easy to get around in comparison to other hookup services. Let us proceed to profile adjustments.
Editing your NoStringsAttached Profile
You will enjoy attention from other users and get better ranking on this platform if you complete your profile and add some alluring photos. To start editing your profile, click on your avatar first.
Then, proceed to the Edit Profile section and press the Complete Profile button.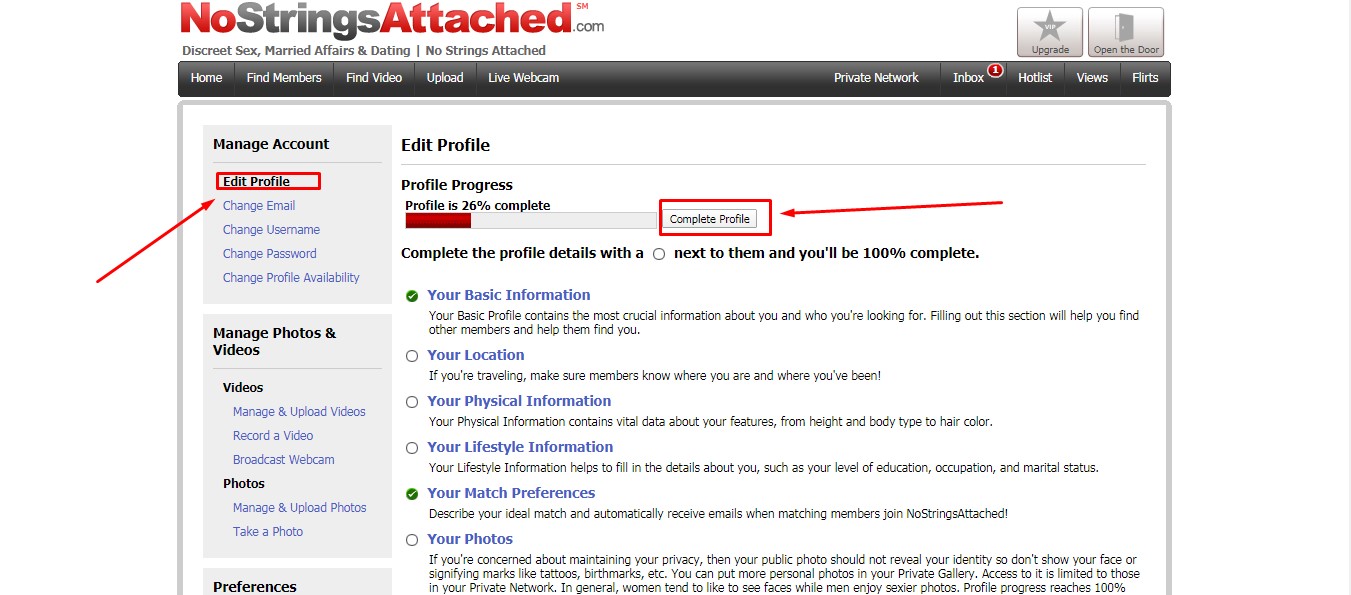 You are finally here. You can start with physical information. Other sections like lifestyle and relationship preferences are on the left side. You can proceed to them after you finish the survey on your physical features.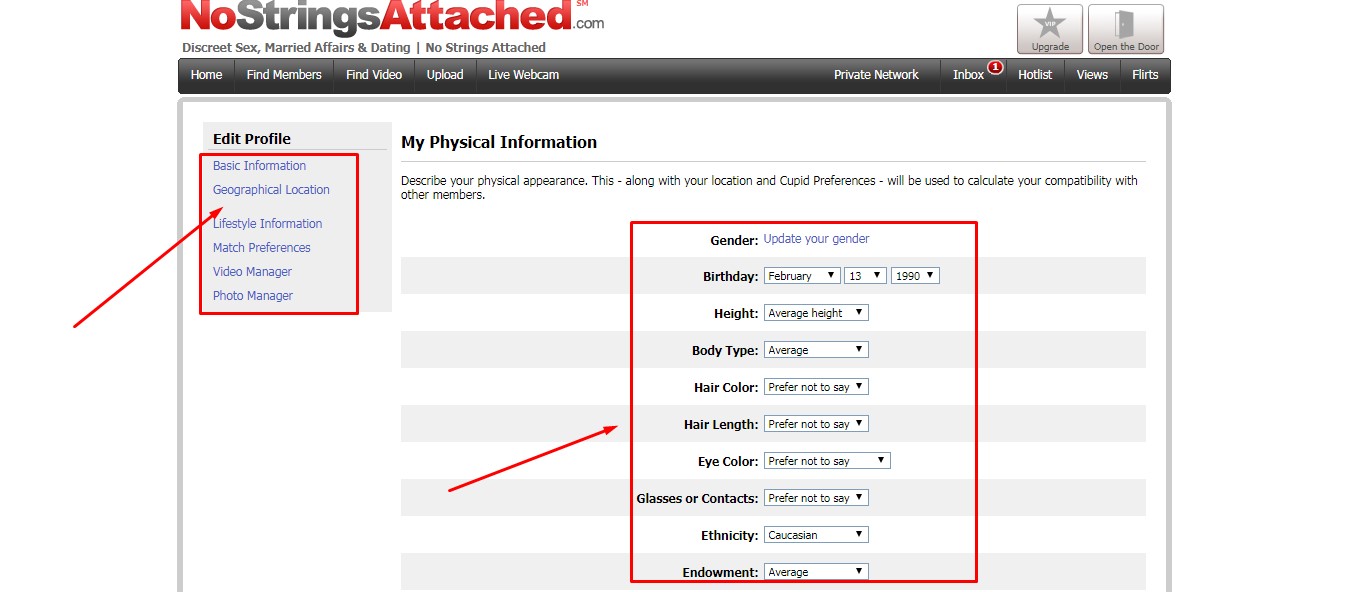 This process is tiring and inconvenient since you have to follow too many links to get where you need. It would be much better if profile editing sections were placed on a single page.
Searching for Sex Partners
To find a partner, you should proceed to the Find Members section. Quick and advanced search settings are available. With a simple search, you can adjust the age range, gender, marital status, and preferred location of your future partner.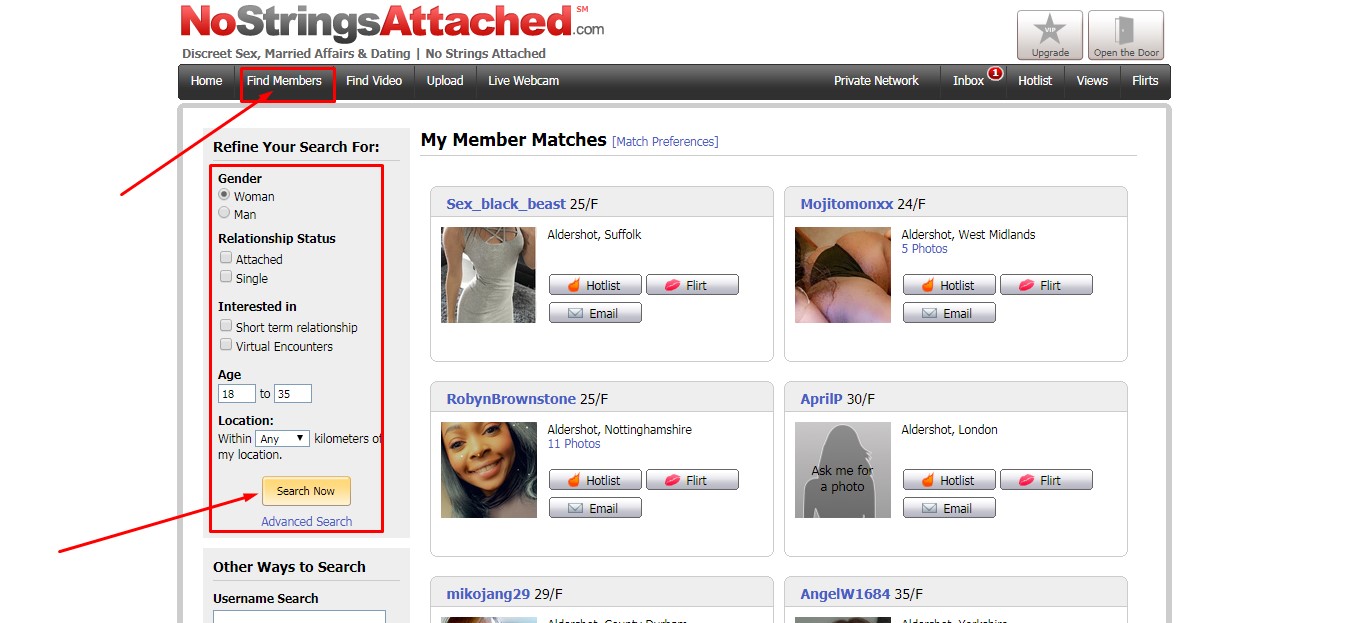 Click on the Advanced Search link to get more matching criteria, such as:
Ethnicity
Body type
Hair and eye color
Hair length
Habits like smoking, drinking and drugs intake
Education
Religion
Languages
In contrast to other dating services, advanced adjustments are available for premium NoStringsAttached.com members only. Together with the inconvenient interface, such restrictions spoil the first impression of this service.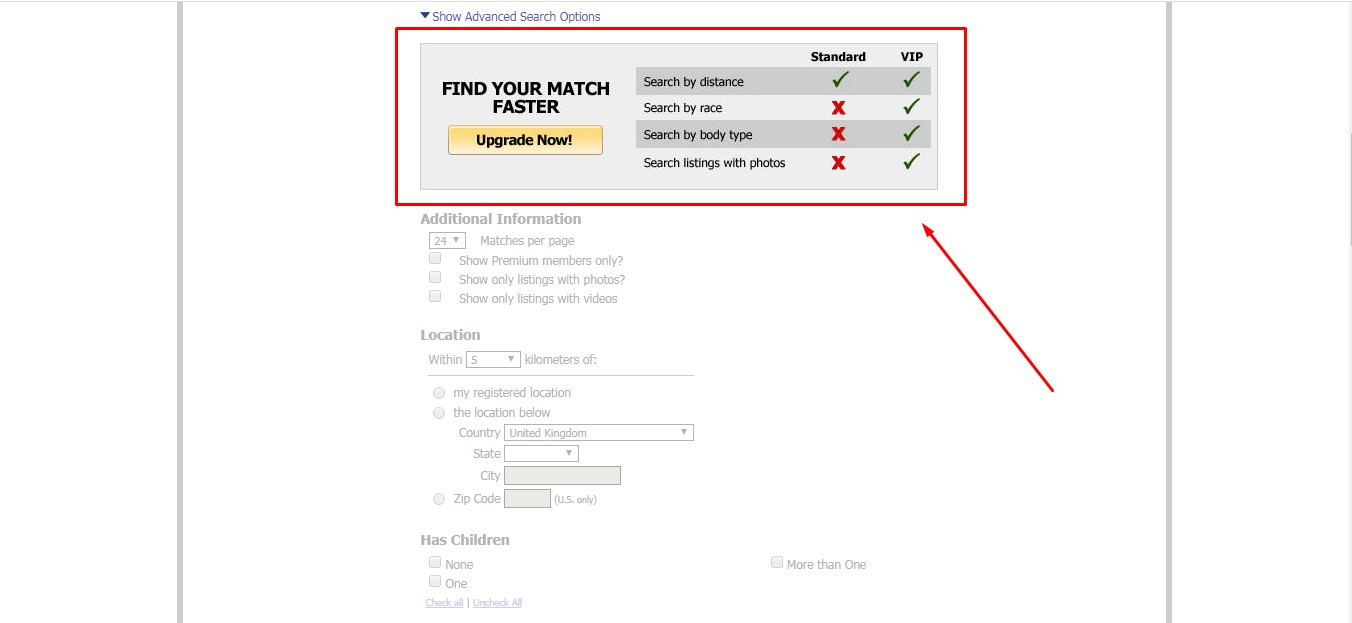 Match Preferences
You will find out that advanced search criteria are available in your Match Preferences section.
You can set these criteria even with a standard subscription. It is unclear whether these criteria apply to search settings or not. As the service claims, they influence your compatibility with other users on the platform.
Communication Features
At NoStringsAttached.com, you can:
Flirt with members (send them likes)
Hotlist users (their profiles will appear in the corresponding section of your statistics)
Send and receive messages
Private Network
You can invite members to your private space on the platform. Private Network allows you to exchange intimate photos and get into a more relaxed atmosphere with your partner.
To add a person into your Private Network, you have to send them a request, and they have an option to accept or reject it.
The service will give you advice on attracting more people, which is useful for newcomers.
Member Videos
The good thing about NoStringsAttached.com is that it provides its members with multiple entertainment features. If you are bored with chatting, you can watch a collection of more than 120,000 exclusive videos. You have an opportunity to record your video or start a live stream. It is way more entertaining than chatting. No dedicated software is required, and you can start editing and uploading your records right away.
You can also select video categories, set the desired quality, and make other adjustments.
Live Webcams
NoStringsAttached.com allows you to start a live broadcast with a sex partner. It is an excellent opportunity for flirting and virtual sex to heat your desire before the real-life appointment. Webcam models always show their hot bodies to please their audience.
Keeping in Touch With Your Partner on the Go
Unfortunately, no mobile application is available here. But you can still access the service using your mobile browser. The website is compatible with all devices and allows you to use the full range of entertainment and communication options. Just make sure you have an unlimited internet connection to get ready for NoStringsAtached.com hot webcam shows outdoors or in a more relaxed setting.
Customer Support Service
NoStringsAttached.com features an informative FAQ and contact form. The support team is available via email and by phone. Unfortunately, you cannot initiate a live support chat. To send a message to the support team, you need to go to the Help/Support section or dashboard first. It is located at the bottom of the page.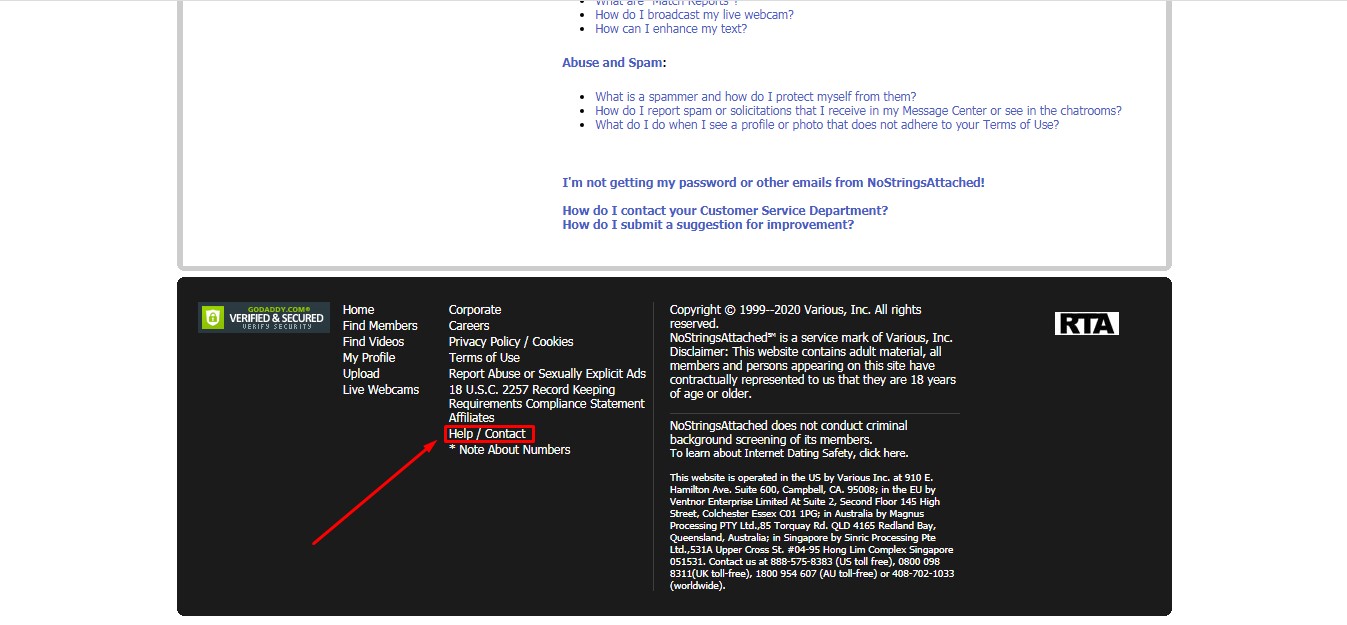 Then, follow the support team link on the FAQ page.
Afterward, you will get to the contact form. You can also call the customer support if you need to resolve an issue urgently. The contact line is available 24/7, which ensures a quick response from the customer support team.
Who are the members of NoStringsAttached?
With each search, you will see more than 1,000 results. The audience at NoStringsAttached.com is vast and active. There are more than 20,000 registrations per week. Due to so many active users, you will find a like-minded person with no trouble. They are all here for quick casual sex and ready to start an affair without hesitation.
Quality of Profiles
The service does not place too many restrictions on user photos. That is why lots of members feature hot nude pictures. You will also find many people sharing their home videos. You can even use this platform for watching adult videos exclusively.
But when it comes to profile descriptions, things become complicated. Lots of website members prefer not to include too much information. You will browse lots of empty profiles with a single photo and a brief headline.
Fake Users
Unfortunately, scammers and fakes are widespread on this platform. If you copy any image and paste it in Google Image Search, there will be a high chance that it is a generic photo available on the internet publicly.
NoStringsAttached pricing policy
Premium membership allows you to communicate with members, get full access to their profiles, including photos and videos.
Membership prices are lower than average. You can purchase the following subscription plans:
One month of services at £24.48
Four months of services at £49.00
18 months of services at £122.56
The annual subscription comes with the additional six months of membership at a twice lower price than average. It makes NoStringsAttached.com one of the cheapest hookup services in the industry. With so many entertainment options, the cost is incredibly beneficial.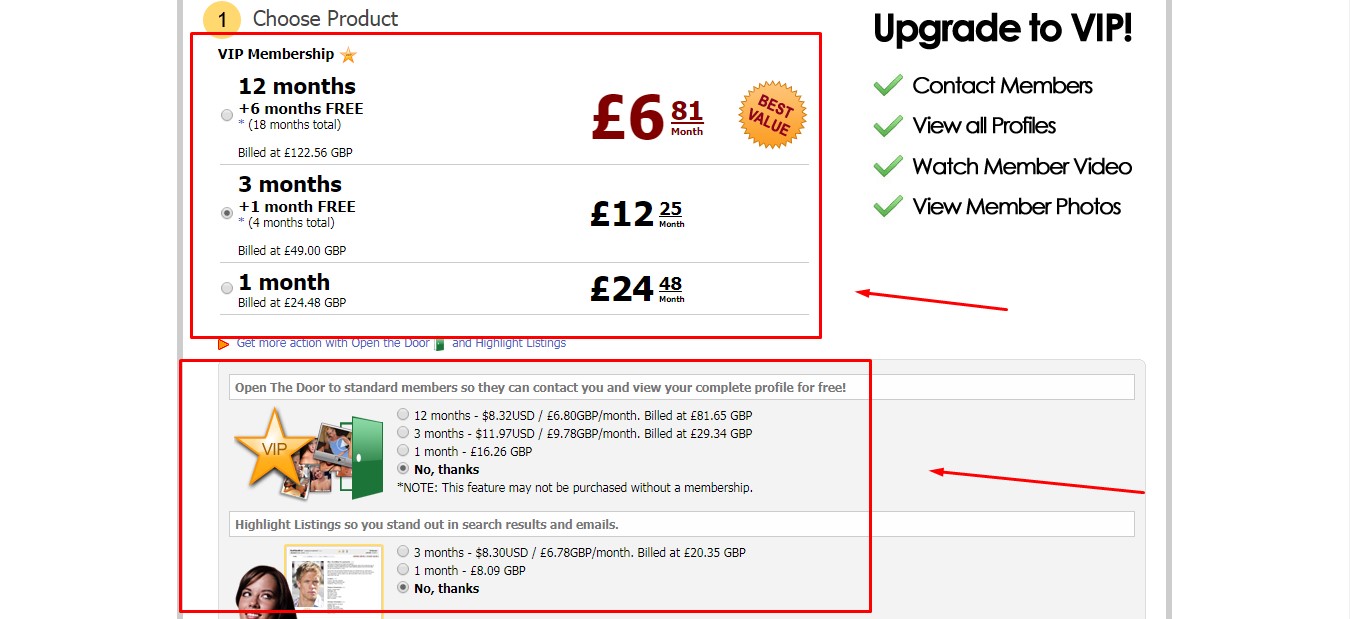 Additional Features
You can purchase extra features for better visibility and enhanced communication. Open the Door allows free members to get access to your profile photos and send you messages. With Highlight Listing, you will rank higher on the platform. Here are the plans for Open the Door feature:
One month at £16.26
Three months at £29.34
12 months at £81.65
Highlight Listing costs are the following:
One month at £8.09
Three months at £20.35
Payment Options
NoStringsSttached.com supports nine international card issuers. Therefore, you will have plenty of options to choose from. You can also buy a subscription with your mobile phone balance and make a check order.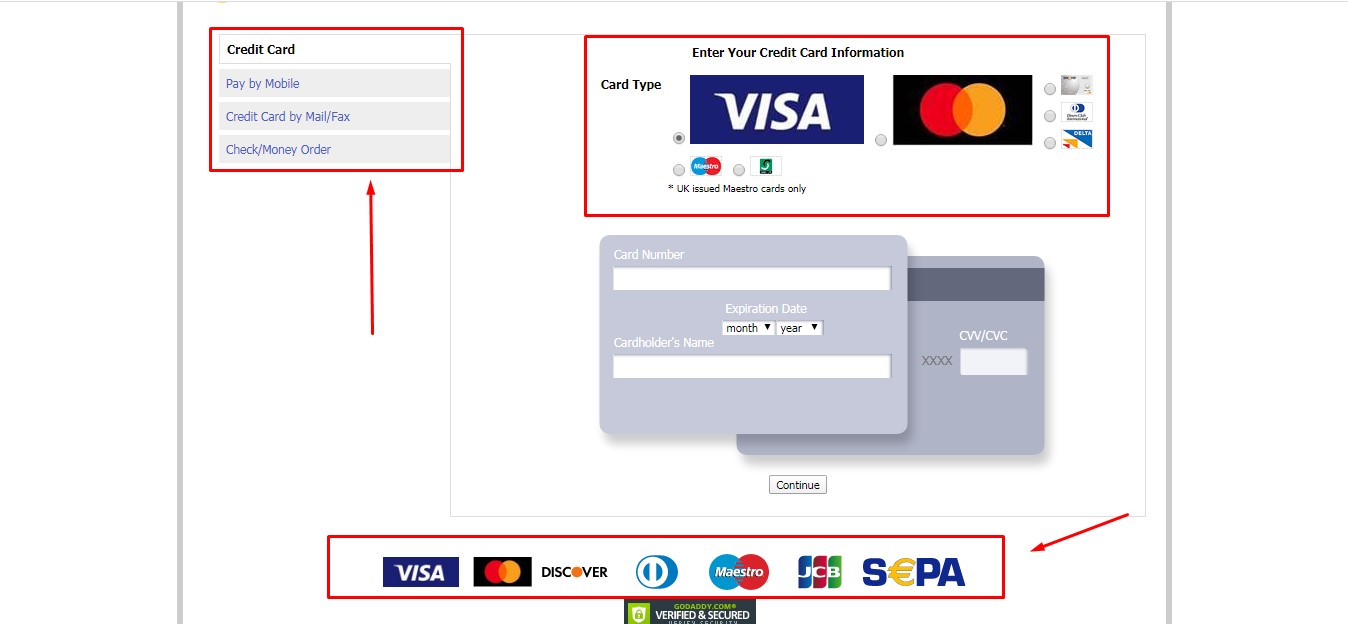 Safety tips on using NoStringsAttached
NoStringsAttached.com ensures the privacy of the data you provide to the platform as part of its terms of use. Your data, including financial information, is encrypted according to the highest digital security standards and kept safe and secure.
If you proceed to the payment section, you will notice the GoDaddy security certificate. It ensures that NoStringsAttached.com applies relevant SSL protocols that encrypt data you exchange on the website. In terms of payments and privacy, this platform is entirely safe and reliable.
Members
NoStringsAttached.com states that it can examine user content and ban suspicious and fraudulent accounts for security purposes. If a person tries to advertise something via this platform or provokes you to share sensitive information with them, their accounts can be suspended.
The administration reserves the right to delete any suspicious messages and profiles. At the same time, it does not bear responsibility for the accuracy of information users include in their accounts.
No Verification
Due to the private nature of affairs at NoStringsAttached.com, the service does not feature identity verification for its users. It means no member will ever provide their identity proof, and you will never be sure that you chat with a real individual until you meet them in person. It results in many fake profiles. As we mentioned before, users may post pictures of different people. We have also found several NoStringsAttached.com reviews that mention counterfeit photos.
That is why you should never share any sensitive information with members. To make sure they are real, convince them to initiate a video show or ask for more photos. Do not trust users with hollow profiles.
FAQ
What is NoStringsAttached.com?
NoStringsAttached.com is a hookup service designed for people who wish to have casual sex secretly from their spouses.
How much does NoStringsAttached.com Cost?
The service is pretty affordable. You can purchase a subscription for as low as £112.56 per 18 months. It is the most beneficial plan. A monthly membership costs £24.48.
Is NoStringsAttached.com a Scam?
The service is legal and reliable. It is a registered business with a long operating history.
Is NoStringsAttached.com Safe?
The service is safe and secure for payments and communication. Your information will be kept confidential.
Who Owns NoStringsAttached.com?
Various Inc., an international dating software developer, owns NoStringsAttached.com.
What security features does NoStringsAttached.com have?
Your experience will be safe due to the following security features:
Content moderation
Valid SSL data encryption
Secure transactions
Does NoStringsAttached.com have a Mobile App?
The service does not have a standalone application for tablets and smartphones. But you can access NoStringsAttched.com via your mobile browser. A mobile version of the service is compatible with all the existing devices.
How do I Delete my NoStringsAttached.com Account?
Take these steps to delete your account:
Go to the My Account section on the upper side of your dashboard.
Follow the Change Profile Availability link.
Click on the account deletion link.
Enter your password and press the account cancellation button.