Open table of content

Website of the day
Website of the day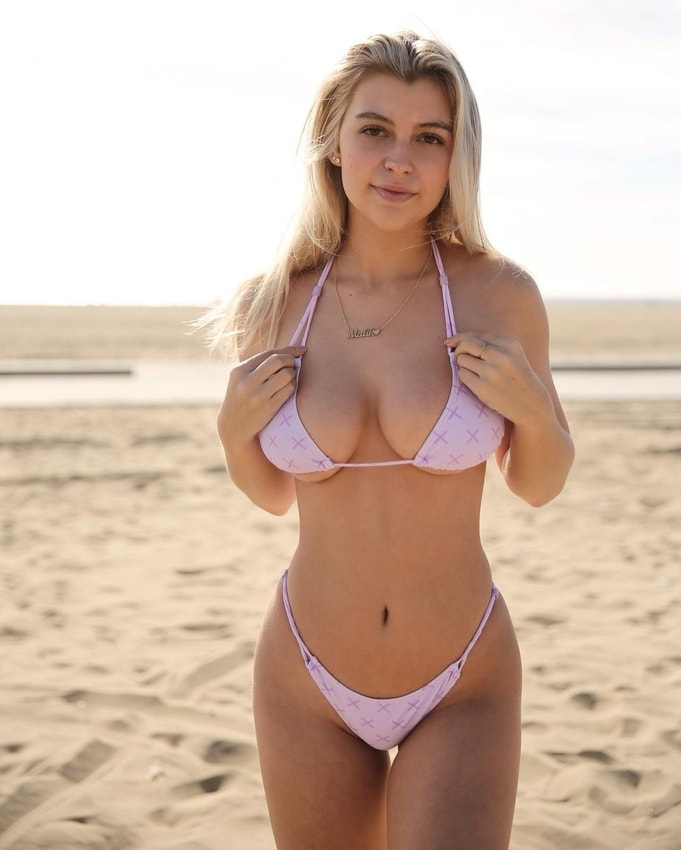 Ashley Madison Review: Your Best Option For A Discreet Affair?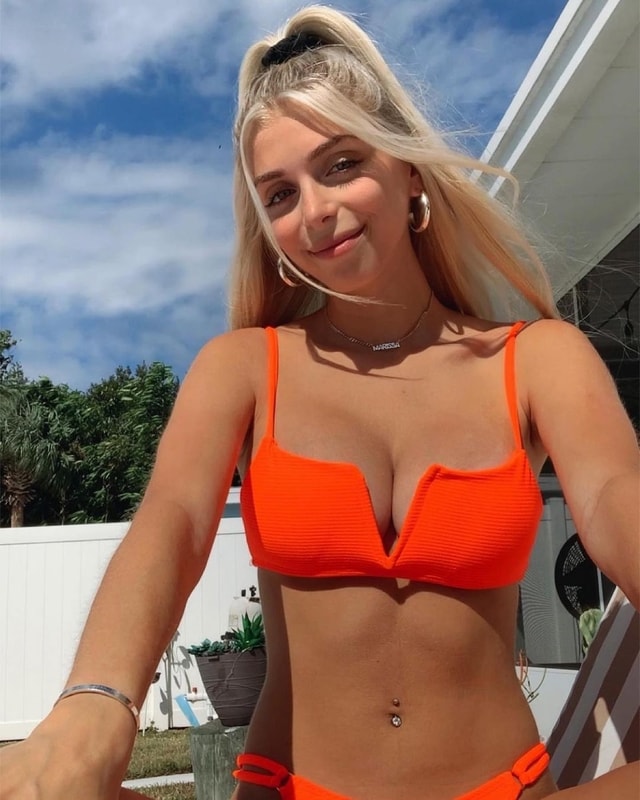 TNABoard Review: Can This Service Help You Find a Partner for One-Night Stand?
TNABoard community calls themselves a group of consensual people looking for companionship and short-term sexual dating in particular. In general, this service is an extensive database of hobbyists and service providers. TNABoard isn't the traditional hookup site we all used to; it belongs to the online escort services. The number of such websites operating now is huge, and TNABoard is one of the largest ones. It's widely popular among people who don't look for long-term relationships. Moreover, those who want to add something new to their sexual life and find someone to live out fantasies may easily do it on TNABoard. Let's start this TNABoard review to introduce the main features of this service to you.
Why TNABoard?
6

Interface

6

Audience

4

Prices

8

Safety
Good:
It's an extensive database of sex workers providing their services.
TNABoard covers almost all US cities and states.
All providers submit their ID cards.
The registration process is fast.
TNABoard is free for hobbyists.
Bad:
The website requires urgent redesign.
Ads and pop-ups prevent members from using the service.
There are many fake profiles.
Providers must pay for posting their ads.
The Verdict on TNABoard
We tried to make this TNABoard review as exhaustive as possible, and we hope we succeeded. Despite the presence of certain drawbacks, such as outdated design and interface that isn't user-friendly at all, TNABoard is still the right choice for people looking for a quick fling. It lets everyone find a person with the same fetishes and preferences. Of course, you may do it using a dating site or meeting people in public places; however, this approach will take you a lot of time. TNABoard is a community of like-minded people who know what they want. We think that it's worth a shot.
Check all reviews
How to Start Your Journey on TNABoard?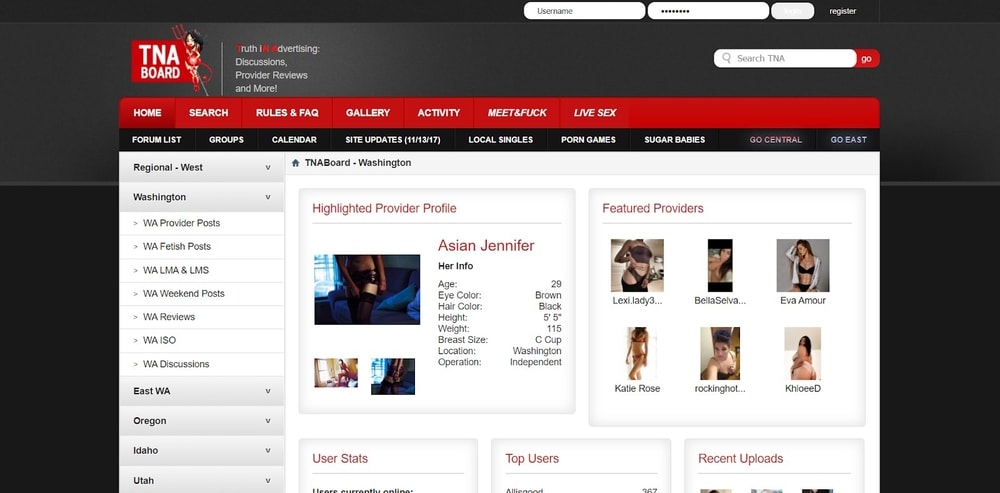 The website looks rather unusual, especially if you always used casual dating services. TNABoard is a forum-based database of providers and hobbyists, so it's similar to craigslist. The main page contains several sections with providers' profiles. Let's start with registration. Click the "Registration" button at the top right corner of the page.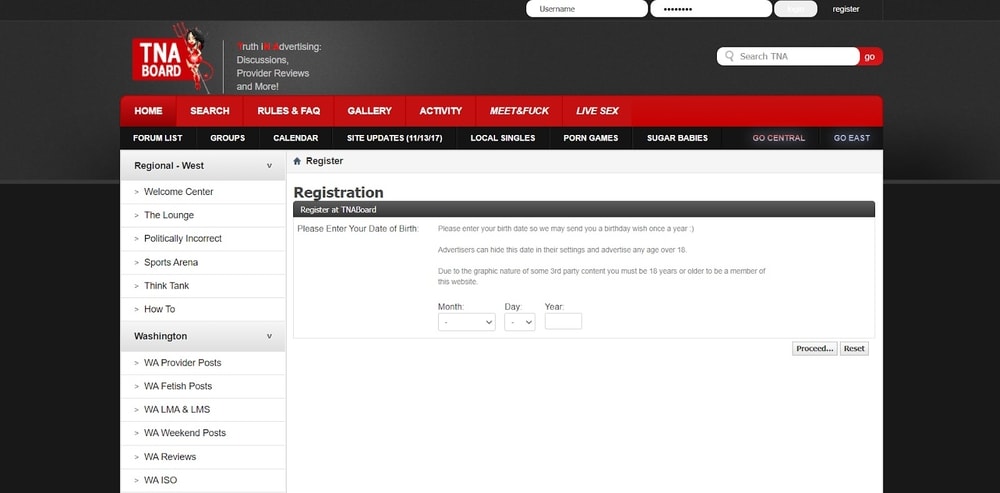 The website asks you to specify your birth date. All members must be at least 18 years old due to the abundance of the explicit content of TNABoard and its purpose. Then, you will be redirected to the registration form.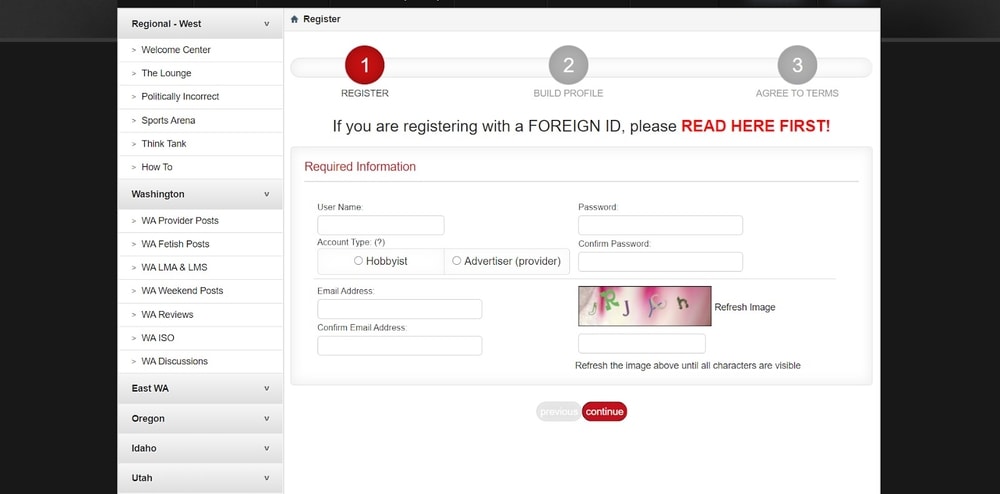 Since all accounts on TNABoard are divided into two types: advertisers and hobbyists, it's necessary to specify your role. Sex workers or advertisers should register only with American ID since this website caters only to American people. Those who try to submit false documents may be punished in the framework of their national law. Type in your email address, create a password and enter a captcha to proceed to the next step.
Now it's time to build your profile. Indicate information regarding your location, occupation, and income. If you want to tell other users about yourself, you may do it in the corresponding field. This information is optional; if you don't want other users to know this data, continue registration without providing it.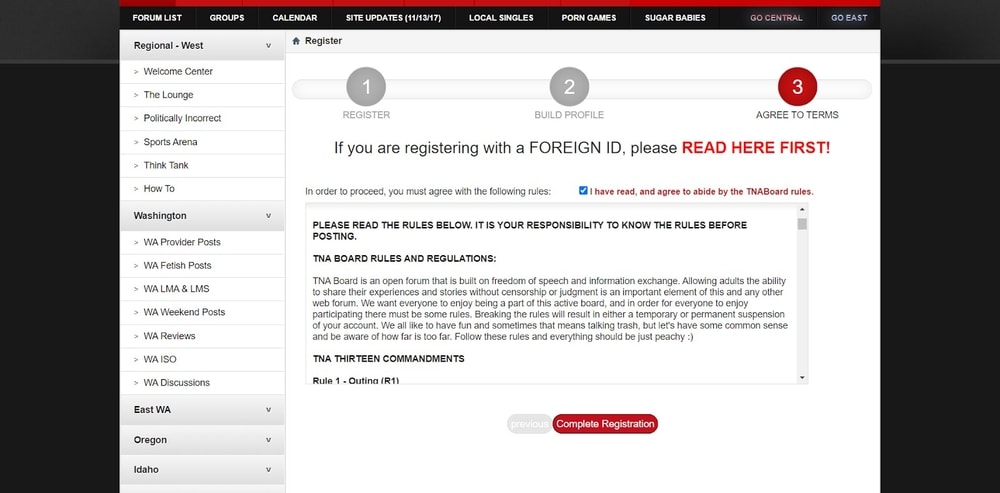 To complete registration, you must read the Terms of Use and place a mark indicating you agree to these rules and promise to abide by them. TNABoard isn't a dating service, so it's necessary to get acquainted with the rules to avoid specific issues. Then the system will send you an email with an activation link. Follow the instructions and activate your account; otherwise, you won't be able to post on TNABoard forums.
Is TNABoard Interface Easy-to-Use?
The design and interface of this service are its weak points, and many people posting TNABoard reviews complain about it. The website was launched a long ago, and it's captured in its design. Nowadays, most general dating websites and even hookup services emphasize the design and work on it to make it attractive. You may easily make sure of it by visiting one of the services reviewed by Married-Dating.org. TNABoard design is neither up-to-date nor easy to use. New users need time to adapt to it, examine the variety of sections, and understand how they work.
The abundance of explicit and annoying ads is another disadvantage of TNABoard. For example, when you open the FAQ section and click on certain questions, you may see the pop-up window of a popular dating service. We understand that the service tries to promote itself, but it's reasonable to choose other promotion methods not to make users go mad.
Who Can You Meet on TNABoard?
TNABoard member base comprises more than 1 million users. As we've already mentioned, there are only two categories of users there. First are sex workers who sell their services, and second are hobbyists — people who look for paid sex services. A "Search" section in the toolbar at the top of the page lets both advertisers and customers search for what they need: sex services and the like. The section on the left side of the page enables you to choose your state and city and search for the services in your area. The member list search on the TNABoard is excellent because of the variety of search filters. You may not just specify the gender and location; you may "customize" your partner. Here are some examples of the parameters you may choose:
Hair length;
Cup size;
Breast enhancements;
Eye color;
Height;
Ethnicity;
Tattoos.
You must note that not all people posting ads are real. Even the "TNA Verified Member" mark doesn't guarantee you see the photos of a real person. All documents are easy to falsify, and even though admins check this information, no one is safe from mistakes. Always read reviews about this or that provider, ask the sex worker to send you documents. You may be surprised, but even the best married dating sites face these issues.
TNABoard Pricing Policy
It's probably the first site where hobbyists who search for the hookup don't need to pay for membership. Of course, when you arrange a meeting with one of these girls, you have to pay her for the affair, but using the service is free. It means all hobbyists can view advertisers' profiles, text them, post reviews, and enjoy all TNABoard features for free. In contrast, TNA providers must pay money to post their ads. It's supposed to improve the quality of the service. Hobbyists may purchase TNA bucks to send them as gifts to other members. You may purchase them using Bitcoin, credit, or debit card. Users who don't know how to send payments may use guidelines or ask an online assistant for help.
A Few Words About Safety Measures on TNABoard
The presence of fake profiles doesn't change the fact that ID verification is one of the most effective safety measures implemented by TNABoard. Sooner or later, all fakes are revealed. The situation with users' safety and security could be a lot worse if there was no verification. In general, many dating services are involved in security issues, so no wonder that people consider online dating insecure.
Since TNABoard is used by many married people who want to add some diversity to their intimate relationship, this service should be discreet. SSL encryption is provided, so users may not worry about their data (passwords, addresses, logins). Moreover, this type of encryption ensures the safety of all online transactions.
You shouldn't forget that responsibility also lies on you. Learn more about safe online behavior; it's a guarantee that scammers and fraudsters won't trick you. Be careful with the information and photos you post and share with other people.
FAQ
What is TNABoard?
TNABoard is an online database of sex workers posting ads and offering their services, and hobbyists — users who look for quick fling or hookup. It caters only to US residents.
How much does TNABoard cost?
If you're a hobbyist, you don't have to pay for using the service's features. Only advertisers should pay money to post their ads.
Is TNABoard a Scam?
No, TNABoard isn't a scam. Some people who think that it's a dating service get disappointed after finding out that it's a database of paid sex workers, but they should be more attentive when registering on it.
Is TNABoard Safe?
TNABoard is definitely a safe service. There's no information about any safety issues associated with this service.
Who owns TNABoard?
Unfortunately, we didn't find any information about the site's owner.
What security features does TNABoard have?
ID verification for advertisers is one of the best security measures for such a service. Users' personal data is secured by SSL encryption.
Does TNABoard have a mobile app?
No, TNABoard doesn't have a mobile app. You may use the mobile version of the website.
How do I delete my TNABoard account?
The "Profile Settings" section doesn't contain any information regarding the deletion of your profile. Most likely, you won't use this service regularly, so turn off all notifications, log out and return when necessary.