Open table of content

Website of the day
Website of the day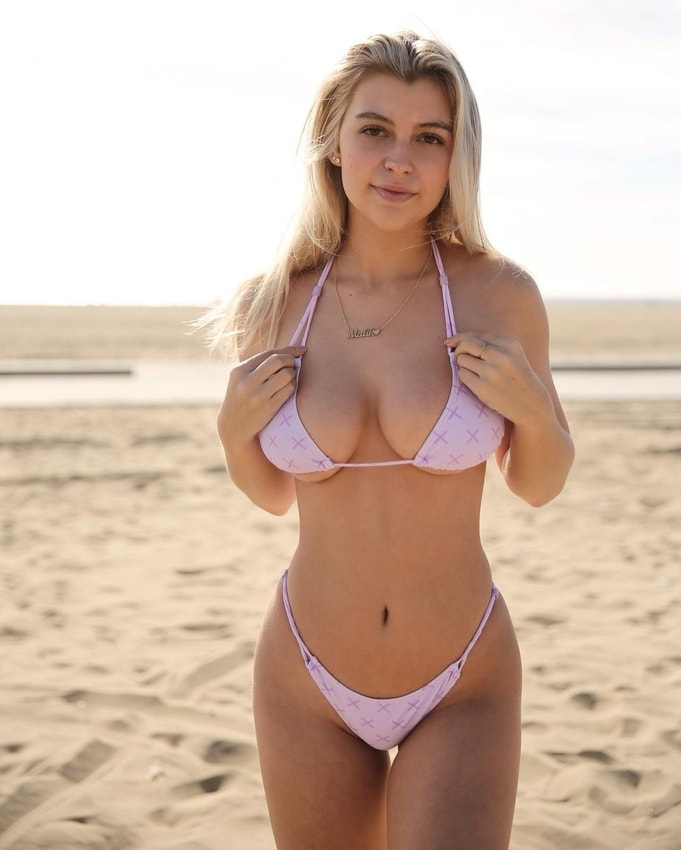 Ashley Madison Review: Your Best Option For A Discreet Affair?
ℹ

Advertiser Disclosure
married-dating.org is an independent information service that aims to deliver detailed reviews of dating services to let you make the best online dating decisions. While our service is independent and free of charge, we may post links to some companies that provide married-dating.org with a commission. Thus, our partners may give us compensation for displaying their services on our platform. When you follow certain links on our website, we may receive a commission from the related agencies.
While the compensation may affect the way we arrange the information and links on our platform, it does not influence the quality of services assessment in our reviews. Please, do not consider the order of links and information published on our website as a promotion. married-dating.org does not cover all the existing services in the dating industry. Therefore, you are free to use other services alongside those reviewed by our team.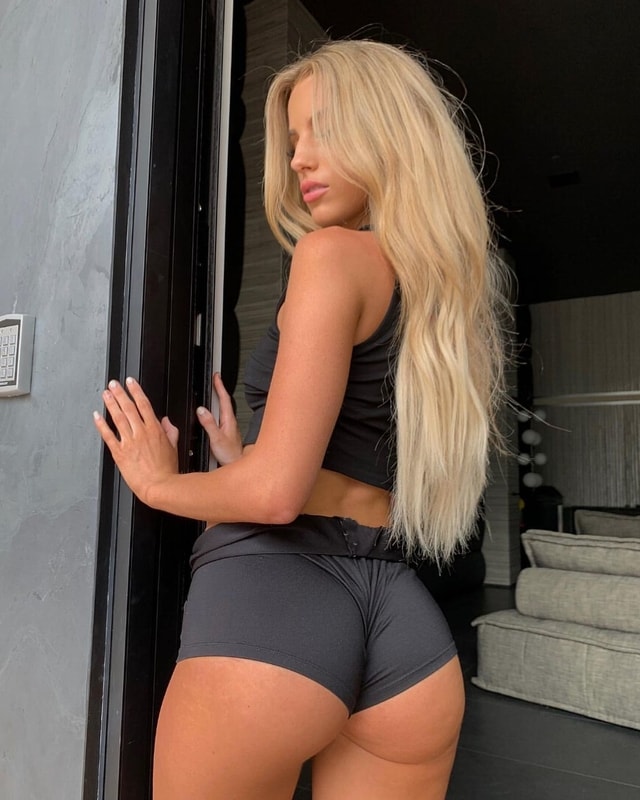 UberHorny Review: A Discreet Affair Paradise or Scam?
Uberhorny is a popular discreet dating platform that offers plenty of communication and entertainment opportunities to its users. It has a vast audience, letting you find a partner quite easily. This platform is considered one of the best married dating sites for Northern Europe and North America. Still, Uberhorny is far from perfection. Read further to find out whether this service suits your goals.
Visit Site
Why UberHorny?
7

Interface

9

Audience

9

Prices

8

Safety
Good:
A broad community
Affordable prices
Plenty of entertainment features
Bad:
Limited free features
A homepage doesn't display enough information
A questionable bonus subscription
The Verdict on UberHorny
To sum up our review, we can say that Uberhorny is a reasonable and, most importantly, affordable option if you aim at discreet dating. You will hardly get bored on this platform, thanks to plenty of entertainment options, such as webcam shows, adult videos, and video chatting. Although this service doesn't have a mobile app and features quite a questionable "bonus" trial during sign-up, you can use it efficiently to find a partner for a one-night stand. It has a vast audience, ensuring quick and easy hookups. Thus, you can create a profile and try your fortune on this site.
Visit Site
Uberhorny Review: here's everything you need to know
How to Set Up an Account on Uberhorny
There is nothing to do on the Uberhorny website except for registering an account. The site is instead a landing page and displays minimum information. There is no scrollbar, no sitemap, nothing except for the registration menu. To create an account, you need to follow these steps:
Fill out a registration form on Uberhorny.com. It consists of six stages and requires you to enter standard information, such as age, gender, email address, etc.

Agree to the terms of use and privacy policy at the final stage and finish the registration.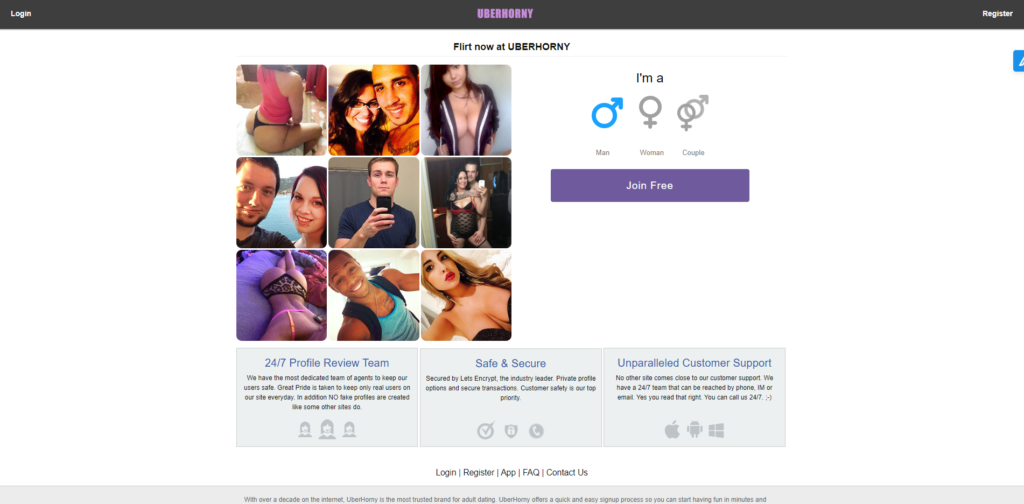 After finishing your sign-up, you will proceed to your dashboard. All in all, the Uberhorny registration process is quite simple despite having six stages. You will fill out a short registration menu step-by-step rather than within a single menu. Anyway, the sign-up will take no more than a minute of your time. What about the Uberhorny control panel? Is it as simplistic as the website? Let us check this out below.
Design Specifics and Interface Usability of Uberhorny
The Uberhorny control panel features quite an outdated, old-fashioned design. It looks sketchy and unfinished. Nonetheless, it allows you to manage your account, send messages, and browse other website members conveniently.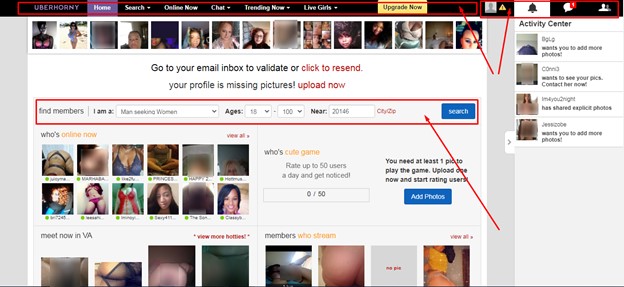 Thus, a control panel features convenient navigation, common to most dating and hookup websites. The navigation and account management menus are located in the top bar. You can also use a quick website search located slightly above the dating feed.
These features make the Uberhorny dashboard navigation intuitive and pretty convenient. What is more, you can easily manage notifications and privacy settings in your account management menu.
All in all, the Uberhorny interface is pretty convenient. The company approached usability thoughtfully. Nevertheless, the dashboard is far from perfection in terms of aesthetics.
Meanwhile, you can do lots of things on this site so let us check the profile management menu first and proceed to other features afterward.
Profile Management Features on the Uberhorny Website
To edit your profile, locate the associated section in the expandable account management menu on the upper right side. You will get to the profile editing menu that includes the following parts:
Photos. You can upload, delete, and verify your pictures.

Self-description (up to 2,000 characters long).

Your dating preferences (up to 2,000 characters).

Tag line.

Sexual preferences.

General information, such as date of birth, country, age, location.

Physical features.

Marital status, income, religion, occupation, travel preferences, language, etc.
On the whole, you will have pretty high chances of attracting a person matching your preferences if you complete your Uberhorny dating profile to the fullest. The profile information section allows you to emphasize your best traits and thus get more attention from like-minded people on the platform.
After completing your profile, you will want to befriend some hot girls or guys. A convenient and highly customizable website search would bring you the desired results pretty fast. Does Uberhorny feature enough website search criteria? Check this out below.
Profile Search Criteria on Uberhorny
The Uberhorny website search is also highly customizable. First, you can choose between quick and advanced search criteria. Quick search allows you to filter website members according to:
Sexual preferences.

Age.

Gender.

Location.

Availability (online now, live streaming, video chatting, etc.).
Thus, you can choose from plenty of parameters already. Nonetheless, the advanced search section has a lot more criteria. You can filter people according to each parameter present in your profile editing section.
You can also set the number of results per page and use text search. By using text search, you will browse website members by keywords. Just input the keyword in the associated field and press the Search button. Furthermore, you can search for people by username.
All in all, the Uberhorny website search is super convenient, engaging, and highly customizable, which is a significant advantage of this service.
Communication Features on the Uberhorny Platform
While most hookup and dating services provide only a single chat option, Uberhorny gives you many more communication and entertainment opportunities. On this website, you can use:
Regular Chat
To send someone a message, you need to click on their profile and press the associated button. Everything is pretty simple. Once you text someone, this chat will appear in your message section on the upper right side.
You can filter conversations to see messages from certain users only (friends, people near you, favorites, people with photos only, etc.). It is quite useful, especially if you have lots of dialogues. The chat itself allows you to exchange pictures and videos besides messages. Nonetheless, it would be great if Uberhorny supported stickers, voice, and video messages.
Group Chat
Having a pleasant conversation with like-minded people is always an excellent way to get rid of boredom. On the Uberhorny website, you can enter group chats to meet new people, ask them for a date, exchange hot pics and vids, and have a great time.
Live Streaming
Watching adult videos is excellent. However, watching sexy live shows and interacting with models is far more engaging. Fortunately, you can access members' live streams on the Uberhorny website easily. To enjoy the live shows, go to the Search section in the upper bar and locate Members Live Streaming.
Then, you can choose from live performances. You can also find more webcam shows in the Live Girls section. By clicking on the section button, you will get to Uberhorny Cams, a webcam service with thousands of seductive models.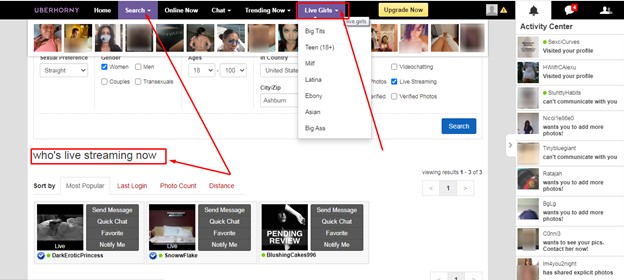 Photos and Videos
You can view thousands of photos and watch thousands of videos from Uberhorny members. All you need to do is go to the Trending Now section and locate Photos and Videos. You can filter steamy erotic pictures and adult home videos by popularity and publication time in these sections.
Premium Content
Uberhorny members can sell photos and videos in the Premium Content section. You can buy pictures and videos using inner virtual currency. This content doesn't expire, and you can enjoy it for as long as you have an account on the Uberhorny platform. All purchased photos and videos will appear in the My Premium Library section (in the account management menu). You can also upload visual content to this section if you want to receive payment for it.
It is worth noting that you need to be at least 18 years old and submit identity proof to sell visual content on the Uberhorny website.
Swipe Game
The Swipe Game feature is located in the Trending Now section and allows you to improve your matching algorithms by playing the like/dislike game. The system will show you pictures, and you need to decline or accept them. You can also add a featured person to your favorites and friends.
Mobile Experience on Uberhorny
Although Uberhorny doesn't feature a mobile application, you can use the full range of its services on your mobile device.
Just enter your account on your smartphone or tablet, and you are good to go. It is worth mentioning that the Uberhorny mobile site is fully optimized and adapted to mobile screens. Thus, you won't experience any inconveniences while accessing Uberhorny on your mobile device.
Customer Support on the Uberhorny Website
You would hardly resolve urgent issues since you can reach the Uberhorny customer support team via email only. It might reply within an hour, ten minutes, or a business day. There is no consistency in this regard. At the same time, the customer support team is indeed helpful with minor issues. What is more, it will always explain and clarify different aspects of the Uberhorny service to you.
You can also go to the FAQ section to get to know how certain Unerhorny services work. FAQs are quite comprehensive. You can also reach the support team via a free helpline to resolve billing questions.
At the same time, it would be much better if Uberhorny offered an instant 24/7 support chat for more convenience.
An Overview of the Uberhorny Community
You can make all your sexual fantasies real on Uberhorny. People on this platform seek discreet affairs, for the most part. Given that, this site ideally suits you if you want to get laid quickly. You can also find a partner among all age groups, from 18-year-old teens to mature ladies and gentlemen
Thus, within a single search round, you can find over 32,000 profiles. It is also worth mentioning that people in their early 30s comprise over 50% of the website audience. All in all, you can find thousands of people to have sex with on this site.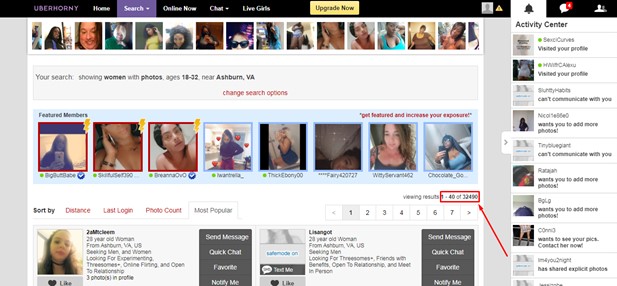 Are there Fantasy Profiles?
Lots of dating and hookup sites use fantasy profiles for educational and entertainment purposes. Unlike many of them, Uberhorny doesn't create or operate profiles. Thus, you will communicate only with real website members.
Pricing Policies and Subscription Costs on Uberhorny
Uberhorny offers limited free features. They include registration, account and profile management. If you want to browse profiles, view pictures, watch videos, or text Uberhorny members, you need to purchase one of the subscription plans.
Uberhorny offers several memberships:
One month of services at $39.95.

Six months of services at $69.95.

Eighteen months of services at $119.95.
Apart from that, you can buy two and 14 days of trial subscription. Two days of services cost $0.95, so it is an excellent chance to test the platform and decide whether it suits you or not. As for prices, monthly and 14-day subscriptions are more expensive than the industry average.
At the same time, an annual offer is the most beneficial one since you will get 18 months of premium service at a price two times cheaper compared to other hookup services.
Besides, you can get three extra months of services if you can't hook up within the first three months of subscription. You can also ask for a refund within ten days after upgrading your membership. Therefore, we consider Uberhorny pricing policy transparent and customer-oriented.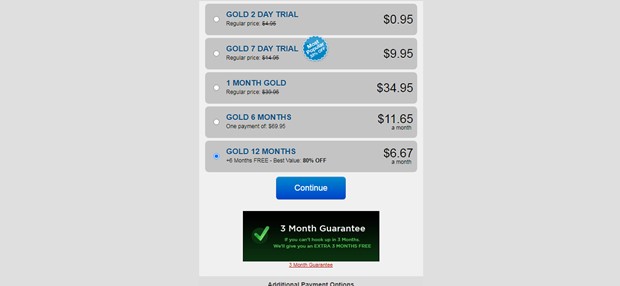 Premium Content Prices
Each piece of premium content costs 100 credits ($10). For each photo or video, you will receive 50 credits ($5). The minimum withdrawal amount is $50. Thus, you have to sell at least ten pieces of premium content to earn something. Nonetheless, it is an excellent opportunity to monetize your affair experience on this platform.
Payment Options
You can use plenty of payment options to upgrade your Uberhorny membership, including Discover and MasterCard. However, PayPal is unavailable, which may be inconvenient for some people.
What is more, you have to be careful with bonus services. By default, you will get a bonus trial subscription to meetlocals.com at $0.00. It is better to decline this offer since it may result in an enormous monthly charge to your bank account.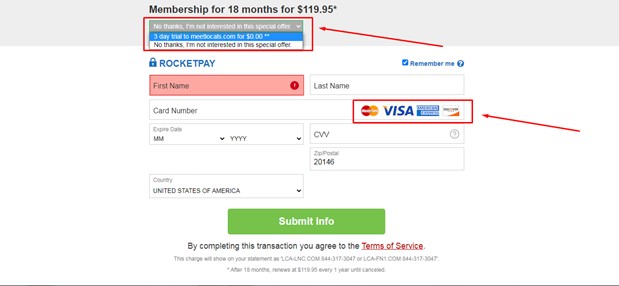 Reliability of Safety Measures on Uberhorny
Uberhorny is generally safe. Its site has a valid SSL certificate issued by Let's Encrypt authority. What is more, you will buy the subscription via RocketPay. It means Uberhorny doesn't get your payment information. Thus, you can buy a subscription on this platform securely.
Fraud Prevention Measures
Uberhorny has a fraud prevention team that aims to ban criminals and fakes on the platform. Furthermore, the agency requires identity verification for users who feature paid premium content. Thus, a person has to submit a passport or ID card to confirm their age.
Are Uberhorny Members Actually Real People?
We haven't detected fake profiles. Nonetheless, there is always a chance of meeting a fake. But still, it seems like 99% of users are real people. If you consider someone suspicious, you can report them. Uberhorny's fraud prevention team will investigate the case. In addition, it regularly reviews user content and profiles to prevent crime.
FAQ
What is Uberhorny?
Uberhorny is a casual dating platform that aims to provide its users with a safe environment for discreet affairs.
How much does Uberhorny Cost?
You can create an account and manage your profile on the Uberhorny website for free, while messaging and entertainment features require updating your account. You can spend no more than $6.67 per month if you choose the annual offer.
Is Uberhorny a Scam?
Uberhorny is not a scam. It doesn't show signs of fraudulent activity, and most Uberhorny reviews are positive or neutral.
Is Uberhorny Safe?
Uberhorny is generally safe. You can buy a membership on this site securely. Besides, it applies reliable anti-fraud measures.
Who owns Uberhorny?
Global Personals, LLC, a UK-based dating software provider, owns the Uberhorny platform.
What Security Features does Uberhorny Have?
Uberhorny applies the following security features:
Secure payments via RocketPay.

SSL data encryption.

Content monitoring.

User Identity verification.
Does Uberhorny have a Mobile App?
Uberhorny doesn't have a mobile application. Nonetheless, you can access its mobile site pretty conveniently and use the full range of services on your mobile device.
How do I Delete My Uberhorny Account?
Take these steps to delete your Uberhorny account:
Go to your account management settings.

Locate the

Deactivate My Account

section.

Follow the

Delete Account

link at the bottom of the page.

Include a reason for account cancellation and confirm your request.