Open table of content

Website of the day
Website of the day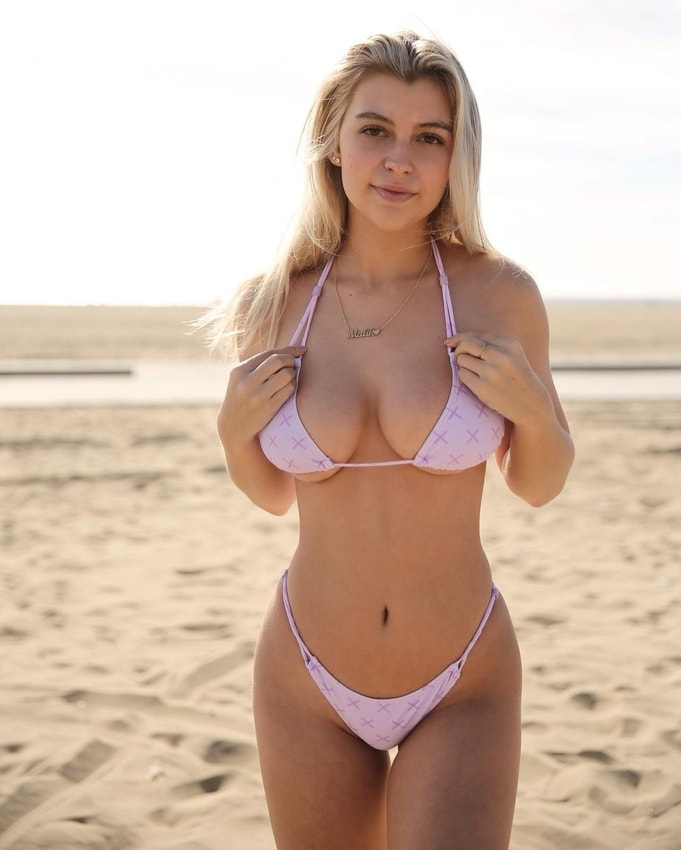 Ashley Madison Review: Your Best Option For A Discreet Affair?
WellHello Review: A Complete 2023 Guide
WellHello is a casual dating platform established in 2004. It aims at helping married and single people meet each other and have fun together. Although WellHello doesn't belong to the best married dating sites, it offers the right combination of price and quality. If you want to meet someone for a one-night stand, you will find quick success on this platform.
Why WellHello?
6

Interface

7

Audience

6

Prices

7

Safety
Good:
Affordable subscription
Broad audience
Mobile app
Bad:
Fantasy profiles
Inconvenient interface
Limited payment options
The Verdict on WellHello
Based on our review, WellHello is an average dating platform that will meet your expectations if you search for affairs with no strings attached. This platform is a bit cheaper than its competitors, which is a big plus. At the same time, WellHello's functionality and interface require plenty of improvements. Fantasy profiles are another thing that may discourage you from using this website. However, despite plenty of flaws, WellHello gives its customers what they expect – a space for casual dating. Eventually, all you want from a discreet dating website is a wide choice of people in your area to interact with. In this regard, WellHello does its job perfectly. To sum up our WellHello review, we can say that this service gives you an excellent chance to get laid without much hustle.
Check all reviews
WellHello Review: here's everything you need to know
How to Create a WellHello Account?
WellHello has a private database, so you cannot check girls and guys before registration. You need to create an account to browse member profiles and send messages. The registration process involves the following steps:
Visit WellHello.com. You will get to the sign-up menu. Fill in the required information there.

Press the

Join Free

button to finish the registration.
After finishing your sign-up, you will proceed to the payment page. At first, you may think there is no free registration and you need to purchase the subscription plan to continue using the site. However, you can scroll down the page and follow the "send me to free area" link to skip the payment.
Now, you can proceed to your free account. It is quite useful for those who want to test the service for free.
How Friendly is WellHello Design?
WellHello's Website Design
In general, the WellHello website is well-made. The home page is quite pleasant to the eye, minimalistic, and doesn't display too many advertisements. What is more, it has straightforward navigation. For example, you will get straight to the registration menu once you enter the website. If you want to check the site's policies, scroll down to the bottom of the page.
Another nice feature is that you don't need to scroll up to sign up since there is an extra sign-up button at the bottom of the page. As a result, a user needs a minimum effort to benefit from the service. What about the control panel? Let us proceed to the WellHello dashboard and find out what you can do on this website.
Interface of WellHello
When you get to the dashboard, you will notice plenty of inconveniences. First, you will see tens of messages from website users. Such attention to a newly registered user is a bad sign. Second, message notifications overlay the account menu, which makes navigation pretty inconvenient. You will have to click on each popping notification to make it disappear.
Nonetheless, you can easily disable message notifications in the settings menu named "Email Preferences." It is also worth mentioning that this so-called settings menu is incomplete. For instance, you cannot replace your email or password on this page. It seems like these options are absent.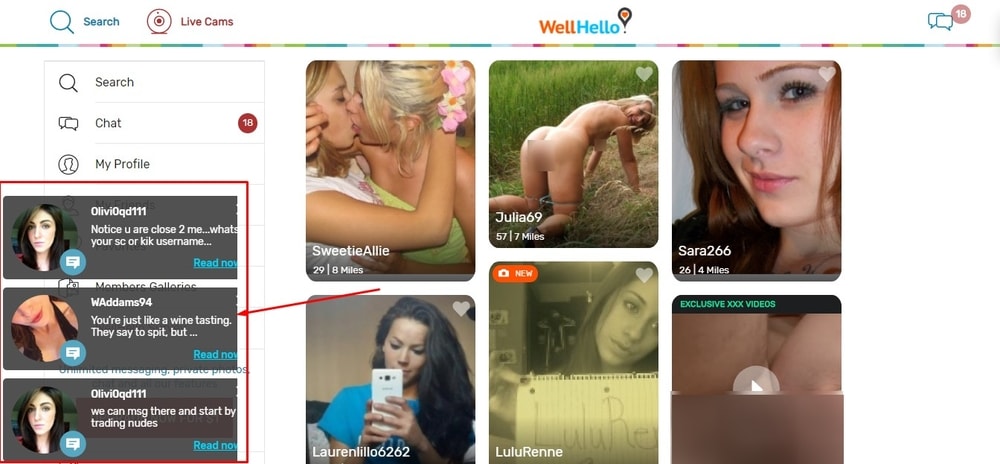 The account management menu is located on the left side, while the dating profiles are placed in the center. You can scroll the feed to view more users. The chat section appears in the account management menu and on the upper right side.
If you scroll down to the bottom of the page, you will see the contact form and such site sections as the privacy policy and terms of use. In general, the dashboard design leaves much to be desired. It would be good if the WellHello dashboard's main sections were located in the header, similar to 80% of dating websites.
To sum up, the WellHello interface is quite unusual, and you will need some time to get used to it.
Nonetheless, you need to know many other things about WellHello before registering on its website, aside from interface usability. Let us check how you can introduce yourself on this platform.
WellHello's Profile Editing Features
A lovely and easy–to–scan dating profile makes up 70% of your dating success. So, the first thing you should do is complete it. To edit your profile on WellHello, locate the My Profile section on the left side. The profile editing page has three areas:
Edit Profile. This section allows you to write a self-description, specify your body features, marital status, etc.

Add photos. Unlike many dating websites, WellHello doesn't apply limitations to visual content. You can upload nudes.

Preferences. Here, you can specify your sexual preferences and mention the kind of relationship you are looking for. You can select from 29 criteria.
It is also worth mentioning that laptop users may experience inconveniences while editing their profiles. If you use a touchpad instead of a mouse, you will not scroll the profile settings. There is no scrollbar in the profile management menus, which is too inconvenient.
Apart from that, the profile editing menu is satisfactory. It has enough self-description criteria to choose from. What about website search? Check how to use it below.
Search Options
Minimalistic design is appreciated until it interferes with functionality. In the case of WellHello, minimalistic search options turn into complete absurdity. The website search is ridiculously limited. You can choose from only three criteria:
It would be much better if the WellHello website search had more criteria, including marital status, English language skills, and physical features. For instance, such search options as build, marital status, hair and eye color would be quite handy on a hookup website like WellHello, where people seek quick sex.
Also, only the first results page is available for free users. To browse more profiles, you need to purchase a subscription.
Communicating with WellHello Members
Unlike website search, WellHello chat is satisfactory. It doesn't have any super convenient features like forwarded messages, replies, voice and video messages, etc. No smiles and stickers are available either. Nonetheless, you can send photos and text messages, which is pretty enough for seducing a girl or guy. However, it would be better if the WellHello chat was more convenient, featuring at least text history and a gallery.
Apart from messaging, you can:
Send flirts.

Add people to friends and favorites.

Report suspicious members.
There is also a Live Cams feature available for premium members. All in all, WellHello communication features foster you to meet the website members in real life as soon as possible.
WellHello Mobile Experience
WellHello states that you can use its services on your mobile device, laptop, and PC. Indeed, you can access the site via your browser on any device due to a mobile website. Nevertheless, it would be much more convenient if WellHello developed a mobile application compatible with iOS and Android.
Fortunately, you don't need to enter your login data each time you visit the website. Just enable the Remember Me option while entering your account.
Customer Support Experience on the WellHello Website
If you experience any issues or struggle to understand how WellHello works, you can proceed to the Contacts Us section in the account management menu. Here, you can move to comprehensive FAQs. They cover all the essential aspects of WellHello services.
If you notice that FAQs don't answer your issue, you can contact the customer support team via email. In general, it responds within 24 hours.
The support staff is generally friendly, polite, and helpful. Nonetheless, it would be great if the service included more contact channels apart from the support email. Thus, we can characterize the WellHello customer experience as average.
What to Expect from the WellHello Audience?
WellHello is a perfect site to find a person for an affair. So, once you create a profile, write a self-description, and add a couple of pictures, you will find someone to flirt with pretty soon.
Thus, most WellHello members search for extramarital affairs and sex. You will also have a high chance of finding a couple to have some fun with. Swingers love this platform as well.
Therefore, WellHello is an excellent place for casual dating. At the same time, there is a chance of meeting someone searching for a long-lasting relationship.
All in all, you have a pretty high chance to succeed on this platform, assuming that WellHello members are generally talkative and friendly.
Are there Fakes on the WellHello Website?
Unfortunately, a few WellHello profiles are programmed. The company explicitly states that it hosts accounts that are not real members but programmed characters. The WellHello staff may run some of the accounts as well. The company uses this approach for entertainment or educational purposes.
Featuring fantasy profiles is quite common among casual dating companies. However, while many l dating agencies label fake profiles, WellHello doesn't. Thus, it will be difficult for you to separate fantasy and real website members. Nonetheless, if a person asks you out, it is clear that you chat with a real one.
Apart from that, you will have a small chance of meeting a scammer, just like you will have on any other dating platform. Thus, if you notice that your text partner acts suspiciously, you can always report them.
WellHello's Pricing Policy, Fees, and Payment Options
WellHello offers several subscription plans:
One-day trial plan at $1. It allows you to communicate with website members unlimitedly and view all profiles and photos. Unless canceled, it turns into a monthly subscription.

One month of services at $24.95. You can enjoy extra features, such as sending flirts and checking private photos.

A year of services at $89.94. This option allows you to check your profile views and access video chat.
As you can see, the annual offer is three times cheaper than the monthly one. Thus, WellHello appreciates loyal customers, and it will be beneficial for you to pay in advance.
What about payment methods? Unfortunately, Visa and MasterCard are the only available payment options. Thus, purchasing and renewing the subscription will be inconvenient if you prefer other online payment means. Besides, WellHello charges a $2 fee if you are unable to continue the subscription on time.
Can WellHello Provide a Safe Environment?
Each dating site user expects to enter a safe, malware-free environment. As for WellHello, we can say it is generally safe. Although WellHello doesn't feature a digital security badge, we haven't detected any suspicious links on the site. Besides, the website features a valid SSL certificate issued by Amazon.
It means you can make purchases on the website safely. Your payment information is encrypted according to the latest standards, and no third party can catch it.
What about anti-fraud measures? Check the overview of WellHello anti-scam policies below:
Anti-Scam Policies of WellHello
WellHello applies a zero-tolerance policy towards prostitution, abuse, violence, human trafficking, etc. Thus, the site administration permanently terminates any account associated with the activities mentioned above.
At the same time, WellHello doesn't warrant 100% security of your dating experience. Thus, you should report users who ask for money or try to find out any piece of your sensitive information that may lead to money loss.
WellHello.com Reviews and Reputation
We have evaluated hundreds of WellHello reviews and information guides. Generally, WellHello customers consider the service mediocre. Most of them were unsatisfied with the trial period, complaining about charges after $1 trial expiration. Still, people got refunds from the company.
Conclusion on our WellHello Review
FAQ
What is WellHello?
WellHello is a dating platform dedicated to people searching for quick sex and extramarital affairs.
How much does WellHello Cost?
You can create an account and use limited website features for free, while messaging requires a premium subscription. You can use all the website features for $89.94 per year.
Is WellHello a Scam?
WellHello is not a scam. It doesn't steal your money, nor does it sell your personal or sensitive information.
Is WellHello Safe?
The WellHello website is safe for making payments on it. It has a valid Amazon SSL certificate. What is more, no phishing links were detected. Thus, you can use this website safely.
Who owns WellHello?
Morganite Limited, a Cyprus-based software provider, owns WellHello.
What Security Features does WellHello have?
WellHello applies the following security measures:
The site administration fights criminals by reviewing user content and deleting fraudulent accounts.
Does WellHello Have a Mobile App?
WellHello doesn't have a mobile application. Nevertheless, you can access the website via your mobile device.
How do I Delete My WellHello Account?
To delete your account, you need to contact the WellHello support team. Note that you need to cancel a paid subscription separately from your profile.